The Curve shopper wins new Subaru SUV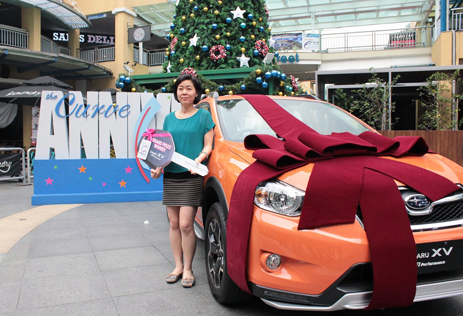 Chow Wan Chuen, 41, from Petaling Jaya, a regular shopper at the Curve since the mall opened ten years ago could not believed it when she emerged the grand prize winner of the brand new Subaru XV STI Performance SUV in the final draw held at the Curve recently.
She won the car worth RM156,800 in a contest which was part of the Curve 10th anniversary celebrations and attracted over 3,000 entries during the shopping campaign period from Oct 10 to Nov 23.
Nine other winners also received prizes ranging from Sony Bravia 70" LED TV, 50gm gold wafer to travel vouchers.
The Curve management hosted a special luncheon at Goodsaltz restaurant on Dec 4 for the contest winners as well as nine longtime tenants who had been with the mall since its Dec 2004 opening.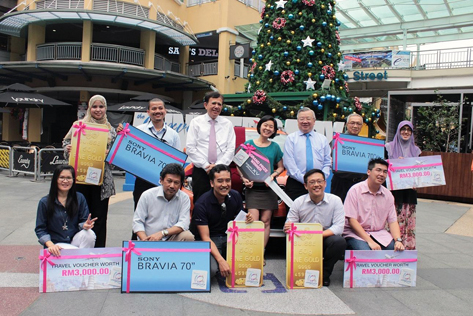 The nine loyal tenants are Anakku, Elements, Fitness First, GNC Nutrition, Hometown Kopitiam, Little Penang Café, Red Box Karaoke, TheBabyTree.com and TNS SkinLab.
Each of them was awarded a plaque and a month's rebate on rental as an appreciation commemorating 10 years of tenancy at the Curve. 
Boustead Curve director Dato' Ghazali Mohd Ali expressed his gratitude to both shoppers and tenants for their long-standing loyalty to the Curve.
"The support shown to us over the years has gone a long way in making the Curve a crowd favourite.
"Our tenants have been with us from the very beginning, helping us make our vision of becoming a chosen shopping and dining destination a reality. And of course, we could not have come this far without the patronage of our shoppers," he said.
Semua berita dari laman web ini adalah hasil sumbangan rakyat Malaysia dari pelbagai lapisan masyarakat. Jika anda berminat untuk lebih mengetahui mengenai kursus penulisan dari Citizen Journalist Malaysia atau ingin menyumbang artikel anda, sila (KLIK SINI)
________________________________
All news posted on this website are written by Malaysians from all walks of life who are trained by Citizen Journalist Malaysia. If you are passionate about writing, photography or  video storytelling and would like to contribute your articles, photographs or videos of events that is happening in your community, please (CLICK HERE)
________________________________
For more updates, please like us on Facebook