Rumah Charis senior citizens treated to dinner and show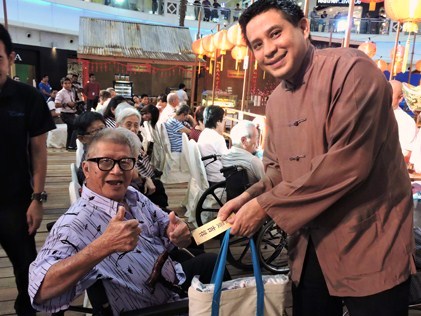 Chinese New Year arrived early for some 20 senior citizens from Rumah Charis Old Folks Home as the Curve shopping mall hosted a special festive treat for them on Jan 30, 2015 at the mall's Centre Court which has been transformed into a floating fishing village.
Upon their arrival, the group of seniors, some with their wheel chairs,  comprising seven men and thirteen women aged 65 to 85, were entertained by a live music and dance show called A Homecoming Reunion Musical and followed by a thrilling acrobatic lion dance performance by the Kwong Ngai lion dance troupe.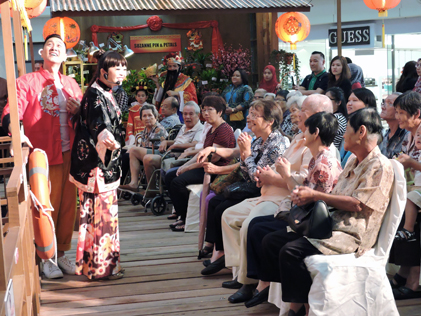 The Curve centre manager Jazmi Kamarudin launched the event by releasing fish into the water.
Jazmi said the event's theme this year A Homecoming Reunion was to share the joy and warmth of family and friends coming together for a reunion with the senior citizens of the home.
Jazmi later presented goodie bags and ang pows to the elderly guests.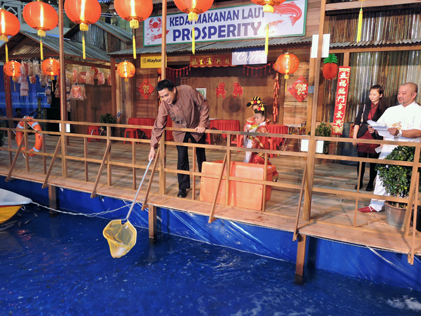 The Chinese New Year gathering ended with the elderly guests feasted to a nyonya cuisine reunion dinner at Ah Tuan Ee's Place restaurant in the mall.
Members of the media and management team of the Curve joined their guests in the customary tossing of yee sang with hope for a great start to the New Year.