Petaling Jaya Selatan gets rousing welcome to CNY of the Goat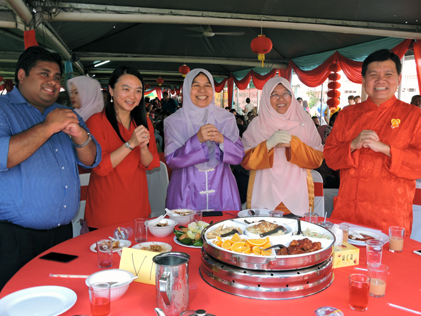 Petaling Jaya Selatan (PJS) ushered in the Chinese New Year of the Goat with a rousing welcome from the local community.
Everyone, young and old was in happy spirits and enjoyed the wide variety of Malay, Chinese and Indian foods and Chinese cultural performances which included dragon and lion dances, children orchestra show and fan dance.
The God of Prosperity was present to liven up the event by spreading cheer and prosperity.
The Chinese New Year open house was hosted by PJS MP Hee Loy Sian jointly with Bukit Gasing state assemblyman Rajiv Rishyakaran and Taman Medan state assemblyman Haniza Mohd Talha.
This year it was held at Jalan 2/32 PJ Old Town, in front of SJK (C) Chen Moh on Feb 28.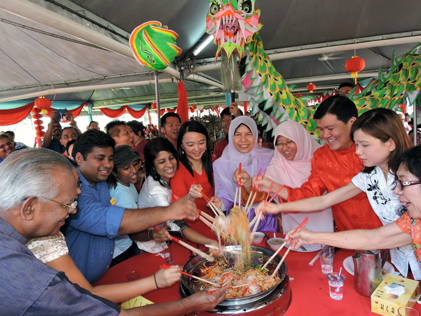 Guests included Ampang MP Zuraida Kamaruddin who represented Selangor Menteri Besar Mohamed Azmin Ali, Subang MP R Sivarasa, Subang Jaya state assemblyman Hannah Yeoh and local community leaders.
Zuraida thanked Hee, Rajiv and Haniza for organising the event which she said was a rousing success with a large crowd supporting the event. She said she was asked by the Selangor Mentri Besar to represent him and to convey his best wishes of Gong Xi Fa Cai to everyone as he had to attend to prior commitments in the state.
Hee, Rajiv and Haniza expressed joy and goodwill as they extended their Gong Xi Fa Cai and Xin Nian Kuai Le greetings to everyone present and hoped the Chinese New Year of the Goat will be a good and prosperous year for everyone.
The Petaling Jaya Selatan parliamentary constituency is made up of the Taman Medan and Bukit Gasing state constituencies.