Nippon Paint Malaysia Targets RM1billion Sales By End 2017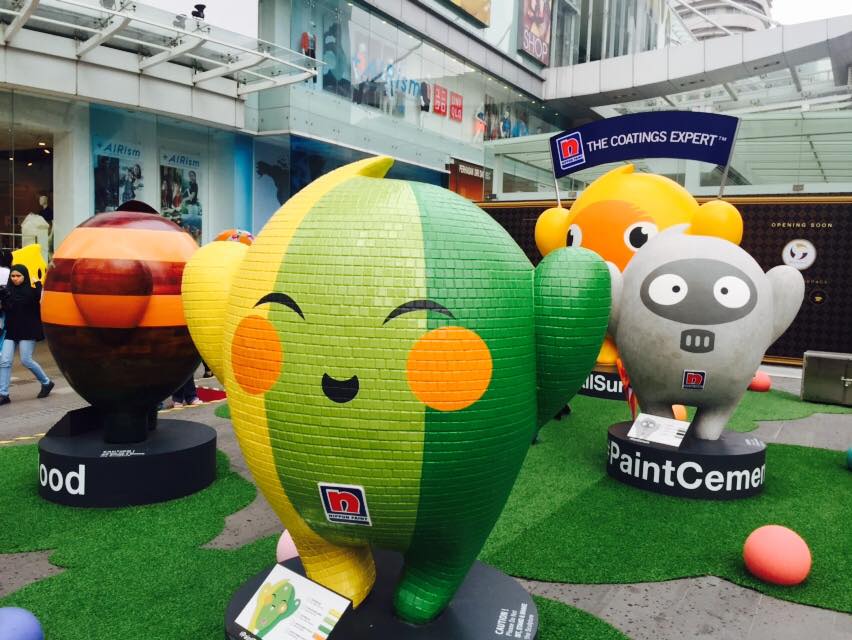 Malaysia's No. 1 coatings solution provider, Nippon Paint Malaysia ("Nippon Paint"), today launched its new positioning as "The Coatings Expert", symbolically signified by life-size Blobbies ambient sculpture measuring up to 8 feet, located at the outdoor deck of Fahrenheit 88 in downtown Kuala Lumpur, and its brand new TV Commercial.
During the launch, Mr. Yaw Seng Heng, Group Managing Director, Nippon Paint Malaysia Group said,
"We began as "The Paint Expert". Evolving with time and needs of the various stakeholders and consumers, today, will mark our next evolution, that is to be "The Coatings Expert". We are now taking the next leap, which is to be a total coating solutions provider to meet diverse industry needs as well as to coat every imaginable surface. In short, we will cover multi-segments and multi-surfaces when it comes to coating solutions – be it as decorative, protective or functional coatings. Today will be the start of that journey as we embark into our next level of growth, targeting to achieve a sales turnover of RM1 billion by end 2017, as we continue to strengthen our leadership as Malaysia's No. 1 coatings provider."
Nippon Paint has been on a consistent growth path since its inception in 1967. From a single-country entity in Malaysia, the Group has now emerged as a significant regional player within the coatings industry with presence in countries such as Pakistan, Bangladesh, the Philippines, Thailand and recently Indonesia.
Nippon Paint is currently Malaysia's market leader in decorative coatings with an estimated 47% market, and has recorded sales turnover in excess of RM650 million (as of 31 December 2014). The group aims to achieve 50% market share in Malaysia this year via a 3-pronged business strategy – expansion of regional operations into new markets, growing its distribution network and rolling out at least four new coatings innovations by year end.
Added Yaw, "Coatings today is beyond just being aesthetic. Coatings are now more functional and in some cases, even being a better and more sustainable replacement for some of the existing building materials in use.  With our continuous emphasis in Research and Development (R&D) efforts, and through listening to the demands and needs of our customers, Nippon Paint has never stopped in bringing innovative coatings solutions – not just in Architectural, but also Protective, Industrial OEM, Automotive Refinish and Marine coatings. We are excited to note that Nippon Paint will be launching at least four new coatings innovations this year which will definitely be first-movers." 
Over the years and in the decorative segment, Nippon Paint has spearheaded many industry-first innovations such as coatings that are odourless, coatings that can improve indoor air quality, as well as coatings that can increase thermal comfort, by reducing both external surface as well as indoor room temperature between 3-5 degrees Celsius. Aesthetics-wise, its Momento Special Effects range adds a sensorial element for walls via textured effects that shimmer and sparkle.
Beyond decorative, Nippon Paint also introduced automotive coatings with self-heal proponents as well as pioneered the Pearl coating system. Its high performance coatings are used to protect large-scale oil rigs right down to the highly-worked airport runways of Malaysia. Plus its Marine coatings are found on the smallest of fishing trawlers to large shipping vessels.
In conjunction with its repositioning as Malaysia's leading coatings expert, Nippon Paint has launched a digital campaign, #PaintAllSurfaces, inviting Malaysians to take on an adventurous role in coating various surfaces beyond walls, and exploring the many colours and textured effects which paint can bring.
For painting tips, solutions, and inspirational ideas, do log on to Nippon Paint's website at www.nipponpaint.com.my