Malaysia's First Ever "Komik Kon" Pays Tribute to Local Animators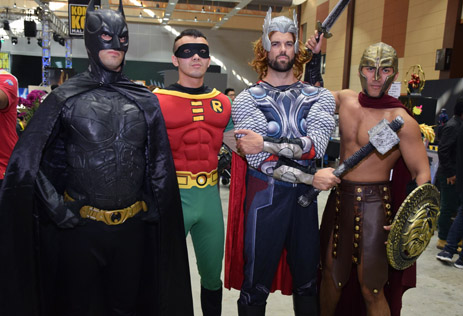 Fans and enthusiasts of anime, comics, sci-fic and fantasy had a blast at Malaysia's first ever Komik Kon.
The 3-day inaugural comic convention from Nov 13-15, 2015 and held at Malaysia Agro Exposition Park, Serdang (MAEPS) attracted more than 45,000 attendees surpassing the organiser's expectation.
"My expectation of the crowd is, on a very low key, about 45,000 visitors over the three days. We achieved the 75% marks on the second day. This is the first year that it is being held and we are very excited with the results, said Komik Kon Malaysia co-founder and organiser Chee Kee Poey.
An avid collecter himself, Kee, as he is better known among friends and acquaintances, said Komik Kon is not in any way affiliated with Comic-Con in the U.S.
"A lot of people are associated with international organisations but we are not. We are very much local and it has nothing to do with Comic Con of the U.S. There's no franchise and we do our own version, Malaysia's own version.
"This is our first year and we want to pay tribute to our local animators. We have good local animators who had their products honoured at international channels. We have the locally produced animated series "CingKus Blues" which was on Nickelodeon channel, "Boboiboy" on Disney channel and "ChiChi & ChaCha" also on Astro platform so we can see that our local animators do make it to the international scene.
"We want people to come here to give their support to the local animators who are very talented, get to know them, meet the stars and the men behind the characters and so on."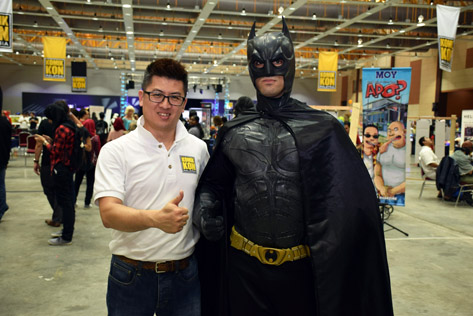 Kee said it took him and his co-founders about 14 months of planning and organising on Komik Kon becoming a reality.
"It was not easy and took us lots of planning and organizing to get things right, like making sure promotions for the event were there. We have over 100 collectors who not only put their products on display but also share their skills and ideas."
Komik Kon Malaysia featured a host of activities including cosplay performance and competition, dance performances by superheroes, lightsaber duel stunt show and Malaysian Pro Wrestling demo, mascot walkabout, collectibles for sale and lucky draws.
Replicas of R2-D2, AT-AT and AT-ST from Star Wars movies were displayed as well as classic cars attraction like the 1982 Pontiac Trans Am that was once used by "Knight Rider" star David Hasselhoff in NBC's 1980s TV series "Knight Rider" and the 1962 Volvo P1800 coupe driven by Roger Moore in "The Saint" television series.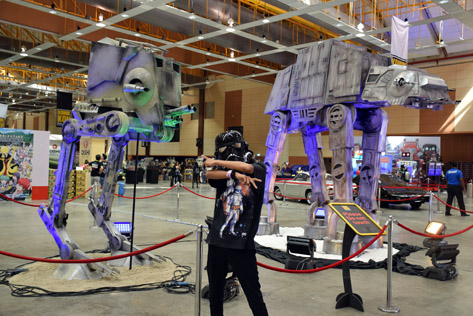 There were also a number of food trucks outdoor serving up a wide range of fast food for visitors.
"We want Komik Kon to be a fun family event and a perfect getaway from the stressful city life and spend the entire day here without any worries.
"We hope to make MAEPS the permanent home for Komik Kon as the owner likes our idea of the comic convention being held in their premises. We are in talk with them to fine tune all the details. Of course everything has cost but we manage it quite well. We will certainly be back bigger and better for 2016," said Kee.
There were many die-hard and fantasy fans who dressed up as their favourite comic characters and willingly posed for the crowds.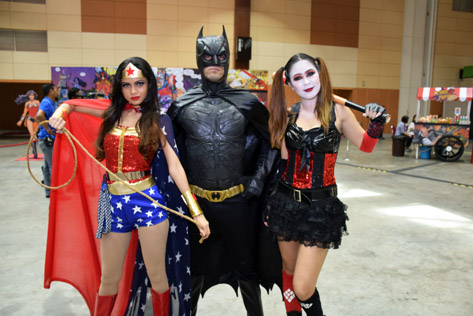 Katherine Saw, 25, who came dressed up as Harley Quinn, known as "the Joker's girlfriend" in Batman comic books, thought it was entertaining and felt good as she had never done a cosplay before.
"I love her funny personality. She is actually a very smart person but also a little bit obsessive and crazy. While working as a psychiatrist, she felled in love with a patient who was actually the Joker.
"I am quite similar to her character in the way I speak and act, maybe a little bit less crazy but okay!" said Saw from Penang but who now lived in Kuala Lumpur.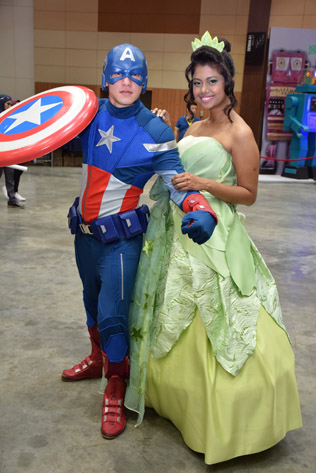 University student Rupini Mahalingam, 21, who cosplayed Princess Tiana from the movie "Princess and the Frog" said it was also her first time cosplaying.
"It was really fun to be a Princess for a day and although I did not get my knight in shining armour, I really enjoy getting the special attention all day long," she said.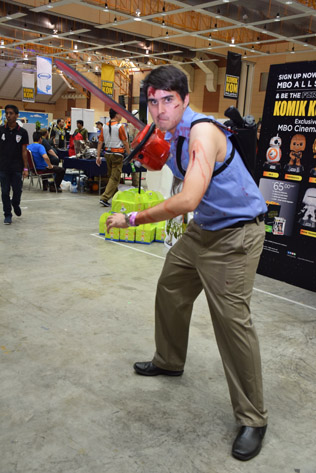 Another cosplayer, Stefaan Fangman, 27, who cosplayed Ash Williams from the movies "The Evil Dead" and "Army of Darkness" said he had portrayed the heroic monster fighter once before in previous event because he loved the character.
"He is a jerk with funny character. You can't help but love him. No matter how hard the challenges are, he always come out on top.'