14 Pageant Finalist all Geared up for MGIM 2016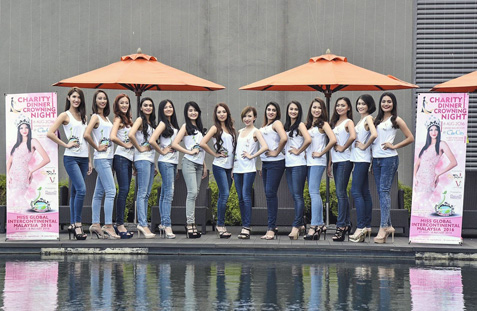 Miss Global Intercontinental Malaysia (MGIM) kicked off its 2016 MGIM pageant week with the unveiling of 14 finalists at e.City Hotel @ One City, USJ  on July
27.
The beautiful ladies aged 19 – 26 from all over the country will be competing for the coveted title of Miss Global Intercontinental Malaysia 2016 and three major international titles: Miss International, Miss Supranational and Miss Tourism Queen International, at the coronation Grand Finale Gala Dinner on August 6.
"We are proud to have 14 beautiful, intelligent and compassionate ladies who were selected after a rigorous audition and interview process which started since February," said MGIM organization national director Marlene Lim.
The girls will begin a 10-day Pageant Week (Jul 27 – Aug 6) undergoing many activities that will help them improve on their personal grooming, public speaking skills, personal styles and fitness. They will also be participating in various charity activities such as tutoring refugee children and volunteering at soup kitchens.
"Throughout the pageant week, we will be focusing on the finalists' personal growth as well as promoting opportunities towards the enhancement of their potentials, talents and goals," added Lim.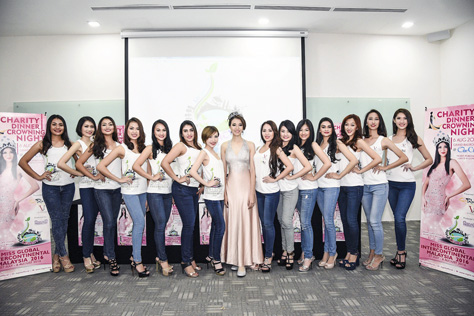 The top three winners will be representing Malaysia against over 70 countries at the world finals of Miss International in Japan on Oct 27, Miss Supranational in Poland on Dec 2 and Miss Tourism Queen International in China on Sep 28. They will also become official ambassadors for charity organisations.
The total winning cash and gifts from sponsors are worth up to RM150,000 which include a one-year ambassador contract with MGIM and an all-expense paid trip to Japan, Poland and China for representation.
Apart from the main titles, there are also eight subsidiary titles up for grabs which are Miss Talent, Best in National Costume, Miss Personality, Miss Body Beautiful, Miss Beautiful Skin, Miss Social Media Queen, Miss Crowning Glory and Miss Photogenic.
Asia's Got Talent semi finalist Sada Borneo will be the special guest performing at the grand finale.
MGIM 2016, in its sixth year running, is founded and organised by MerveilleuxM Production, a home-grown production company from Miri, Sarawak. The pageant is aimed at promoting goodwill, women empowerment and charitable community activities. Previously held in East Malaysia in Miri Sarawak, this year marks its 6th edition and second time to be held in Kuala Lumpur. MGIM is aimed at promoting goodwill, women empowerment and charitable community activities.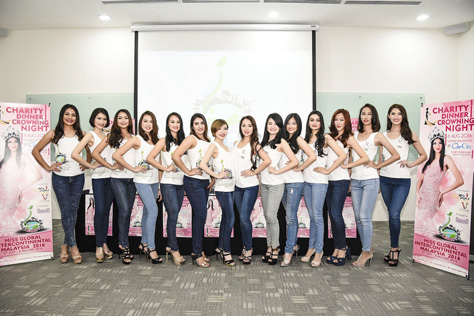 MGIM 2016 is presented by Sky Palace and Via Zone, and the list of sponsors include Valenice Creative Design, Cactus Photography, Sabah Independent Filmmaker, e.City Hotel, Chezz Technique, ErantheL Iconique, Da Vinci Clinic, RedOne Mobile, J.Bovier, Zamin Zawani Couture, Anas Abdullah Couture, Amber Chia Academy, Alvisy Bar & Bistro, JD's Fine Foods, Be Sexy Be Sweet Beachwear & Accessories, Koji San Shiro Beauty & Health Drink, XES, F Block, Sox World, AD Jeans, Restaurant Moon Folk Sauna Steamboat, Nizam Zamil, Hanif Naim, Andaman Seri Selendang and Bobbi Brian Garon Collections.
Tickets for the MGIM 2016 Grand Finale Charity Gala Night are selling fast at RM500 per pax (normal) and RM1,000 or RM2,000 per pax (VIP). They can be purchased from MerveilleuxM Production at 012-913 9913.
Miss Global Intercontinental Malaysia 2016 Finalists
 Amy Leong, 22, finance graduate, Sarawak
 Aviona Joseph, 20, student, Sarawak
 Cassandra Dewi Jeremiah, student, 23, Sabah
 Heng Jing Wen, 22, student, Johor
 Jacquline Ronald, 22, student, Sarawak
 Julylen Liew Ei Ling, 26, singer, Sabah
 Karina Wong Su Yi, 25, performer, KL
 Li See Yap, 21, student, KL
 Melanie Chow, 24, businesswoman, Sabah
 Olivia Constance Nichols, 24, lawyer, Perak
 Peggy Ping Johannes, 19, hairstylist, Sarawak
 Rashwin Kaur Amrik Singh, 26, executive, Perak
 Shirly Anthony Danggok, 26, marketer, Sabah
 Suen Ee Lyn, 24, model, Selangor