Miss Malaysia World 2016 Will Wear Crown worth US$1.1 Million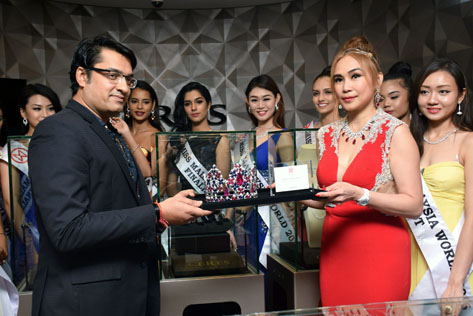 The winner of Miss Malaysia World 2016 will be crowned on 27th August and will wear a new million-dollar crown designed and produced by Ceres Jewels Malaysia, the official crown sponsor of the Miss Malaysia World pageant for three years beginning this year.
The new Miss Malaysia World 2016 crown, estimated to be worth a cool US$1.1 million (or RM4.4 million based on current exchange US$1 = RM4) was unveiled at a simple ceremony held at Ceres Jewels Malaysia flagship boutique in Starhill Gallery, Kuala Lumpur on 14th Aug.
Ceres Jewels Malaysia CEO Dato' Sri Navneet Goenka and Miss Malaysia World 2016 national director Dato' Anna Lin jointly untied the gold ribbon on the glass jewellery display case and the black cloth unwrapped to reveal the stunning Miss Malaysia World crown which drew 'oohs', 'aahs' and claps.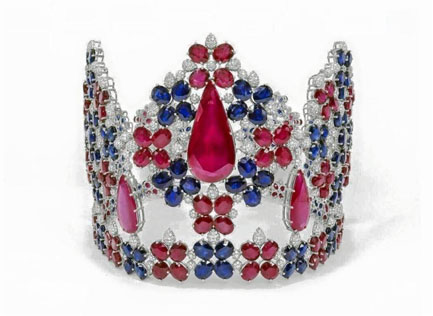 The masterpiece weighing 312 grams is made up of 3,569 pieces of round diamonds (totalling 102.55 carats), 3 pear-shaped natural rubies (with the centre piece weighing 113.35 carats, while two on each side weigh 28.52 & 25.61 respectively). It has 170 oval-shaped rubies (totalling 534.41 carats), four round natural blue sapphires and 164 pieces oval-shaped natural blue sapphires (totalling 530.15 carats).
"We are happy and excited to be associated with Miss Malaysia World pageant and the immense opportunities presented through this relationship," said Dato' Sri Navneet Goenka.
He said the whole production process, from the first sketches right down to the production itself took about six month.
All the 19 finalists of Miss Malaysia World 2016 were present to witness the glimmering affair and everyone, including Dato' Anna Lin herself, had the opportunity of getting to wear the million-dollar Miss Malaysia World crown and briefly posed for photos before it was moved to a safe place.
"I wish this is the crowning moment,"
said Miss Malaysia World 2016 finalist Dr Ranmeet Jassal, a 24-year old medical doctor, after the crown was placed on her head.
Another finalist, Labuan-born Janice Tan, a 19-year-old INTI mass comm. student, when asked what it felt like wearing the most expensive crown in Malaysia, she replied, "The crown is so breathtakingly beautiful that I feel like a Billion Dollars!"