18-Year-Old Tatiana Kumar Crowned Miss Malaysia World 2016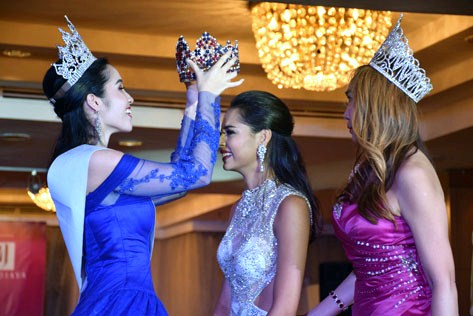 18-year old Tatiana Kumar of mixed Indian and French blood was crowned champion at the Miss Malaysia World 2016 pageant finals held in Corus Hotel, Kuala Lumpur on 27th August.
Tatiana who is still studying in an international school, reacted in shock holding her right hand to her mouth when she heard her name being announced the winner.
The 5' 9" (176 cm) tall beauty from Kuala Lumpur quickly wiped away tears of joy as Brynn Lovett, last year's winner, placed the US$1.1 million diamond-ruby-blue sapphires studded crown on her head.
Born to a French mother and Malaysian Indian father, Tatiana had also swept three other subsidiary titles of Miss Metrojaya, Miss Wacoal and Top Model Award.
19 girls contested in the grand finals. They performed their talent and strutted around in their evening wear and swimsuits.
The top five finalists were announced and they were required to select a judge from a panel of seven judges and answered question posed by the judge.
Tatiana was asked what she considered to be her greatest regret.
"Ever since I was young I was blessed or cursed with high metabolism. In school people would make fun of me because I was too skinny and they will tell me I was just a bag of bones or I was not beautiful so my greatest regret was believing them," Tatiana answered to applause from the audience.
Tatiana will go on to represent Malaysia at the Miss World 2016 finals which will be held in Washington DC, USA on 18th Dec 2016.
First runner-up was Dr Ranmeet Jassal, 24, a doctor, from Kuala Lumpur who also won the Miss Beautiful Hair subsidiary title. Second runner-up went to 19-year-old student Shweta Sekhon from Kuala Lumpur. The third and fourth runners-up went to Jessica Lim, 24, an executive PA from Selangor and Francisca Luhong James, 20, a student from Sarawak.