U We Glow Fun Run 2016 Returns This Dec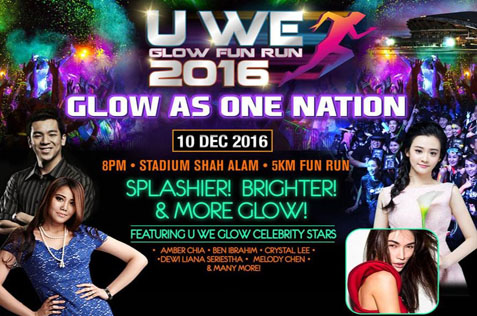 The U We Glow Fun Run 2016 returns on Dec 10, 2016 at Stadium Shah Alam. The main aim of this event themed "Glow As One Nation" is to promote a healthy lifestyle among Malaysians from all walks of life and raise funds for charity organizations.
Participants will get to run along the 5 Km route with local celebrities and pageant queens.  Among the participating celebrities who will be joining the charity fun run this year are supermodel Amber Chia, TV host Ben Ibrahim, Miss Indian Cultural Malaysia 2016 Usha Puttharasan, Miss Malaysia World 2014 Dewi Liana Seriestha and Miss Malaysia Eco Tourism 2014 Adelina Chan.
"We are very excited on this glow night run for the second season. Participants will be coloured with UV paints and run through a UV zone. Be prepared to be splashed along the route," said U We Glow Fun Run 2016 organiser Derek in a press conference in Petaling Jaya.
There will be a UV zone along the 5km route where participants will enjoy a night of illuminating lights and neon glow UV paints splashed on them with music along the route to keep them pumped up. The UV paints imported from US are non-toxic and safe for use.
Official social media partner Brian said, "We are glad for the local celebrities to show support for causes close to their heart in U We Glow Fun Run."
There are more than RM10, 000 worth of prizes to be won and lucky draws. For more information and to register, visit https://mro.myraceonline.com/uwgr16/registrations
The U We Glow Fun Run 2016 is made possible with the support from Tourism Selangor and Asia Golden Dragon Award. Other sponsors and partners include JBL, Amber Chia Academy, A Cut Above, Van Houten, Darlie, Taiping Poly, Doi Chaang Caffe, Lucky House, I Am 80's, Tiger Balm, Vico, Fresh On, Laurier, True Fitness, Pocca Dot Media, Baccarat Malaysia, Asia Success Inc., The Entrepreneur, ON FM, Rentak Sejuta, Like Media, 96 Advertising and FHL Sports.