Pink Ribbon Charity Ball Raises RM150,000 To Fight Breast Cancer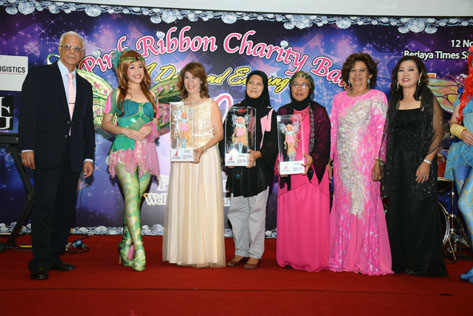 The annual Pink Ribbon Charity Ball 2016 held at Berjaya Times Square Hotel, Kuala Lumpur on 12 Nov has raised RM150,000 for Pink Ribbon Wellness Foundation for fight against breast cancer.
The money raised from the event will help the foundation provides supportive care and information for all women and cancer survivors through its educational programs.
In his speech, Pink Ribbon Wellness Foundation founder and chairman Datuk Dr. M. Devanand thanked the over 600 guests for their generous support.
"Financial support of the foundation is one acute challenge that we face from year to year, but we are grateful for the continuing support as some of you here tonight are repeat donors. However we look forward to new donors and supports to join us in this endeavor," said Devanand.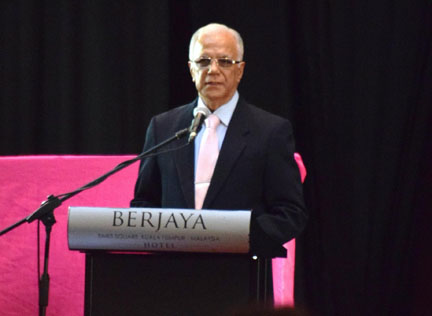 He said most people were aware of breast cancer but many still take the risk to forgo proven early screenings.
"We have been educating more and more women in how to cut their risks of getting breast cancer. This may sound like a completely unrealistic goal to some but we can prevent cancer by a close 50% through simple lifestyle changes, and we need to be serious because in Malaysia breast cancer in now also a disease of younger women.
"It is important that every woman has a plan that helps to detect the disease in its early stage and encourages others to do the same. In fact, about 1 in 19 women will develop some form of breast cancer in her lifetime. While these are scary statistics, it's important to realize that very few people would actually die from the disease, if detected early."
Devanand continued: "For cancer survivors, our educational programs include assisting them to better understand the disease itself, methods of prevention of recurrence, coffee chat sessions and psychological counseling. Breast cancer education has to be continuum."
He also announced the success of the foundation's latest project – the Mammobus – a mobile mammogram clinic bus to bring screening to women in semi-urban and rural areas.
"We gladly announce the corporate sponsorship support to start the Mammobus service soon to roll out sometime in the coming new year."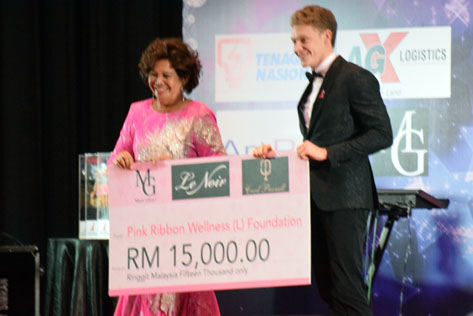 In the event, Malaysian-born Mitch Gilbert, the Porsche Carrera Cup Asia Championship driver and the ambassador of Pink Ribbon Wellness Foundation in raising breast cancer awareness not only in Malaysia, but globally, presented a RM15,000 donation to the foundation.
Three cancer survivors received the Pink Angels Recognition Awards in recognition for their capacity in empowering women in their community with sufficient knowledge and education on breast healthcare and helping survivors to survive well.
The three Pink Angels recipients were Persatuan Pink Champion Perak president Mardianah Mohd Yusof, Breast Cancer Support Society of Segamat president Zorrilah Bt Ab Hamid and Tawau Kinabalu Pink Ribbon chairlady Christy Fe Salazar.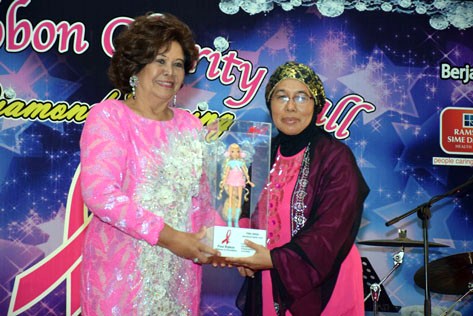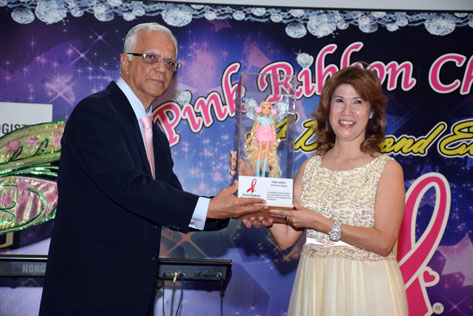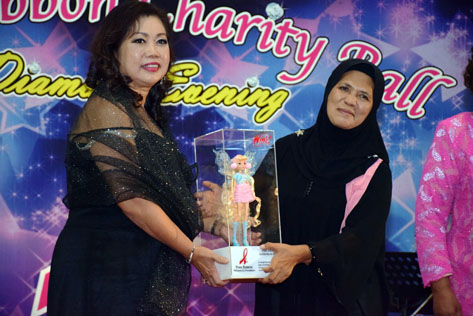 The memorable evening was full of glitz and glamour to the theme "A Diamond Evening" for the guests arrived all dressed up in evening dresses and dinner suits and treated to an exquisite Chinese cuisine dinner whilst being entertained.
The event kicked off with a dazzling opening gambit of songs and dancing performed by the Dancing Roses – a team of breast cancer survivors. Vocalist Mel Caranza, also a survivor, led the talented team in singing and giving an amazing performance.
This was followed by an entertainment spectacular with a stellar lineup of accomplished names, including entertainer extraordinaire Donne Ray Radford (lead singer of The Platters 1986 – 1992), master illusionist Kent and comedian Phua Chu Kang aka Gurmit Singh who not only brought the house down with rib tickling jokes but also sang the wonderful song "Stand By Me".
Pink Ribbon Wellness (L) Foundation, which was registered in 2012 as a Labuan Charitable Foundation under the Labuan Foundation Act 2010, aims to fight breast cancer by empowering all women with sufficient knowledge and education on breast health care, advocating preventive measures, encouraging regular breast screening for early detection of cancer and providing various treatment options and available supportive care for survivors. The foundation's logo "Pink Ribbon with a Heart" symbolises the fight against breast cancer from the caring heart of survivors and volunteers.