55,000 Fans Swarm PWTC For Comic Fiesta 2016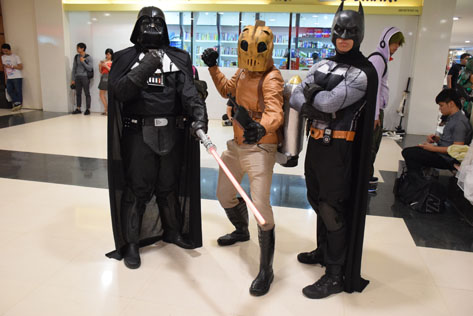 Over 55,000 anime, manga and cosplay fans from all over the country swarmed into halls 1 & 2 of the Putra World Trade Centre (PWTC), Kuala Lumpur during the 2-day (17 & 18 Dec) Comic Fiesta 2016 convention. Last year, Comic Fiesta attracted 45,000 visitors for over 2 days.
Now in its 15th year, the must-go event was a unique combination of excitement and entertainment for the anime, comics and games (ACG) scene in Malaysia.
"We are thrilled to see that the awareness of the ACG culture has grown tremendously in Malaysia and we hope to continue delivering a successful Comic Fiesta convention that will  always be for fans by fans," said Lim Chin Hwa, the organising committee chairman of Comic Fiesta 2016.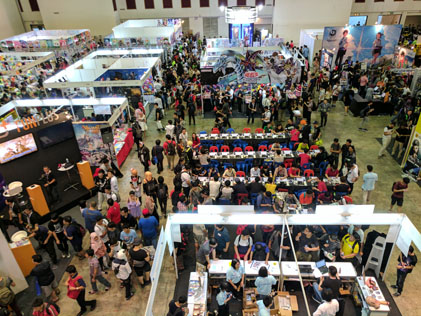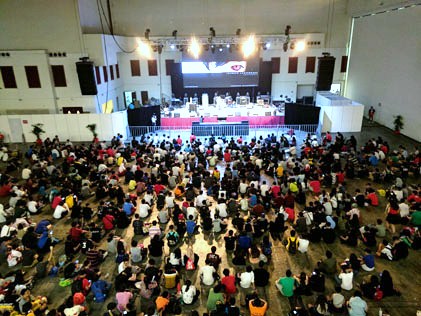 Comic Fiesta 2016 event director Hew Shih Chien said, "We were very much inspired to create a unique ACG culture that blends in with our Malaysian culture and our love for Japanese pop culture as well. Through Comic Fiesta we hope to instill a culture where ACG can provide impact to our lives."
Comic Fiesta is Malaysia's largest and longest-running animation, comics and games (ACG) convention. It was founded in 2002 with the aim of bringing fans closer and celebrating the ACG culture together.
Among the attractions this year were the Creative Art Market with 400 artist booths selling their works, 50 different unique exhibitors, arcade competitions and night concert.
Guest line-up included a diverse group of artists, performers and cosplayers ranging from local performers such as 5 Minute Heroes and Ocean of Fire to international cosplayers Siutao, Miu, Onnies and Stayxxx, and popular illustrators Evacomics and Zeen.
Japanese indie pop band f'hana and Danny Choo, creator of the popular Culture Japan program also participated in the event.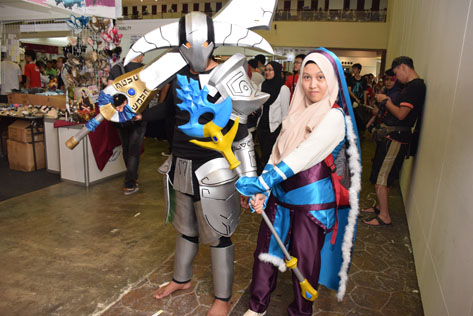 The halls were packed with lots of costumed characters posing for fans. Among them was computer and networking first-year student Zarul Naim, 18, of Sekolah Menengah Vokasional Shah Alam, who cosplayed Sven, the rogue knight from online video game DOTA 2.
"Lots of people love cosplay. I enjoyed being one of them for the fun and it was awesome," said Zarul who made the costume everything by himself, including the props and equipment.
"I bought some ethylene-vinyl acetate (EVA) foams to make the costume and took me a month and lot of work cutting into shape, glue the pieces together and paint them. It cost me RM250. I am really satisfied with the overall look of the costume and happy making something on my own," said Zarul who started cosplaying three years ago.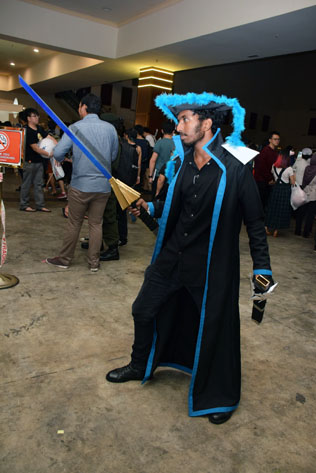 For 17 year old Ayyoob Afrashim from Maldives, this was his second attendance at Comic Fiesta. Last year at Comic Fiesta was the first time. The A-Level student at International Modern Arabic School (IMAS) in Putrajaya cosplayed a self-created fictional character which he named "Aooni no Kaizoku" or the Blue Demon Pirate.
"I wanted to challenge myself creating a cosplay of my own character instead of cosplaying someone else's character. I crafted this costume and took me three days and RM200 worth of materials and props to make the outfits.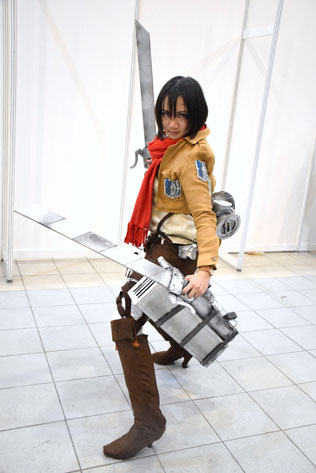 Another cosplayer Yang Qiao Shuang, 23, a second year psychology student at International Medical University participated as Mikasa Ackerman from anime and manga series Shingeki No Kyojin (Attack on Titan).
"Mikasa is independent and strong, and she is passionate in all the things she does. I want to be just like her and have this really good feeling here," she said.