Former Beauty Queen Helms New Lifestyle Channel "hurr.tv"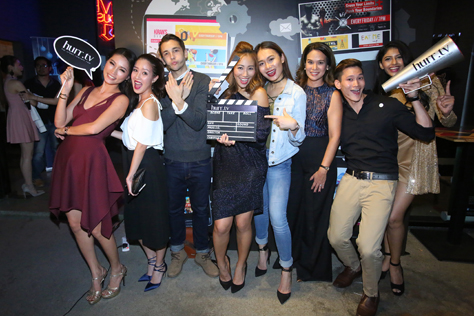 Hurr.tv, a new English-language online lifestyle channel and video streaming platform catering to trendy and young urban Malaysians was officially launched at Live House, TREC Kuala Lumpur on 7th Dec 2016.
Short for hip, urban, relevant and real television, the new online info-tainment channel offers bite-sized entertainment for youth on the go with the latest in fashion, fitness, food, lifestyle and contemporary issues.
"Hurr.tv was conceived in Feb this year in response to the huge demand for excellent quality online local content on lifestyle topics, food, fashion and fitness," said Elaine Daly, the former Miss Universe Malaysia 2003 and the brains behind the channel.
The host-actress-model who is also the national director of Miss Universe Malaysia Organization helms the team in developing new, inspiring and exciting content on a weekly basis which covers a wide range of entertaining topics often injected with funny and light-hearted humour.
"We focus on all things hip and trendy in Kuala Lumpur. We offer bite-sized video clips for youth on the go, especially for those who have no time to watch television, and much prefer the comfort of their mobile phones and tablets," she added.
Adding to the glitz and glamour of this stylish launch party were celebrity guests who included Malaysia supermodel Amber Chia, Miss Universe Malaysia 2016 Kiran Jassal, Miss Universe Malaysia 2015 Vanessa Tevi, singer Jaclyn Victor, CLEO's Most Eligible Bachelor 2015 model Nigel Chin, radio producer Megan Tan, Flyfm radio announcer Maggy Wang, TV host Mark O'dea as well as the finalists of Miss Universe Malaysia 2017.
Viewers can enjoy a line-up of 11 segments consisting five new episodes uploaded weekly on hurr.tv, viewable on internet-connected devices including smartphones and tablets.
A veteran in the entertainment industry herself, it is no surprise that the shows conceptualised by Elaine and her team are celebrity-driven with a number of famous faces making an appearance.
These include local artistes and household names such as Zain Saidin, Neelofa, Daphne Iking, Lina Soong, Megan Tan, Melissa Th'ng, Maggy Wang and Danielle Graham on Makan Minum Kopi, while Cakap Je featured celebrities such as Harith Iskandar and wife Dr. Jezamine Lim, Serena C, Belinda Chee, Amber Chia, Lee Yvonne. Meanwhile Deborah Henry and Sazzy Falak has also appeared in the fashion segment Style It Right.
As an interactive platform, the hurr.tv team welcomes feedback from its viewers, on the celebrities they would like to watch or places they would like to see, as well as activities and latest happenings they would like hurr.tv to cover.
To watch the latest episodes, log onto www.hurr.tv