Belly Dancers Set To Dazzle at Kuala Lumpur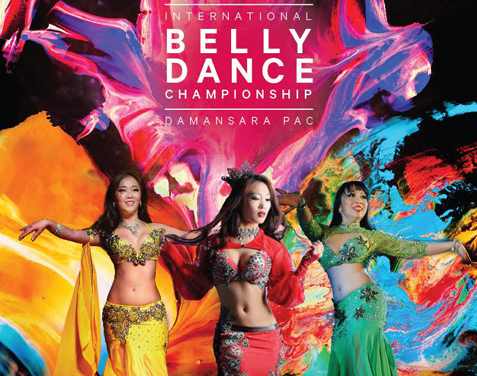 Belly dancers all around the world will descend in Kuala Lumpur for the International Belly Dance Championship to be held at Damansara Performing Arts Centre (DPAC) in Petaling Jaya from 2-4 June, 2017.
The three-day festival incorporating competition, workshops, gala show and fashion show is organised by Belly Dance Malaysia (BDM).
The competition on 3rd June is open to any belly dancers and is divided into different age groups and they will perform under various categories.
The series of intensive day-long theatre workshops on 2nd and 4th June will cover areas such as shabbi (Egyptian belly dance), technique drilling, Iraqi hair dance and dynamic drum solo.
The Belly Dance Star Gala Show on 3rd June starts at 7 p.m. and will feature Belly Dance Master Madonna Lou from Taiwan for the first time in Malaysia, and other well-known belly dancers from China, South Korea, Singapore and Malaysia.
The competition is divided into various categories for either solo or group (group of 2 – 8 persons) giving everybody an equal chance of winning.
Junior A (Solo) aged 3-7
Junior B (Solo) aged 8-12
Junior (Troupe) aged 12 & below
Teenage (Solo) aged 13-17
Amateur (Solo) aged 18 and above
Amateur (Troupe) aged 13 & above
Professional (Solo) aged 18 & above
Professional (Troupe) aged 18 & above
Fusion (Solo) aged 13 & above
Crystal (Solo) aged 40 and above
They will compete for trophies and cash prizes, and will be judged on choreography (30%), technique & expression (30%), music & rhythm (20%) and costume image (20%). Madonna Lou will one of the panel of international belly dance competition judges.
There will also be several special awards given such as Youngest Belly Dancer Award for the youngest competitor and Golden Belly Dancer Award for the oldest competitor.
Tickets for the bellydance championship, gala show and workshop can be purchased online at www.dpac.com.my or for further information and enquiries, contact Eunice at 016-3323803 / Karya at 018-260 1868 or you may drop them an email at [email protected]