Empowering women through beauty pageant
The top sixteen Mrs Malaysia & Borneo International Global 2107 finalists are all fired-up and empowered to show the world their newfound self-worth and self-confidence.
They have given their pledge to the women-empowerment initiative at the Women Empowerment Festival to transform their lives.
June Yap, organiser of Women Empowerment Festival and national director of Mrs Malaysia & Borneo International Global 2017 said the finalists comprising single mother, divorced mom and cancer survivor are ready to take bold steps in pursuit of their goals and dreams.
"Unlock your courage and your confidence and tell yourself that you can shine from within and live your dreams that you always dreamt about," said Yap in giving the advice to the finalists.
Yap is the founder and CEO of Shine From Within, a one-stop solution, training, coaching and event company that focuses on empowering women to be the best version of themselves.
"These women have come together for a life-changing experience that help them achieve academic and professional success through workshops that covered the three elements of their life: career, entrepreneurship minds-set and personal transformation.
"Women Empowerment Festival is a three-month transformative bootcamp launched on 3rd October 2017 that has successfully begun to create great opportunities for women to empower themselves to make decisions, share information, try new things and to be whatever they want to be in their life.
'Our overarching goal is to promote female empowerment and help women to be stronger, to be better and to live their dreams no matter what shape, size, or colour they are," she said.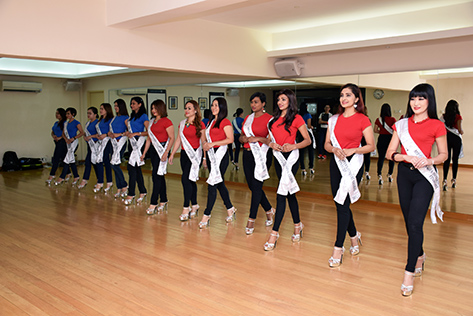 The grand finals of Mrs Malaysia & Borneo International Global 2017 will be taking place on 1 December 2017 at Galaxy Banquet Hall, Kuala Lumpur and the winners (2 for Malaysia and 2 for Borneo) will go on to represent the country at the Mrs International Global 2017 world finals to be held in Kuala Lumpur on 26 January 2018. Participants are divided into two groups, Ruby (aged 41 and above) and Sapphire (aged 24 – 40).
Citizen Journalists Malaysia (CJMY) met with some of these women from diverse backgrounds who were undergoing choreography and catwalk trainings at Outcast Dance Studio in Petaling Jaya to hear what they would like to say about their participation in the pageant and its empowerment mission, their determination, passion and goal in life.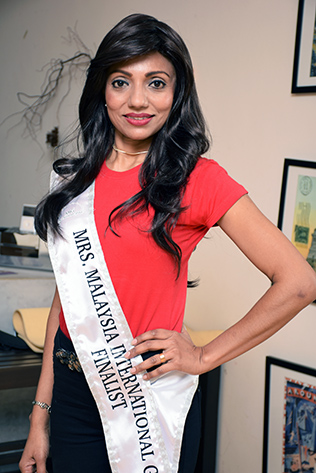 Suganthi Namasivayam @ Sugar, 47, is a leading stewardess and corporate trainer with Malaysia Airlines for twenty-five years. She has got plenty of knowledge and grit.
"I want to show the world what Sugar is all about. I have a lot to contribute. I want to teach people about healthy eating, how to choose the right food to eat to stay healthy and to be happy for the mind and body.
"We must know how to read labels because all the food that we eat today are all garbage items devoid of nutrition which may lead to diseases. That is what is causing us sickness. So if only we can change that by taking care of ourselves and taking responsibility for our own health by eating food that will nourish us, there won't be sickness in the world," she said.
Born in Malacca, Sunganthi is married with a 10-year-old daughter. She says she is passionate about entrepreneurship and hopes that one day she might be able to realise her dream of starting her own business.
"I am an emotional intelligence trainer. I teach people how to manage their emotions. So a lot of anger and a lot of issues we are having now is because we do not know how to manage our emotions. If we can manage this, it will be a happier nation.
"That's why I am joining this pageant because I want this pageant to be a platform for me to showcase my passion to the world and is my next stepping stone towards my dream role. I want to move on to start my own trainings in the future.
"Most beauty pageants are about showing your beauty and that's about it. But this pageant is different and I am challenged because I learned about entrepreneurship and I have to create a business page about my dream on what business I want to start.
"So I am going to be able to share that in front of everybody. All this while I have been talking only and it's in my head but because of this pageant and June make it that I have to share it in front of the judges I actually now have to write it down my dream and an idea about how I can reach it.
"The idea in my head has now gone out of my head and my next step is to put the idea out into the world. So this pageant has help me to bring my business passion closer," she said.
Suganthi enjoys hobbies such as Indian classical dance and playing musical instruments such as the violin and veena. "I am a classical dancer and I dance because dancing gives me an indescribable feeling of joy and fulfillment."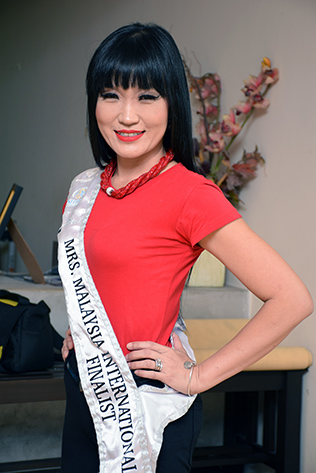 46-year-old Jennifer Chok Pian Lin, from Kota Kinabalu, Sabah is a mother of three grown-up children aged 25, 23 and 20. According to her, there is still life after marriage.
"A lot of women thought that after they married, had babies and raised a family – that's all in life and that's the end of it. But for me I want them to know this is not the end but rather it is just the beginning.
"I want to show other women that women are not supposed to be in the house taking care of children only. Besides being a mother, you can also pursue your own passion what you want from life after your children had grown up. There are still a lot of great things about your life. My youngest son is already 20 years old," said Chok, who 30 years ago at aged 16, won her first ever pageant title in Miss Elken Lingerie.
The 1st Dan black belt holder in karate is a self-described disciplined person with diverse roles. She is a music teacher, a portraiture photographer and teaches students Malay subjects such Sejarah, Malay, Komsas, Geography and KHB. Her hobbies include Zumba fuze and ball room dancing.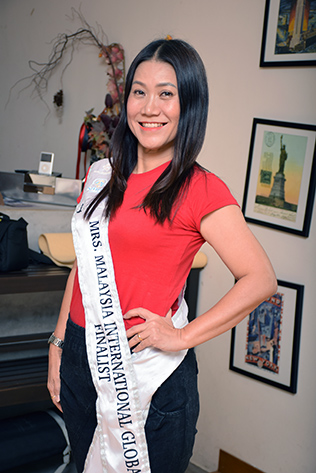 Seremban-born cancer survivor Jackie Ung, 51, is a divorcee and the oldest contestant in the pageant. Her life story is one of imperfection to perfection and she is an inspiration for all the women who believes in women empowerment.
"The reasons I joined Mrs Malaysia International Global 2017 is because I want to share my personal story to inspire others who are experiencing similar stressful life events that I went through.
"My live is full of challenges. A lot of unlucky things happened to me. After my divorce, I've been having so much bad luck, including some life-threatening events like fall from mountain but I survived. I was diagnosed with uterine cancer stage 1B and had an operation recently.
"After going through some really hard times in my life I decided to focus my energies on the positives and move on with my life rather than despair because there is so much hope ahead," she said.
Staying true to the festival's theme called 'Be Bold for a Change', the secondary school teacher (head of discipline) is still standing strong and determined despite her bout of bad lucks.
"I am a divorcee and a cancer survivor and I can still pursue my dream and create miracle."
An avid outdoor lover, Ung loves camping, hiking and mountain climbing. She had climbed many mountains in her life, such as four times to Gunung Tahan (2,187m) in Pahang, two times to Gunung Korbu (2183m, second highest mountain in Peninsular Malaysia) in Hulu Kita, Perak and once to Gunung Kinabalu (4,095m) in Sabah. She competed in a Hanfu traditional dress pageant last year where she clinched the fourth place.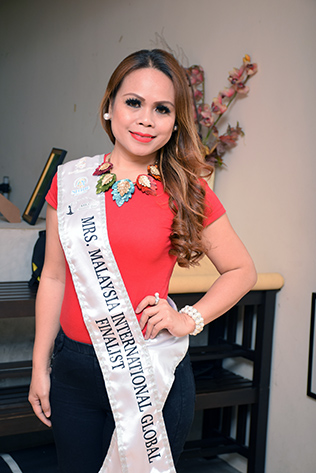 Businesswoman Caseylina Dior, 41, a mixed Iban from Kuching, her mother an Iban and father a Dutch, says she wanted to use the pageant as a platform to showcase her capabilities.
"I joined this competition because firstly I want to make use of this platform to reach out to more people and showcase my passion. Everything that we do, people will come to know us well. Beauty pageants are not all about the beauty but a way to meet others and to know more people because as a businesswoman I need to make a connection with other people to meet and network with like-minded business professionals," she said.
The mother of two children aged 13 and 15, is an avid traveller having travelled around the world mostly for business. She was a finalist at last year's Classic Mrs Malaysia World where she won two subsidiary titles – Congeniality Queen and Mrs Charisma.
"I spend a lot of my time traveling around the world talking with business people and exploring the challenges to growing and expanding a business," said Caseylina who is independent, confident and determined to taking her transport and logistics business to the next level.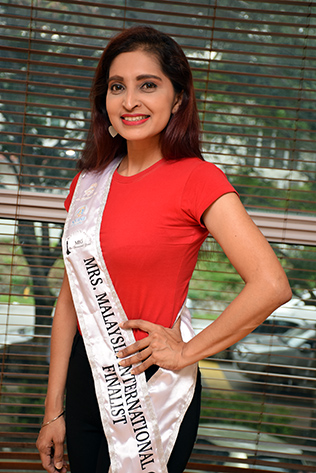 Executive secretary Sunita Kaur, 42, from Kuala Lumpur is married with two boys aged 15 and 12.
"I want to encourage women from all walks of life to boost their self esteem and also to establish, to themselves, the goal they want to achieve. That's the reason why I am here because everybody thinks that married women should not participate in pageants but here I am wanting to make women out there to come out in life to go for other goals they want to accomplish." she said.
Sunita enjoys hobbies such as reading and travelling.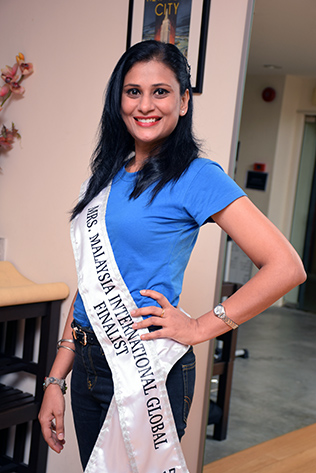 Documentation clerk Pressena, 39 from Kluang, Johor is a single mother with four children – two boys and two girls.
Her life turned upside down after her husband's separation and life became full of uncertainty but she stays persistent by focusing on the positive that give her the opportunity to start fresh through the next phase of her life.
"Everything was hardships and burden after I separated from my husband. I was so down. So I joined this pageant to gain my confidence, to have this peace thinking and being calm. I find it exciting and empowering to face and overcome the challenges.
"I want to be happy again and the best thing I want to show the world that I have a big responsibility to be a good role model moving forward to rebuild my life," she said.
Pressena said single woman do not have to end up on the shelf doing nothing.
"Being working single mother with children carry a greater burden and can be tough but we can show ourselves to everyone that we can achieve what we seek if we stay strong and positive. We can do it!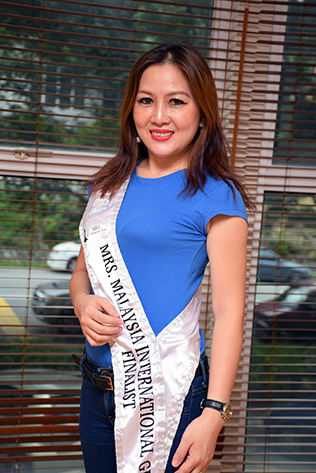 Secretary Shirley Peter, 39, a Kadazan from Penampang, Sabah has two children aged 6 and 8. Her third-born child died at birth due to lack of oxygen.
She wants to inspire other women who experienced something similar what she's been through.
"I want to gain more confidence in myself, to let people see who I really am and to empower married women into a more confident person."
Shirley previously competed as a finalist in Mrs Malaysia World Petite 2016 and this year won a Mrs Beautiful Skin subsidiary title in Mrs Malaysia Global United 2017.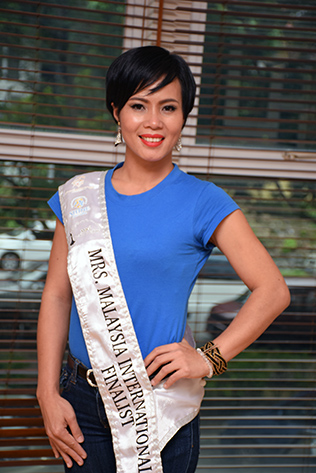 Alice Kudus, 32, a restaurant service manager in Shangri La's Rasa Ria Resort & Spa, Kota Kinabalu is a Murut-Dusun with two children aged 5 and 8.
The 5-star hotel is focused on empowering women for investing in its employees. It had sponsored Alice and another executive to empower them in this platform to learn, grow and develop themselves.
"The bootcamp has taught us a lot. We discovered this great way to grooming, entrepreneurship, becoming strong, independent and successful future women leaders and many others. I find the content great, very inspiring and I am happy to be part of this exciting platform to empower women in need."
Alice is passionate about food and her customers. Her husband is a chef in Maldives working in Shangri-La chain of hotels. They can be a step toward opening their own restaurant one day.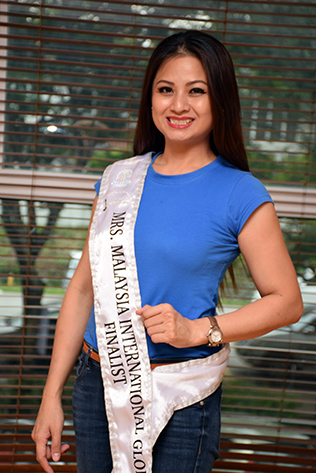 Housewife Lysa Karen, 36, is a Kadazan-Dusun from Sandakan, Sabah with four children between the ages of one and eleven.
"All my life I have been saying 'no' to participating in beauty pageants. This time my age is catching up so why not I do something different. I like to challenge and push myself to do things so this opportunity is a great timing for me and I'm putting a good effort into it.
"I know a lot of women out there like me see domesticity as a trap so I like to give them some idea – that you're an adult, talk to your husband what you want because you can do things for yourself," said the housewife who has been married 12 years.