18-year-old Taanusiya wins Miss Grand KL 2018 crown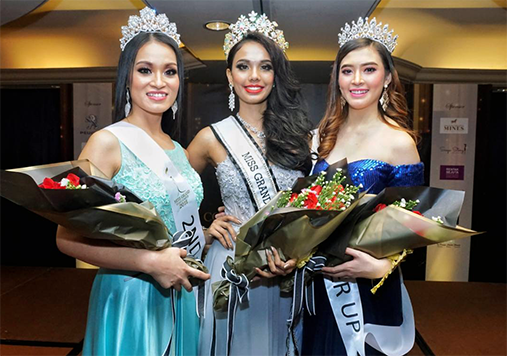 Eighteen-year-old Taanusiya Veerapandian of Cheras, Kuala Lumpur is Miss Grand Kuala Lumpur 2018.
The SPM graduate beat out fifteen other finalists to win the title at the grand final held at Palace of the Golden Horses Hotel in Seri Kembangan, Selangor on 6 April.
Taanusiya will now go for the national grand final to compete for the Miss Grand Malaysia 2018 title to be held at Grand Pacific Ballroom, Evolve Concept Mall, Petaling Jaya on 12 May.
She said after winning the tiara, "I feel a sense of accomplishment and it's a great feeling because it was one of the most honoured moment of my life when my name was announced the winner in front of a huge crowd and being blessed by God."
Her mum, dad and siblings couldn't be more proud of her. They have been by her side consistently and at the finals to give her much support and encouragement.
The 171cm (5 feet 7.32 inches) tall lass said the only thing that makes her enter pageant is because of the pageant's advocacy.
"I want to become the face and the voice of the advocacy I represent. Besides, I want to inspire people out there, and one day I want someone to look at me and say, "Because of you, I did not give up!"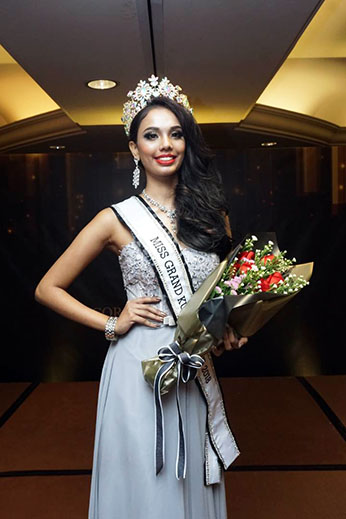 With a heart and desire to help someone in need, Taanusiya believes everyone can try to help the needy one for a good cause of our society. "I want to help the poor and needy in whatever way I can to improve their situations in sustainable ways."
She had competed in the Junior Model International Malaysia 2016 and won, and represented Malaysia at the world finale of Junior Model International 2016 held at Kerala, India.
After her SPM she plans to further her studies for a Degree in Fashion Design. She is fluent in speaking Mandarin having studied in a Chinese primary school.
"It was fun learning the language. It helped me to communicate with others more effectively and to mingle freely with my Chinese friends. Besides that, learning a second language has sharpened my mind,  widen my global perspective and brightened my life."
Taanusiya is a Barbie collector, loves music and plays musical instruments.
"I love collecting Barbie dolls. I received my first doll when I was just three years old and since then I have been passionately collecting the dolls. I have a sizeable collection with me now. I also love to play musical instruments especially the piano because it helps to sharpen my mind set and increase my memory capacity."
Taanusiya dreams of becoming a successful fashion designer and perhaps running her own boutique and label someday.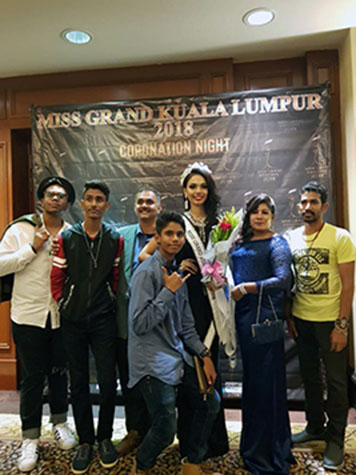 First runner-up is 24-year-old accounts executive Audrey Wong from Penang while 27-year-old senior operations executive Erma Masilla Kotiu from Kota Belud, Sabah has taken the second runner-up position. Coming in 3rd and 4th runners-up respectively were account manager Juliet Chong, 27, from Kuala Lumpur and student N.Nanthini Nadarajah, 21, from Klang.
Mrs Borneo World 2015 June Yap, one of the panel judges for Miss Grand Kuala Lumpur pageant described Taanusiya's win as "well deserved beauty with brains".
"She exudes beauty, confidence and charisma inside out," said Yap, the founder and CEO of Shine From Within.
In congratulating the winners, Miss Grand Kuala Lumpur state director Jacqueline Liwanag Malabuyoc said, "All the finalists have improved tremendously since day one. They had put their hearts and souls in this pageant and provided their best effort. They are well focused in all our trainings and activities. I am very proud of the fact that I have seen nothing short of a transformation in the way in all of them.
"It was really my pleasure seeing them grow as days passed by. I am sure they will be more successful in all their future endeavours. They are my treasure and I will not forget them. To the winners, they deserved it. They had prepared really hard and that's the fruit of their hard labour."
Jacqueline said the event was made possible because of the involvement of sponsors and partners.
"I was impressed by the way everything went smoothly. And we would like to thank our pageant sponsors and partners for their tremendous support. Together we succeeded to organize the event. Thank you to Peugeot Malaysia, Palace of the Golden Horses, Bikini Malaysia, Mikonoss by Chelsea Chil, Thirty8 Fashion, F45 Training KLCC, Catwalk Management, IV Management, In Design Studio Florist, Rentak Sejuta, Eric Lee Photography and 4Play Seafood Publika."