1,560 enforcement officers to monitor waste collection companies
The Housing and Local Government Minister, Chor Chee Heung, today annouced that there will be some 1,560 enforcement officers appointed throughout Peninsular Malaysia to monitor the effectiveness of the companies that were given concessions by the federal government to handle waste collection and public cleansing after launching the solid waste toll-free complaints line.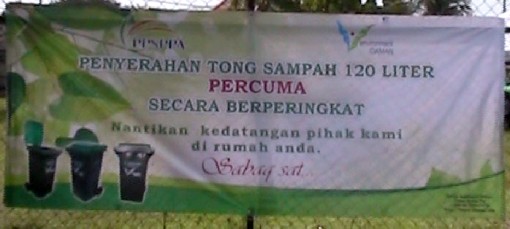 He said this in a ceremony where free garbage bins were distributed to the residents, here in Mergong, Alor Setar. The function was organised by  E-Idaman, the company that was given the contract to handle waste management in the Northern States namely Perlis and Kedah. The other companies chosen for the job were Southern Waste Management for the Southern region and Alam Flora for the Central region.
He pointed out that the government is very serious about solid waste management and public cleansing, and as such will not hesitate to pull back the concessions from any errand companies who are not doing their jobs properly and  give it to a more efficient company who were willing to provide better services to the people.
He further added, "if the garbage collection schedule is 10am but the (garbage collection) lorry comes  at 11am, we can give them another chance, but if it comes at four (in the evening), the government must act and will give the job to others."