Kota Kinabalu: More than 2,000 turned up for Bersih 3.0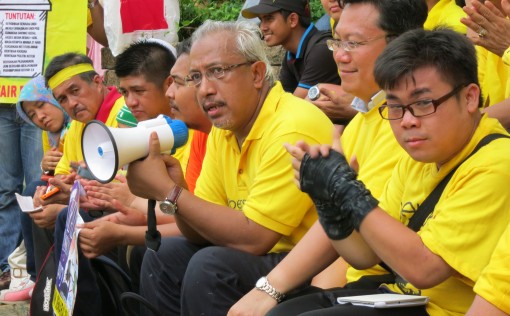 Sabah Bersih 3.0 leader Ansari Abdullah, a lawyer, declared the Kota Kinabalu 'more than 2,000 people' turnout a success.
He also thanked the police for upholding the peace with utmost restraint and tolerance by not oppressing the crowd with violent tactics.
Ansari regretted that elsewhere when the police reacted unreasonably, gathering became non-peaceful.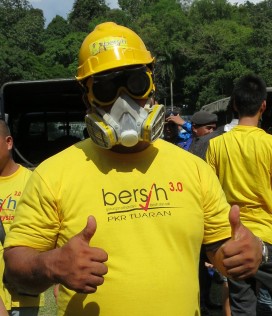 Some optimist put the turnout figure close to 5,000 strong with the Himpunan Hijau Anti-Lynas and anti-land grab NCR campaigner crowd that had marched from different directions in the city.
"That was better than the 23 persons that braved venturing into Padang Merdeka at the last Bersih 2.0 protest in Kota Kinabalu risking arrest," he said.
The crowds had marched from different directions to slip through police lookout and restraining squads from noon to converge at the Datuk Chong Thien Vun Park next to the Court Complex to sing the national and state anthem.
After speeches and gung-ho exhortations to reclaim Padang Merdeka, they formed a pincer hammer front linking arms that burst through intimidating police presence surrounding the Padang Merdeka in two directions chanting slogans that worked up the pedestrian bystanders into joining the human waves.
Fear and bewilderment can be seen in the eyes of the policemen, DBKK enforcement officers but the orders to confront and evict the robust and orderly Bersih 3.0 crowd never came through.
The Bersih 3.0 crowd rendered another round of national and state anthem while the music volume by the DBKK event was turned up to try drown out the singing but all in vain to frustrate the Bersih spirited crowd.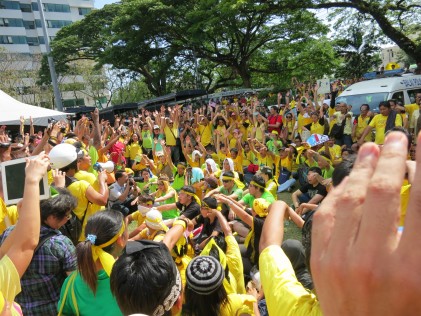 The same happened when a police helicopter hover overhead but the chanting grew even louder.
The gathering lasted until 4 pm when the Bersih organizers wind down with concluding speeches and an impromptu press conference for journalists to ask questions.