Aliran held a fund-raising high-tea themed 'Democracy and Election' on 29 April at the Rainbow Paradise Beach Resort, Tanjung Bungah, Penang.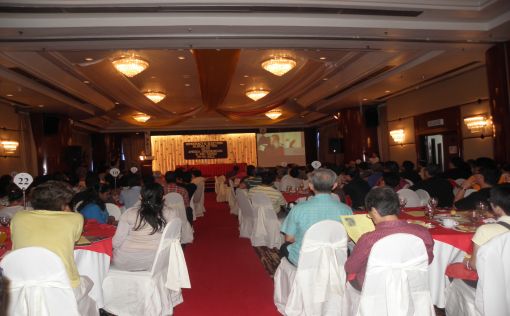 Invited guests were Ambiga Sreenevasan and A. Samad Said, Co-chairpersons of  Bersih Steering Committee. Unfortunately, due to the  chaos which broke out in Kuala Lumpur during the Bersih 3.0 rally  on 28 April, Ambiga felt that she had a moral obligation to remain in KL and thus could not attend the function.
However, Pak Samad and two other Bersih Steering Committee members, Subramaniam Pillay and Toh Kin Woon were present.
The function started with an introductory speech by P. Ramakrsihnan, from Aliran, where he urged everyone to fight for change and stressed that if everyone is determined about change, they will surely succeed in changing the government in the coming elections.
"Let us defend our God-given rights. Fight for what you believe in." he said. "I would like to end with a quote from Martin Luther King – 'Change does not roll in on the wheels of inevitability, but comes through continuous struggle and so we must straighten our backs and work for our freedom. A man can't ride you unless your back is bent.'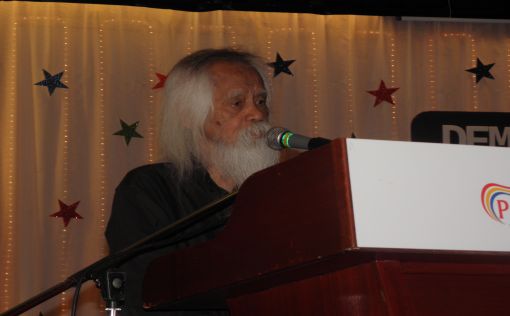 Tea was served after his talk, followed by an address by A. Samad Said– fondly known as Pak Samad. Pak Samad related his Bersih 3.0 'Duduk Bantah' experience on 28 April.
His daily routine, he said, was to walk past a pedestrian bridge near Central Market to Masjid Negara. On that day, however, he was stopped by a policeman . He was annoyed and asked the policeman why and he replied "Arahan dari atas" (order from higher-up).
"Arahan dari atas? That was not an Islamic answer at all. I had been passing by here everyday to go to Masjid Negara and now they stopped me? I was angry, so I sat down right there on the bridge as my 'duduk bantah' protest." said Pak Samad.
Like Ramakrishnan, he also talked about change and said that just by voting, we can change everything. He ended his address by reading his own poem 'Unggun Bersih' (Cleansing Fire) both in Bahasa and English.
Pak Samad also said that he received a lot of criticism in his Facebook. Someone asked him, why he has become a slave to Ambiga, and another told him off that he is a senile old man already, so it's better for him to sit quietly in a mosque, waiting to die. All this did not discouraged him at all, he said in his address.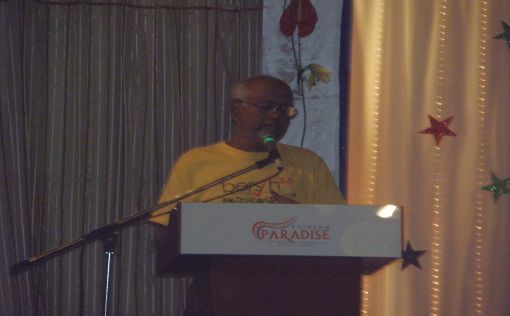 Subramaniam Pillay, who was an ex Aliran committee then elaborate on how Bersih came up with the eight demands, and why Bersih 3.0 was called for.
"The eight demands alone, not being fulfilled, are reason for Bersih 3.0, but another demand were added – calling for the resignation of the EC chairman and deputy chairman since they are Umno members.
In response to Bersih 2.0 rally, the government set up a Parliamentary Select committee (PSC) and came up with 22 recommendations. However the EC and the government had not given any commitment to implement the recommendations. Nor are they willing to address the issue of electoral fraud. Therefore the call for Bersih 3.0 was held before the next election."
He also gave the reason as to why they were sticking to Dataran Merdeka as the venue, over Stadium Merdeka. The Dataran has historic significance and is easily accessible via public transport. Further, it is an open space, unlike a stadium, in an enclosed area, the element of some kind of risk or danger to be there.
He expressed amazement at seeing so many young people at Bersih 3.0, and marveled at their energy. He felt that Bersih had ignited a flare within them, which made them come out spontaneously.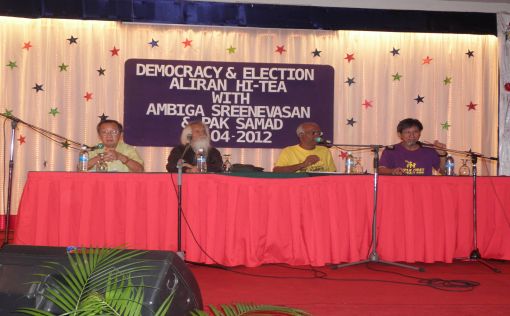 During the Q&A session, the three Bersih steering committee members were on the panel, with Aliran president, Francis Loh as moderator.
Before the Q&A started, Toh commented that the key for us to regain the rights to the future of our country lies in us fighting institutions which commit many mistakes. He was glad to note that Malayisans had started to overcome fear, as he said, when we overcome fear, we move towards justice.
The one important question that came from the floor was simply "What next?" (after Bersih 3.0)
Civil societies and NGOs, like Aliran should continue with the struggle, respond Subramaniam.  He said it is important  for them to be firm, committed and strong to be able to criticise and to keep the people in power in check.
Dr Toh informed that their resolve to fight for clean and fair election will continue, not necessary through protest and march but through talks to raise awareness.
"We had also launched 'Jom 100'. Jom 100 is the call for 100% of rakyat votes. We do know this is quite impossible, thus we are targeting at least 80%. We make this call because we realized that the higher the votes, the lesser the fraud. We had also invited teams from overseas as election observers and hope they will put pressure on the Election Commission."