"Flag Run" to commemorate Umno's 66th anniversary
The "UMNO Flag Run" to commemorate the 66th anniversary of Umno arrived in Kedah yesterday, with the runners from Perlis passing on the  flag to the Jerlun division head,  Abu Hassan Shariff, at the Kedah-Perlis border in Sanglang yesterday morning.
The flag made its way from Jerlun to Kubang Pasu, with Zulfitri Yaacob, the Kubang Pasu UMNO division vice-chairman, receiving it at Kodiang.
Arriving at Kepala Batas, the flag was received by Pokok Sena division head, Ahmad Lebai Sudin, at noon. Ahmad was accompanied by at least 100 runners including Pokok Sena youth wing chief, Harris Che Mat who ran a stretch of 20km along Jalan Hutan Kampung – Jalan Langgar – Jalan Sultanah.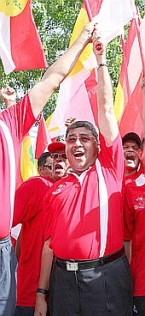 Kedah UMNO chief, Ahmad Bashah Md Hanipah, received the flag next and ran a distance of 3 km through other Umno divisions in Kedah and finally stopping for the the night in Jerai after going through Kuala Kedah.
"Along the run, we will also be collecting one million signatures on our banner which will stand as a symbol of support of the people", Bashah said to reporters.
The run started on Tuesday in Padang Besar, Perlis, at the border of Malaysia and Thailand, for the Northern zone. The flag will be carried by runners from different Umno divisions and branches and rallied through the the states of Perlis, Kedah, Penang, Perak and there after into Selangor.
The run is scheduled to come to end at the Bukit Jalil Stadium in Kuala Lumpur on May 11, where the 66th anniversary will be celebrated in a grand scale.
Three other zones, the east coast zone, southern zone, and sabah zone also started the run simultaneously on May 1 with the northern zone, after receiving the flags from Prime Minister Najib Abdul Razak on Sunday in conjunction with with this year's Umno anniversary themed 'Umno The People's Defender'.