Which party is best alternative for Sabah?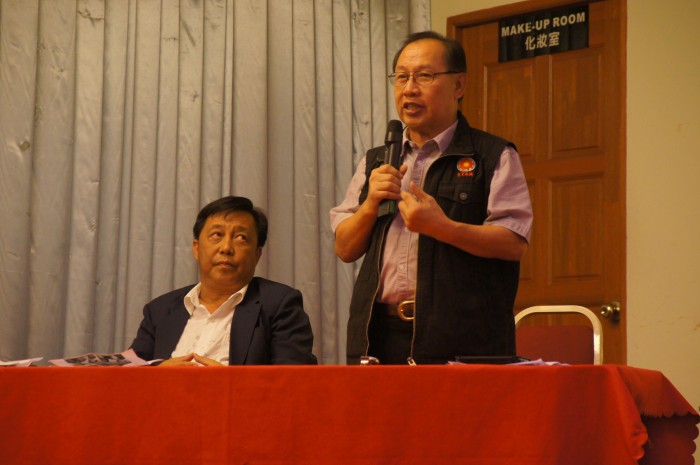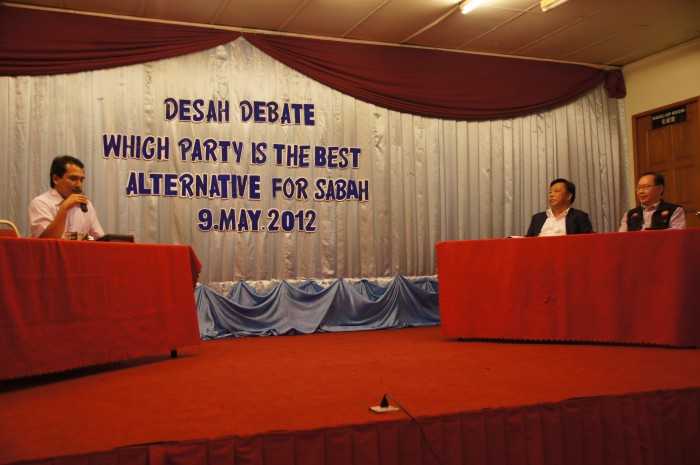 STAR Sabah chief Jeffrey Kitingan and DAP Sabah secretary-general Dr Edwin Bosi were the only two debaters who turned up at the first political debate in Sabah this year themed 'Which party is the best alternative for Sabah?' recently.
It was organised by an NGO committee – Democracy Sabah or Desah headed by former Suhakam commissioner from Sabah, Simon Sipaun, to promote straight fight in every constituency in Sabah to empower the two-party system.
"We are outnumbered by the illegal immigrants. There are 1.7 million of them compared to 1.5 million locals. Where is the (Royal Commission of Inquiry) RCI that was promised to look into this. We have made their stay very conducive. The BN exploited these people to stay in power. We will know how to make their stay less conducive so that they will move elsewhere," Jeffrey charged.
"If you voted in Pakatan to form the next federal government, we have promised to set up the RCI without delay and resolve NCR land matters," countered Dr Bosi.
Both leaders from the opposition used the long festering illegal immigrants issue to touch base with the audience by presenting the scenario that there were 1.7 million foreigners in the 3.2 million population of Sabah compared to only 1.5 million locals with the BN to blame for the situation of exploiting alien voters to stay in power.
Both debaters at the Dowish restaurant hall in Penampang took pain to avoid personal attacks and spent more time running down the unrepresented BN over the long litany of ills that plagued Sabah and her allegedly marginalized non-Muslim natives that both leaders represent.
It did not however prevent their supporters from fielding 'offensive' questions to the chairman after the debate which turned out to be more of a speech delivery session by both debaters.
Jeffrey started off by remaining Sabahans that they have only this one chance to play 'kingmaker' in national politics by focusing their electorate mandate to empower state-based party like STAR to fight to regain lost state rights and to make Sabah stronger again, from currently being the poorest state in Malaysia. He mused whether Pakatan would turned out to be another form of BN.
"If not for Sabah and Sarawak, the BN would have lost power in the last election. Sabah and Sarawak can use our parliamentary seats collectively to decide who forms the next federal government. If you give the BN another two-third mandate, they will even make things worst.
"If STAR comes to power, we know what to do. We have original plans, not copied from elsewhere. We determine what is good for Sabah, not some people in Kuala Lumpur. In the United States, not all federal laws and regulations can be imposed on every states," he said.
He blamed the BN for using its long held two-third majority in Parliament to change the federation of Malaya, (Singapore which was ejected in 1965), Sabah and Sarawak into a KL-centric control freak authoritarian structure instead of a federation of (four) three equal consensual partners.
"Sabah was an independent autonomous country before it formed Malaysia with (Federation of) Malaya, Singapore and Sarawak. We have the twenty points that ensure our rightful status. We have the right to collect our taxes and oil revenue. We intend to pursue these promises to the highest level in the international arena, including the United Nations. When we have the revenue, we know how to develop Sabah better," he said.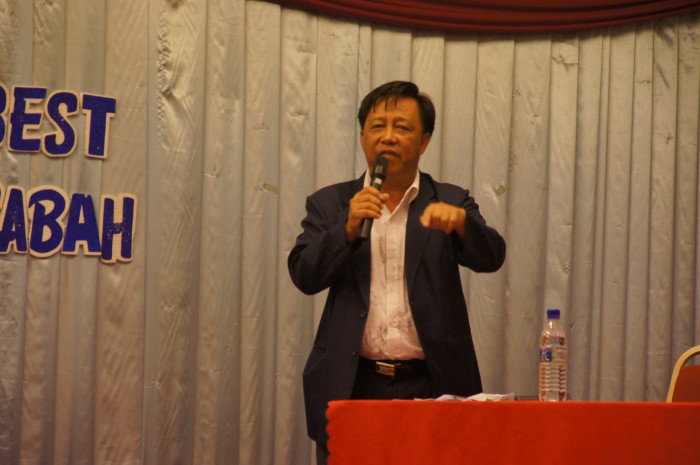 Dr Bosi who was twice booed by some Sabah nationalistic hotheads in the 200 strong crowd for professing to not know much about Jeffrey's Borneo agency and asking only for 20 per cent oil revenue from the current five per cent royalty, quipped, "I should have brought more supporters. 20 per cent is just a starting figure. We have to be realistic."
He started off by a jovial icebreaker – "How can you get to the STAR without the Rocket?" in reference to his party's credentials in fighting for a Malaysian Malaysia long before Najib's 1Malaysia.
"DAP is the only party which have never joined BN," Dr Bosi stressed.
Dr Bosi tried hard to differentiate Pakatan Rakyat's appeal that the DAP would ensure the realization of the two party system where else STAR stated that it would want to work with whichever coalition that formed the next federal government – be it PR or BN.
Jeffrey prior to that had said that it should be more than a two-party system because in England, there are three alternative choices.
Dr Bosi said DAP leaders had stood up for the marginalized and one even went to jail for helping a Malay girl and others detained under the ISA that the party consistently and persistently fought for its abolishment besides other oppressive legislations exploited by dictatorial leaders.
As a parting shot in the differentiation pros and cons arguments between state based party and national based party with Sabahan involvement in the bigger picture, Dr Bosi ran the audience through the political history of Sabah when state based parties – Usno, Berjaya and PBS were in power.
He told them that these state based parties were among the culprits that had contributed to the erosion of Sabah's rights and status over the decades and urged them to embrace a coalition of friends that they may need especially in Kuala Lumpur to make things right again for Sabah.
Simon Sipaun closed the debate by lambasting a BN assemblyperson Jainab who likened his NGO initiative to promote one-to-one fight as a political gimmick.