Looking back: The last ISA detainee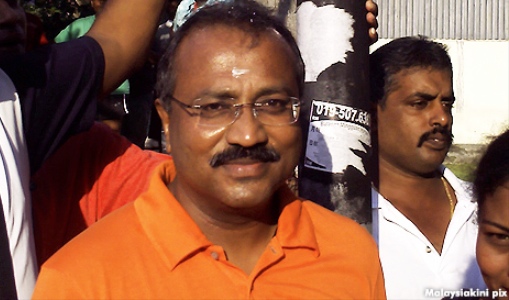 May 9, 2012 marked the third year anniversary of P Uthayakumar's release from the Kamunting Detention Centre after he was arrested under the recently repealed Internal Security Act (ISA).
P Uthayakumar was arrested immediately after the November 2007 rally which saw many Indians take their frustrations to the streets led by Hindu Rights Action Force (Hindraf).
Locked in Kamunting Detention Centre under ISA for 514 days, P Uthayakumar's release made waves as his was the final political prisoner to be released after detainment under ISA.
According to P Uthayakumar, he refused to sign the ISA conditional release papers on his final day; in retaliation the prison authorities had "thrown" him out of prison, resulting in bruises on his left leg.
It has not been all rosy for Uthayakumar since his release. Many reports have suggested Uthayakumar's political and personal views had left him at logger heads with Hindraf leadership.
Uthayakumar's last statement was an open call to Pakatan Rakyat to announce its governance policies for the Indian community upon election. This resulted in a decision by Hindraf to severe their ties with the leader in April this year. (P Uthayakumar remains as the organisation's legal advisor and de facto leader.)
While keeping their distance with Uthayakumar's views, Hindraf too has adopted an anti-Pakatan Rakyat stance along the way.
Hindraf's official website – www.humanrightspartymalaysia.com – shows an increase of accusations towards Pakatan for not safeguarding the interests of poor Indians, instead of solely blaming Barisan National or UMNO.
On accusations that Hindraf is operating with a racist agenda, P Uthayakumar stresses that Hindraf is merely championing the cause of poor, ostracised Indians.
Hindraf, he states, is acting as a focus group to represent the Indian poor and to recognize the problems brought on by poverty on such Indians.
On his third year of freedom from imprisonment, Uthayakumar hopes to see the end of all racist policies in the state, private, and religious sectors. 'We yearn for the day when real, true, harmonious, peaceful and co-existent 1 Malaysia with equality and equal opportunities becomes a reality'.
P Uthayakumar is the de factor leader of Hindraf and author of 'Malaysia Indian Political Empowerment Strategy- The Way Forward'.