PKR: Who gave Star the mandate to speak for Borneo?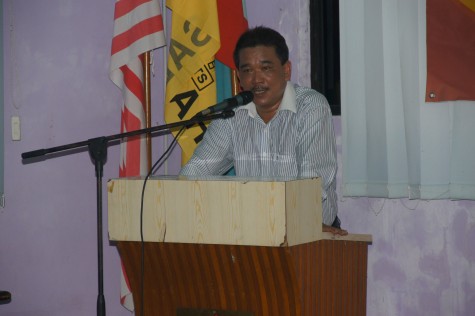 TAMPARULI: 'Who gave Jeffrey Kitingan, State Reform Party (Star) Sabah chairman, the mandate to represent Borneo which includes Kalimantan Indonesia and Brunei?' sums up the thrust of Parti Keadilan Rakyat (PKR)'s mind game with Star at the second debate organized by NGO Sabah Democracy (Desah) and moderated by Arnold Puyok of UiTM.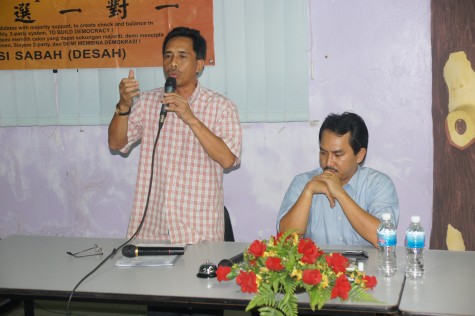 About 200 people mostly supporters of the two parties thronged the Tamparuli Recreation Club between Pajudin Nordin of PKR and Edward Linggu of State Reform Party (Star) last Monday in the inter-party debate for P170 Tuaran titled "Is a state or national party the solution to problems in Sabah".
Tamparuli  is a sub-district of Tuaran where the up-side down house tourist attraction is located.
Organizing chairman Ronnie Klassen started off the debate session by thanking the Special Branch for their keen interest and dutiful reportage to the authorities and the police for maintaining the peace. Desah head Tan Sri Simon Sipaun sent his apologies for being away on work duty in Kuala Lumpur.
Star's Linggu retorted with 'Who gave the mandate for Pakatan Rakyat to write their Buku Jingga manifesto?' alluring that East Malaysian input was inadequate and West Malaysian dominated politics do not have Sabah's best interest at heart.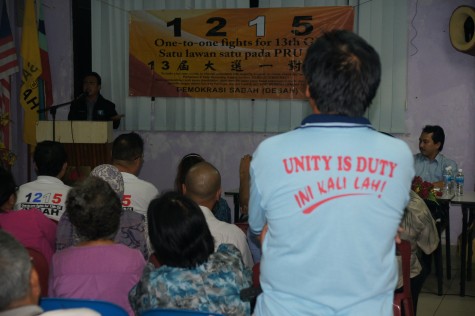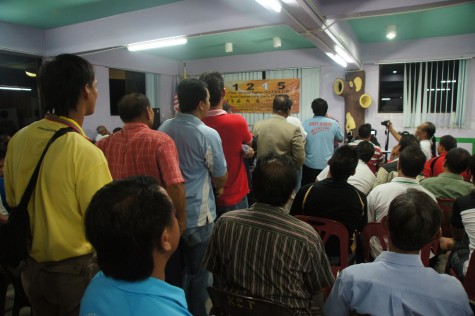 The main difference between the first and second debate organised by Desah besides the venue, ambience, entrance fee and speakers debating in the Malay language, not English, was the kind of raucous supporters.
This time, PKR came prepared with their own vocal cheerleaders puncturing the debate session with shouts of 'Reformasi' and 'Lain Kali-lah' every time Star supporters shouted 'Ini kali-lah'.
The Star supporters indulged in booing the opponent from PKR.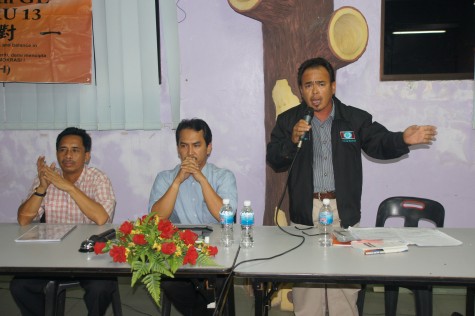 PKR's Pajudin refused to ask his Star opponent any question but to absorb all the flak and to reply with answers.
The moderator did not show enough resolve to stop unnecessary and distasteful booing and heckling by the audience which were increasingly emotional as the hours dragged on.
Star did not deal satisfactorily with the Borneo mandate poser but revealed one of their original ideas to be implemented once taking over Sabah – the formation of a Native Land Foundation to buy over distressed NT lands on foreclosure or from owners until they redeemed them later with whatever subsequent means acquired thereafter.
PKR's Pajudin was merciless in running down Star as a resurrected Sarawak import that was rejected by Sarawakians with its candidates losing their deposits at its last election flay. He asked the audience whether they knew who the Sarawakian president of Star was. He said, "Star is a party formed to champion the Dayaks."
He was blunt in accusing Star of being a spoiler. Star Sabah head Dr. Jeffrey had mentioned in the first debate that the party aspired to be a kingmaker working with either the BN or PR in power to regain Sabah's autonomy and rights as an equal partner in the Federation of Malaysia comprising Malaya, Sabah and Sarawak.
Star's Linggu retorted with branding PR a Malayan political coalition which should rightly be confined within the shores of Malaya as was agreed between leaders during the formation of Malaysia to vie for only 65 percent of the parliamentary seats while Sabah and Sarawak were rightly entitled to 35 percent of the parliamentary seats as a check and balance system to avoid concentrating two-third majority in Malaya for KL to change the constitution at its whims and fancies.
PKR's Pajudin asked the audience to ponder whether was it realistic for Star to be able to affect all the desired changes without changing the structure of the centralist federal government because the power to declare an emergency as in the past and the episodes of Kelantan, Stephen Ningkan dismissal case, and the toppling of local parties by federal proxy parties like Berjaya, and the later Sabah BN components only served to allegedly show that present Umno has no desire to play fair and keep agreements made by previous leaders.
Pajudin kept emphasising on Bangsa Malaysia, not narrow racialism or nationalism. Both Linggu and Pajudin said they would have preferred to debate issues with the BN and they called on each other's party to support the unity of the opposition to bring about a straight contest against the BN.
Desah, a civil society group formed to promote straight fights in the coming 13th General Election.