Photoblog: Kelantanese take kite-flying international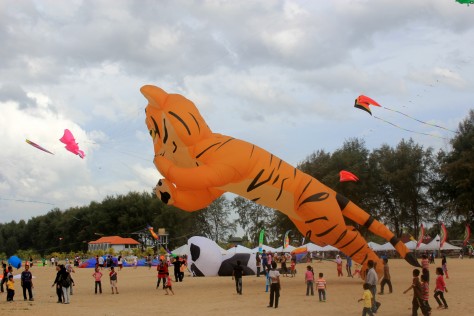 TUMPAT: In conjunction with the Visit Kelantan Year 2012, the Kelantan Tourism Information Center with the cooperation of the state government organised the 30th International Kite Festival held in Pantai Geting, Tumpat from Jun 5th to Jun 9th.
The annual event attracted many foreign participants including those from India, Korea, Brunei, Germany, Switzerland, China, Vietnam, Singapore, Indonesia, Thailand, Austria and Cambodia.
Various activities will be held during the 5-day event including coloring competition for children, workshop on kite making alongside school and national-level kite-flying competition.
Today's event attracted many local tourist who came from near and far who took the opportunity during the present school term holidays to visit Kelantan.
The organiser said that many participants were satisfied with the programme and that is why they returned to participate in this annual affairs.