DiB's vision for the deaf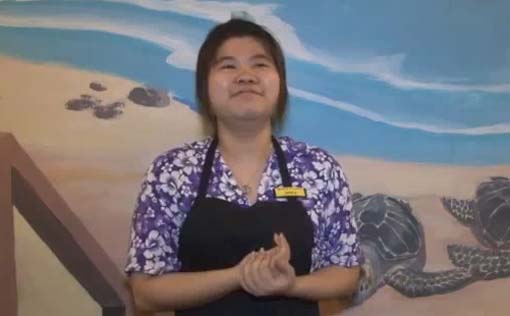 Great Coffee, Wow Service! That's the tag-line of Deaf in Business (DiB) Coffee of Hawaii.
It is no ordinary gourmet coffee outlet but one that is served by hearing-impaired persons as staff.
The joint is founded by Dr Allen Teh, to help the hearing–impaired gain independence and dignity.
Teh, who is also CEO of Centre for Customer Care (CCC) Malaysia, runs the new café in Bandar Damansara Perdana, with seven hearing-impaired staff.
He teaches them the ABCs of operating a gourmet coffee outlet, from making coffee and baking cakes, to business management and customer care.
Teh's confidence comes from having started the country's first Kentucky Fried Chicken (KFC) outlet run by hearing impaired employees in 1985, at Jalan Imbi, Kuala Lumpur
The café, which opened on January 1, brews imported selections from the Coffees of Hawaii label, with coffee originating from plantations in Molokai, Maui and the Big Island known to be aromatic and flavourful, thanks to its volcanic soil.
While waiting for their orders, customers can learn how to sign a variety of words like "cappuccino", "espresso", "more" and "thank you" from the back of the menu.
Teh's purpose is also to reach out to parents of deaf children, to show them that their kids have potential.
Teh's vision is to be the most successful and profitable 1st Deaf-run Gourmet Hawaiian Coffee Chain in Malaysia, Asia and worldwide.
DiB's vision are :
To provide employment opportunities for deaf/hearing-impaired (DHI) Malaysians, with good career prospects
To provide skills-training to DHI to become a Professional Coffee Barista
To provide operational and management training for DHI to run and operate a Gourmet Coffee outlet
To motivate, groom and coach DHI to become business entrepreneurs, who will have the opportunity to own and operate his or her own DiB Coffees of Hawaii outlet, throughout Malaysia and even into other countries
To date, they have two outlets , one which is located at Bandar Damansara Perdana and another opening soon at Menara Gamuda, PJ Trade Centre.
Another project in the pipeline is the setting up of the world 1st Barista Academy for the hearing-impaired known as DiBBA which is confirmed to open in August 2012.
Teh hopes to see potential hearing-impaired students coming in from overseas.