Myanmar diaries: How Yangon is coping with change
In Yangon, the majority of the people are Bamars ( the dominant ethnic group) which also include Burmese Indians and Burmese Chinese.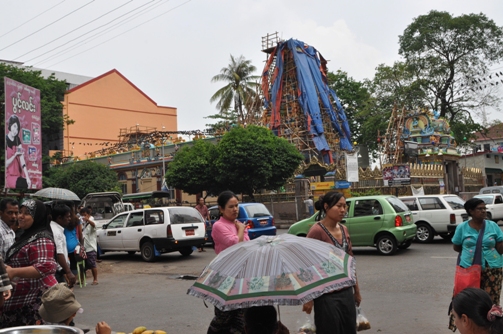 A busy road junction in Yangon. Note the blue and green Cherry no frills car from China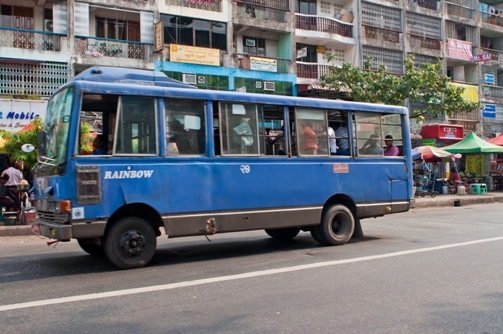 Public transport in Yangon, always overly crowded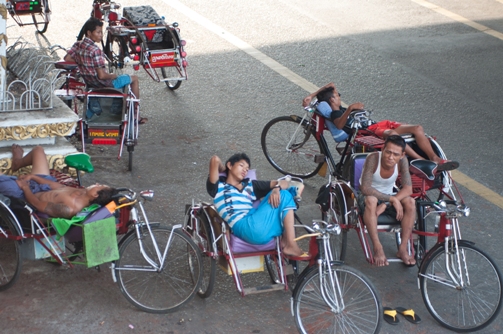 Trishaws along the main boulevard leading to downtown waiting for non existent passengers.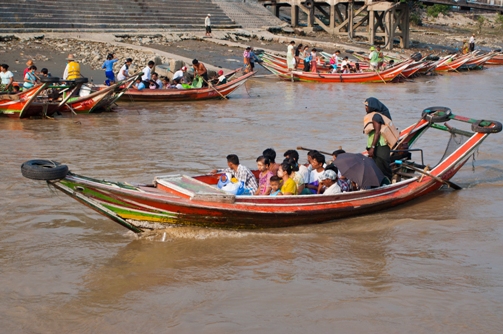 Along the Yangon River, these boats are a  popular mode of public transport
Buses are old and worn out and they are almost always overcrowded. Many of the drivers proudly claim that they are running on 40 year old engines.  Cheap no frills cars made by Cherry of China are slowly gaining dominance on the roads. Motorcycles and bicycles are not allowed on the road in downtown Yangon but this ruling may change very soon.
Power failures are the order of the day, so much so that Yangon is pretty well known as the city of generators. Internet infrastructure is at its infancy and mobile phones are far too expensive for the ordinary people.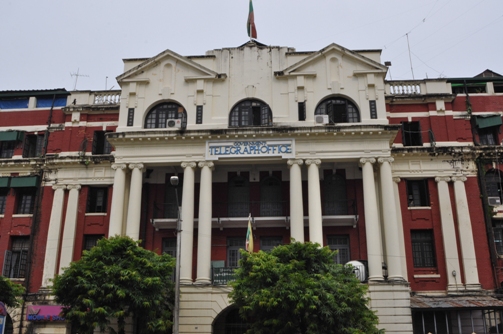 The Telegraph Office is something from the past which is still relevant here

There is a general sense of optimism that things will be better and indeed there are visible changes especially in the democratic reforms over the past two years, for example, the release of thousands of political detainees, peace treaties with the minority states and the by-election victory of the pro democracy opposition party lead by Aung San Suu Kyi.
It was only on 1stApril 2012 that Myanmar's central bank adopted a managed float for its currency, scrapping a 35-year fixed exchange rate.  When the market opened, the Myanmar currency kyat was quoted at 824 to the dollar, versus the old official rate of around 6 to the dollar. (The Myanmar Govt evidently has overrated its currency by 125 times).  This indirectly brings about higher prices and rising inflation.
Currently Myanmar is one of the poorest countries in the world, with one in four of the country's 60 million people living in poverty. Three out of four people have no access to electricity.  (Extracted from The Asian Development Outlook 2012 (ADO 2012))
The people of Yangon will have to learn to cope with this modernisation process. In the meantime it is still business as usual for most of the population here.
The following images show roadside vendors pedalling their wares and services in downtown Yangon.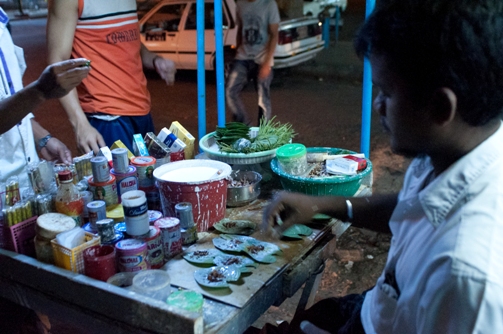 The roadside betel leaf seller is a common sight in Yangon.  It is chewed along with areca nuts, slaked lime and a mixture of tobacco and other spices.