Muar fishermen enjoy government windfall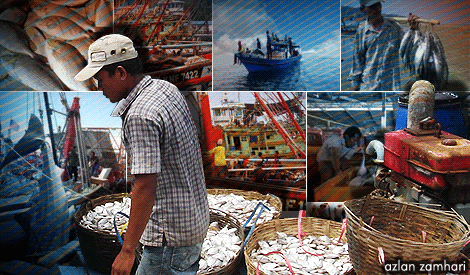 Programme Ihasan Samudera was held at a coastal fishing village of Parit Unas, Muar today.
Over 1000 people attended the event sponsored by Yayasan 1 Malaysian Development Berhad (1MDB).
The event was coorganised by Kementerian Pertanian Dan Industri Asas Tani Malaysia, Agensi Jabatan Perikanan, Lembaga Kemajuan Ikan Malaysia and the state government.
1MDB is a strategic Development Company owned by the Malaysian government which prides itself as a leader in market-driven initiatives to help transform Malaysia into a thriving economy.
It supports Prime Minister Najib Razak's 1 Malaysia programme by focusing on service to the community at various levels in an effort to reach out to the people and reduce the financial gap, in this case the traditional fishermen who are said to be living below the poverty line.
Speaking to reporters Razali said boats, engine, fishing nets, seine, life vest, food basket including cash packets of RM100.00 for 254 children of fishermen cost 1MDB RM2million.
A further RM730 thousand has been allocated under the Fishermen's Housing Fund.
When asked about the rapid rate of decline of fish at sea Razali said in some countries fishermen are not allowed to go out to fish on somedays so that it gives the fish time to breed.
Feature image take from: Malaysiakini.com