Komtar Tower Run expecting 1000 participants

Are you up your mark for a physical and mental challenge to run up 65 flights of stairs? If you are, then the Penang Komtar Tower Run is for you.
The Komtar Tower Run, into its fourth year now, is organised by La Vintage Event Sdn Bhd and endorsed by the Penang state government.
Supporting the event are Penang Development Corporation (PDC) Setia Urus and Penang Sports Council.
Closing date for the registration of the run which was on July 15, 2012 earlier, had been extended to July 31, 2012.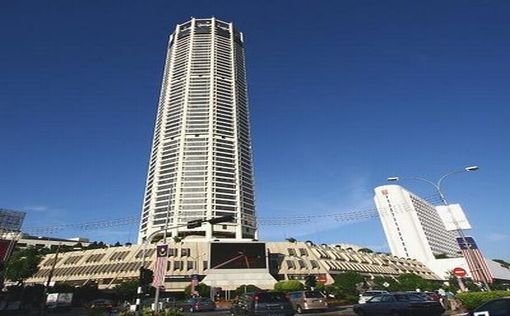 Komtar is Penang's tallest building and an icon of Penang in its heyday. The building consists of a 4-storey podium block, where commercial spaces and public and recreations facilities are housed.
The tower, apart from the Viewing Gallery and a restaurant, the rest of the floors are where the offices of government departments are located.
The Komtar Tower Run, will be held on 1 Sept. 2012, beginning from 6.00am. It will start with a short route of 1.8km from Lebuh Tek Soon (in front of Maybank Komtar) and passes through Penang Road, Jalan Dr Lim Chwee Leong, Jalan McNair and Jalan Magazine.
The participants then have to run up the entire 60 storey of the tower block.
The Komtar Tower Run attracted not only locals but international runners as well.
In a press statement dated July 17, 2012, Penang state assemblyperson for Komtar Ng Wei Aik, who is also the political secretary to Penang chief minister, informed that so far  the run had managed to attract 475 runners from Kedah, Perlis, Kelantan, Perak, Selangor and Negeri Sembilan.
International participants came from Kenya, Japan, Australia, Germany, Myanmar, Philippines, United Stateof America and Thailand.
Ng said "This shows that the community at large has committed their love towards such extreme challenging sports. The Chief Minister of Penang Lim Guan Eng will be invited for the prize-giving ceremony.
We also welcome those who are interested to be our partners to sponsor the event. Let the event become more attractive and meaningful and continue to be another important event forPenangas well as for KOMTAR."
The registration fee varies according to the different categories. There will be seven categories: international open (18 years and above), men open (18 – 44), women open (18-39), boys junior (13-17), girls junior (13-17), men veteran (above 45), women veteran (above 40).
Participants will get a participation certificate on joining the event and are entitled to collect a 'dry fit' type running shirt and a goody bag on 25 & 26 Aug at the Komtar Tower Lobby (next to Maybank).
Briefing and other information will also be given out on those days.
Runners who completed the run will be given another Completion Certificate and a Finishing Medal.
The prize-presentation ceremony will be held at Dewan Tunku (Geodesic Dome), Level 5, which is within the Komtar building. Top winners of the different categories will receive cash prizes and medals.
There will be a lucky draw with attractive prizes such as Korea and China Holiday Package for two persons, cameras, electronic products, vouchers, bicycles and many more.
Shawn Ng of La Vintage Event informed that for the past three years, they had also been the organiser.
For this year, he informed that the Run managed to attract 16 Japanese. Although the number now stands at 475, they are expecting another 300 or so to join during this weekend.
"Last year, we had 936 participants, so this year our target is 1000 participants." Shawn said.
"Beginning last year, we introduced the Chief Minister's Challenge Trophy."
"The Challenge Trophy would be given to the runner who holds the record as the fastest runner, effective last year, for three consecutive years.
"Last year's record was set by  a Kenyan at  a time of 12 minutes and 36 seconds."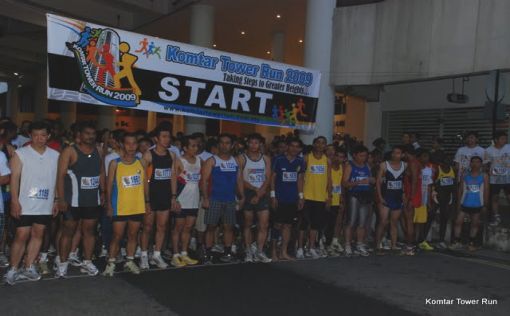 Those who are interested to join the run, you can get register and submit the form at:
1.  KOMTAR State Assemblyman's Service Centre at 31, Lorong Seratus Tahun.  Tel : 04-227 0215.
2.  La Vintage Event Sdn. Bhd. at 57-2, Persiaran Bayan Indah, Bayan Bay, Sungai Nibong. Tel : 04-640 8939.
3.  PDC Setia Urus Sdn. Bhd. at Arked Tek Soon 4, Phase 1C1, 4.03-4.11, KOMTAR.  Tel :04-262 3705.
Online registration is also available at My Race Online. .  For more details, please visit the Komtar Tower Run website  or its Facebook page.  You may also contact contact Shawn Ng of La Vintage Event at 012-4401398.
There will  be a Road-show at the Komtar Tower Lobby (next to Maybank) on 28 and 29 July at 10.00am to 6.00pm, of which you may obtain the form to sign up and get other details.