Missing drain covers pose grave danger to residents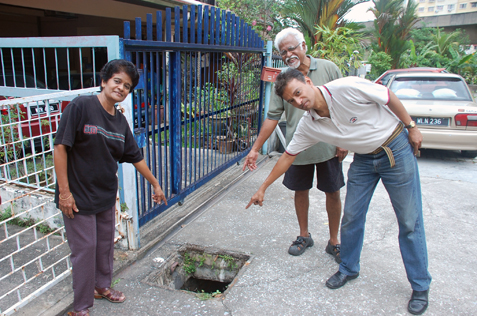 Residents staying at Jalan 21/18 and Jalan 21/20 in Section 21 SEA Park, Petaling Jaya were shocked to find the metal drain gratings (covers) in front of their homes missing overnight, here, recently.
The metal covers measuring 55cm x 68cm are suspected to have been forcibly lifted and carted away by metal thieves who sell it as scrap metal.
More than a dozen metal drain covers in the residential neighbourhood were reportedly missing.
Residents believed that the theft took place in the wee hours of the morning when everyone was asleep.
A resident claimed to have seen a small lorry parked near the drain gratings but did not suspect anything amiss.
'I have been staying here for the last 32 years and this is the first time such a thing has happened', lamented Thomas K, 63, one of the affected residents.
He said the uncovered drains pose a grave danger that can cause serious injury if someone, especially children and the elderly unknowingly stepped into it.
The affected residents are hoping that the local authority would take public safety seriously and quickly replace all the missing drain covers before any mishap happens.
In the meantime, the residents have been forced to resort to temporarily cover the gaping holes in front of their homes with old tyres, wooden plank, concrete slab, plastic container, a red flag and even dry sugarcane leaves to warn passers-by.