Niat lists five requests from next government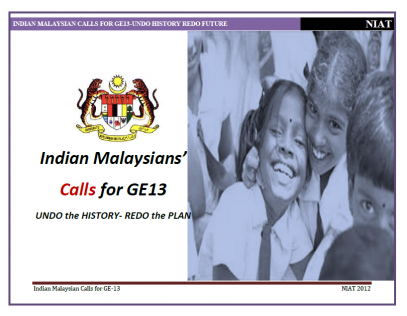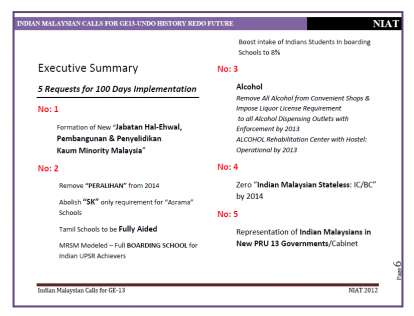 National Indian Rights Action Team (Niat) presented a comprehensive paper outlining 5 major requests to be implemented by the new ruling government within the first 100 days of holding office.
The 42-page booklet, titled "Indian Malaysians' Calls for GE13: Undo the History – Redo the Plan", was presented at a function attended by some 80 representatives from Indian NGOs and several politicians, including Subang MP Sivarasa Rasiah and Gerakan Wanita chief Jayanthi Devi Balaguru and Bersih co-chairperson Ambiga Sreenevasan in Kuala Lumpur.
Niat demanded the immediate formation of  a Minority Affairs and Development Department to be placed under Prime Minister's Department with annual allocations so that there would be proper representatives and a department to  address issues faced by the minorities in Malaysia.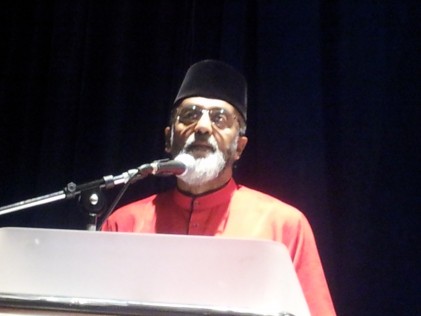 Niat chairperson Thasleem Mohamed Ibrahim  called upon politicians and those involved directly or indirectly in implementation to end finger pointing, blaming,  hating and racial based division.
"Let us move forward in a friendly and positive manner, put all our differences behind and our future in front, we Malaysian can make it happen," he said.
"In the past, it was our courage, unity and trust that moved the country forward and surely it is going to be the unity and togetherness regardless of race and religion that will move the economy and country at large into the next millennium based on the common interest of living in harmony as the ultimate answer.
"Let us move forward together as friendly Malaysians," he hailed.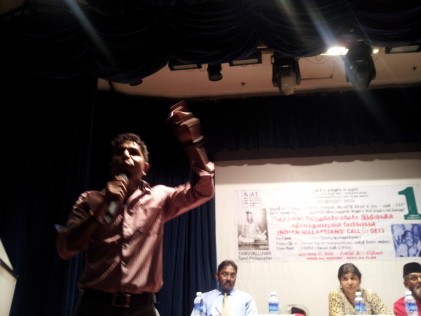 Niat secretary Arun Dorasamy who was also the project director to put together the group's 42-page booklet to explain the demands urged the government to form a special department soonest possible that will look into social issues faced by Indians.
"We have over 400 brands of illegal alcohol brands available at convenience and medical store but the government has been ignoring the call to crack down on and deal with issues of alcoholism among the Indian community.
Niat calls for  review of the alcohol laws and regulation in Malaysia to deter youths from being lured into alcoholism by suggesting:
The increase of the age limit to 21 for legal alcohol consumption as right now it is 18.
The criminalising of public drinking.
The set up of Malaysian Alcohol Research and Rehabilitation Centre.
He further outlined that Indian Malaysian needed proper government representations.
The proposal calls a Malaysian Malay prime minister and deputy prime minister, plus two addition deputy prime minister posts.
The booklet also explained that the marginalisation of Malaysian Indians was due to under-representation in government.
For related story: Niat lists GE demands – seeks M'sian Indian DPM.
Other salient points that calls for government policies changes by Niat's Indian Malaysians' Calls for GE13: Undo the History – Redo the Plan are:
Indian Malaysian Term: The Indians of Malaysia should be reffered to as Indian Malaysians or Malaysian of Indian roots.
Malaysian Language: To recognise and declare Mandarin and Tamil as part of Malaysian Language.
Federal Tenders:  All qualified Malaysian Indians should be allowed to register as Class F Contractors at the Central Works Registry and this registration should not be reserved for Bumiputra contractors alone.
Education: Intake for Matriculation and Institutions of Higher learning must be synchronised with national policy of 8% and merit systems need to be discontinued.
Civil Service Employment Government has to proactively meet the participation quota of Malaysian Indian in civil services at the minimum of 8%. It is recommended that an additional 60000 employments is given in every category of civil services. Currently, Malaysian Indians represent less than 4% of civil servant force.