Voice of Women appoints first Green Ribbon Ambassador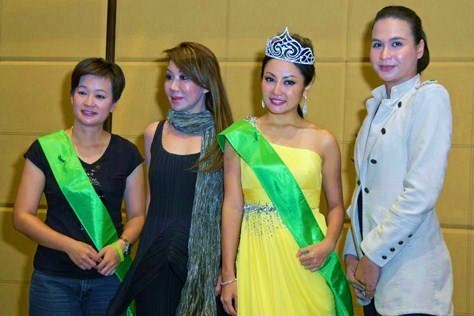 The Voice of Women, an NGO, appointed Miss Asia Pacific Petite World 2012 Irene Tan as its first official Green Ribbon Ambassador for her strong support for organ donation.
Its president Chew Hoong Ling presented a wide green sash to Irene Tan who wore it across her chest at the Miss Asia Pacific Petite World 2012 press conference at Millennium Hotel in Kuala Lumpur recently.
"Organ donation is never a sexy thing to promote and we hope more people would come forward to volunteer and promote the cause", said Chew who has donated 60% of her liver three years ago.
"We are trying to make promoting organ donation accessible for the young people and be a "sexy" Green Ribbon Ambassador – men included!" she said.
The Green Ribbon Ambassador is awarded as a symbol of strong support for organ donation to volunteers who had undergone training to speak on organ donation, organised impactful organ donation campaigns and garnered at least 30 organ donation pledges.
Voice of Women, together with the National Transplant Resource Centre, kick-started a Green Ribbon Ambassador campaign to recruit and train volunteers to promote organ donation.
Chew, an advocate for organ donation, noted barriers of entry for interested volunteers.
"There are many people who are interested to join us but do not know where to start. Many are also afraid to answer inquiries from the public," she said.
Trained volunteers who have gained enough experience promoting organ donation either in their own campaigns or with Voice of Women's "Spread Love Save Lives" campaigns and garnered at least 30 genuine organ pledges will be awarded a green sash as Green Ribbon Ambassadors.
Voice of Women also welcome sponsors to print T-shirts, button badges and collar pins for volunteers and the public with the aim to spread and promote organ donation awareness.
Interested volunteers can visit the Do Something Good website.
Voice of Women Association (Persatuan Suara Wanita) Kuala Lumpur and Selangor is an NGO aimed to engage young women in the society to help in nation building, gather the voices of young women in national issues and project collective voice of women in current issue and promote gender equality and issues concerning women at large.
For further enquiries, please contact its president Chew Hoong Ling @ HP: 016-3310325 and Email: [email protected] or visit Website  or their  Facebook page.