Designers win MIJF Jewellery Design 2012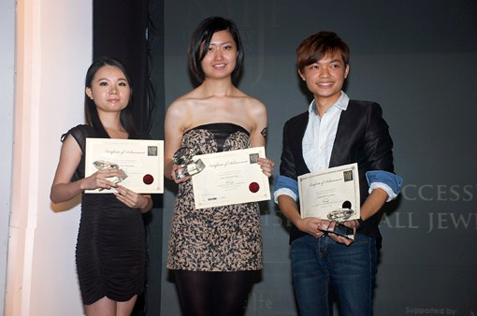 The MIJF Jewellery Design Awards 2012 came to an exciting end with the winners and finalists of the regional competition receiving their prizes at an awards presentation ceremony witnessed by their families, friends and visitors at Kuala Lumpur Convention Centre (KLCC) recently.
For Gan Soek Lan, 25, from Port Dickson, it was a triple award joy when she was announced the overall winner of "Most Outstanding Award' for her earrings design which received the most number of votes cast by visitors to the Malaysia International Jewellery Fair (MIJF) 2012 which concluded recently.
Gan was the  winners of two design awards for the Necklace and Earrings categories which was announced in June. Her necklace design entitled "Crystallisation of Love" was inspired by a courting pair of fluttering butterflies whilst her earrings design entitled "Rainbow after Rain" shows a set of earrings resembling the colourful rainbow after the rain, with multi-colour of sapphires, aquamarines, white diamonds, peacock Tahitian pearl and 18k white gold.
Another Malaysian designer Freedom Chong Jian Fei, 23, from Selangor was the winner in the Bangle category while Hong Kong designer Tang Yuk Ying, 23 took home the design award in the Ring category.
"I really did not expect this but I feel very happy my effort and hard work has been recognised," Gan said of her outstanding achievement after receiving the prizes.
A jewellery design diploma graduate of Chin Jewellery Art Centre in Kuala Lumpur, Gan said she will work first to gain the necessary experience and exposure before saving enough money to start her own jewellery business one day.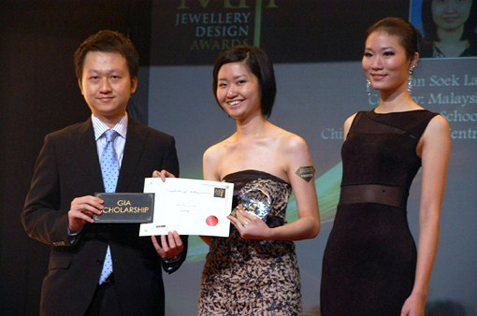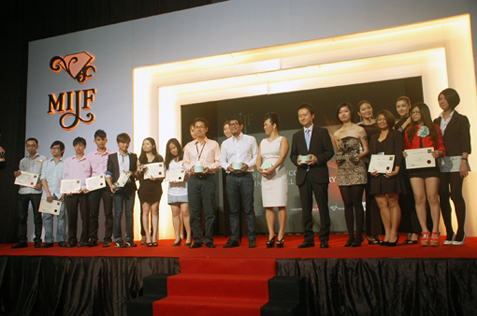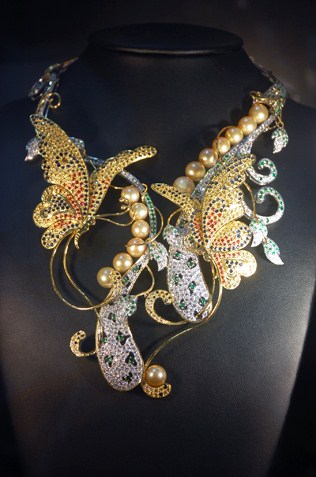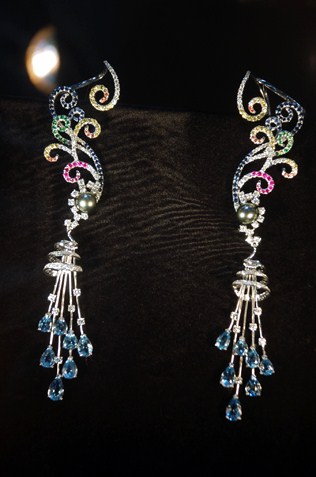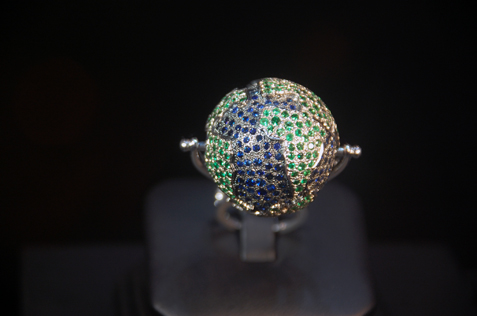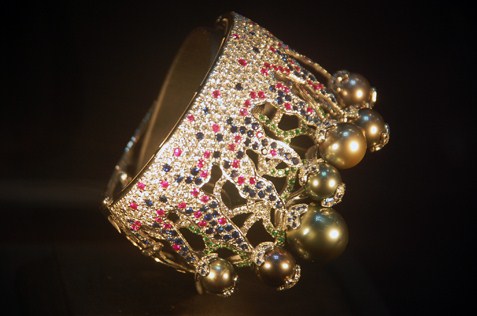 Evon Young, PR and communication director of Elite Expo, the event and contest organiser said: "The MIJF Jewellery Design Awards is our first step to further promote the capability of Malaysian jewellery market and specialty of Malaysian-style jewellery design to the world stage."
Held successfully for the second year running in conjunction with MIJF 2012, the regional competition attracted over 200 entries from students of arts and designs school in Asia including from Thailand, India, South Korea, China, Singapore, Taiwan, Hong Kong and Malaysia.
The four winning designs were assessed by several major industry players in global jewellery market and awarded based on criteria such as originality, creativity, marketability and compliance of the design to the given theme of "Natural of Earth".
All the four winning entries were manufactured into masterpieces by Amee Philips Jewellery and showcased during the four-day fair. During the ceremony event, the winners who had put in a lot of work into their creations were excited when they watched the models walked the runway in their amazing creations.
For the award prizes, the winners each received cash RM3,000, certificate and trophy. The "Most Outstanding Award" winner received a scholarship to study at Gemmological Institute of America (GIA) inBangkok,Thailand. All the finalists received a certificate each.