Contractor absconds without completing work in Taman SEA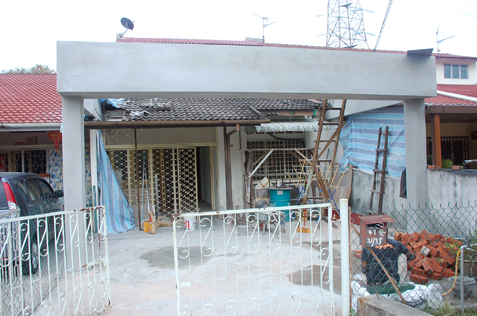 Six house owners in Section 21 SEA Park, Petaling Jaya were left with unfinished houses after a house renovation contractor who was believed to have collected over RM100,000 to renovate their homes absconded with the money recently.
The two house owners at Jalan 21/33 and four house owners at Jalan 21/35, had tried contacting the man, known as Mr Sim or "Ah Peng" via his mobile phone number but all the calls were not answered.
A police report had been made against the contractor at the SEA Park police station in SS2.
An affected house owner who did not wish to be named and photographed had approached Citizen Journalist Malaysia (CJMY) to highlight their plight and to warn others of this contractor.
She said: "I wanted to extend my home and a friend recommended me this contractor whom he knew. Neighbours saw the work in progress in my house, liked the workmanship and hired him to renovate their houses.
She said she was lucky as she has just moved into her renovated home which was completed recently with some minor touch-up still to be done but she felt sad for the others who lost their money and left with half-completed homes.
According to her, a house owner staying at Jalan 21/35 had paid RM15,000 to the contractor to renovate the porch which was now only half-completed.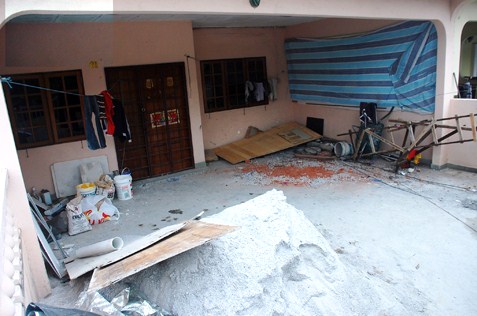 Another house owner further down the road who had moved out to stay temporarily so that renovation can be carried out had already paid upfront RM40,000 as demanded by the contractor but now he cannot even moved back because the house was not completed yet.
A few houses away, another house owner had paid RM48,000 to the man to renovate his house there were still unfinished works.
Although some of the affected house owners had paid the contractor according to progress of the work, they are left with a half finished house. If the contractor does not return to complete the work, they will have no choice but to hire another contractor to do so and that will mean having to fork out more money to get it finished.