Gabonese student battles university for insurance claims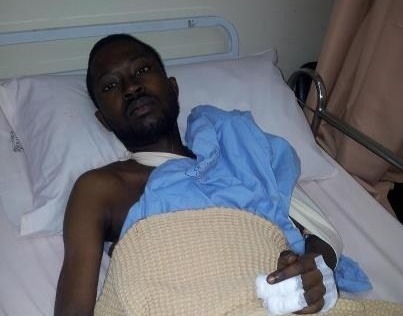 At around 9.30 PM on Sunday, September 9th, Fortunat Mombo Nguelet, International Student in Hospitality Management at a local university in Petaling Jaya from Gabon Republic walked across from his house to Sin Yee Kee Seafood Restaurant in Sri Manja Square where he had dinner with a group of other African nationals and their families.
By 12AM, most of the diners had left, reducing the restaurant's patrons to his Nigerian friend and himself, and a couple of Malaysian men who were sitting at another table.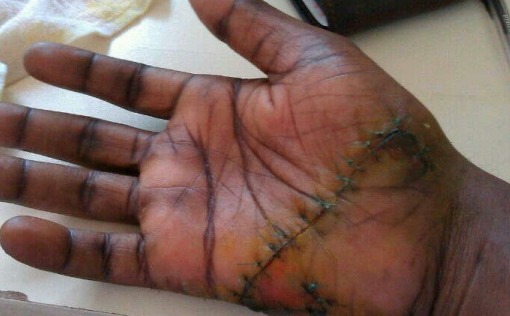 The rest of the night passed by in a haze for Fortunat. He recalled that a man came towards the Malaysian patrons and required their help to accompany him to his car, which was allegedly surrounded by some young ruffians on motorbikes who wanted to snatch his belongings.
Fortunat didn't pay attention to the scene but did make a mental note of the panicked look the former had on his face.
A while after the scene, a group of young men on five motorcycles approached Fortunat and his friend, and demanded for the whereabouts of the two men that had just left.
Dissatisfied with their response, one of the men revealed his machete and cut Fortunat's shoulder. As he tried to defend himself, the young men ganged-up on him and delivered more gashes across his body and hit him with long staffs.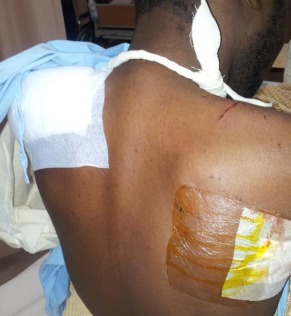 His friend had run away during the ordeal but returned in time to witness Fortunat lying alone on the street, bleeding profusely from deep cuts in various parts of his body. The victim maintained consciousness until he blacked-out from the pain.
He was admitted into the University Malaya Medical Centre Orthopedic Trauma ward immediately to receive care for his wounds.
Suffering from deep cuts into his shoulder, palm, back and leg, he stayed in the hospital for several days to allow his numerous stitches to heal.
Now, even after a few weeks following his discharge, Fortunat continues to go to the hospital on a weekly basis to have his wounds examined and dressings changed.
Fortunat claims that when he was at the hospital, no representatives from his university visited him even though he was still under their responsibility.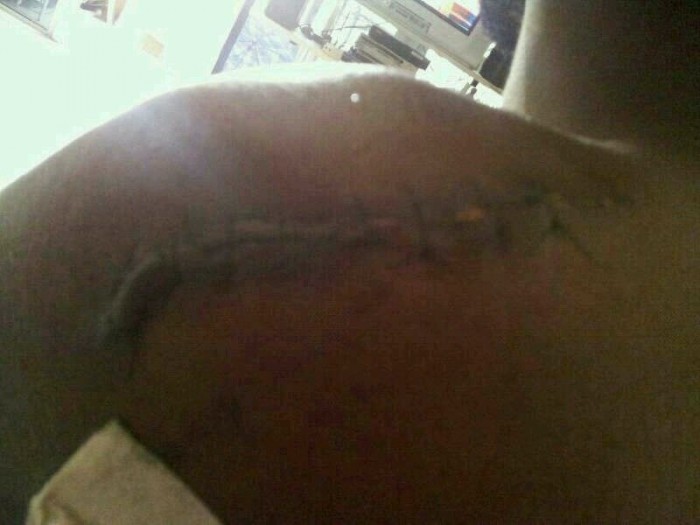 "When I went back to my school to claim the hospital fees which I paid from my own pocket, the school refused to reimburse me because they claimed that my insurance has ended and that the school cannot be held responsible for the fees," he added.
Further discussion with the Dean of his faculty proved futile as they stressed that the Gabon national was no longer eligible for insurance reimbursement as his course has ended in June.
Citizen Journalists Malaysia (CJMY) was also told that the hospital fees have come up to an estimated RM1800, including the initial fees and the weekly dressing and consultation fees.
Fortunat also alleges that the Petaling Jaya police station where his friend had gone to make the police report has also not given them any updates on the perpetrators.
Upon contact with the International Student division officials at the university, CJMY learned that the insurance plan provided for international students only cover the duration of on-site academic studies.
Although Fortunat's convocation will only be held in November, he is no longer considered an active student and is therefore no longer eligible for coverage under the subscribed insurance policy.
The university official who refused to be named also acknowledged that the university is aware of Fortunat's perils and is in the midst of deciding the best way to handle this issue.
Fortunat is still waiting for the university's official reply as he rests at his home in Petaling Jaya, slightly fearful for his future. "I have sent letters to the Ministry of Higher Education and I was requested to consult with the school for this matter," he said wearily.
"My visa is expiring and I am too sick to go out to look for a job. I want to be in Malaysia, yes even after all the pain that the country's people have put me through, because I want to be with my girlfriend. But I will not abuse the system and overstay my visa.
"There are so little of us Gabonese here in this country, and I will not be the first one to shame my country and cause trouble for my compatriots," he told CJMY.
"I know that there are many African nationals out there who are causing trouble for the Malaysian people, but I am not one of them. Why should all of us be painted by the same brush and endure so much racism and hardship in this country?
"When I go back to Gabon I will stop my friends and relatives from coming to Malaysia. There is nothing I can do here and there is no one I can rely on in this county," he stressed.
Fortunat is currently working on contacting the United Nations to highlight his predicament and is awaiting the university's decision.