Scuffle broke out in Kampung Semangat squatter village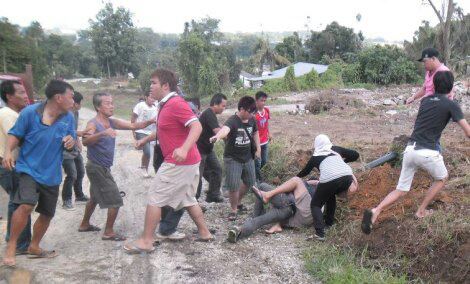 A scuffle broke out this morning at about 11.15 am between the squatter villagers of Kampung Semangat, Skudai and a group of 25 contract workers.
The contract workers arrived at the village this morning to carry out the site clearing work.
While clearing the site, the villagers alleged that their plants and water piping system were damaged.
The villagers said, they were unhappy when the group of contract workers  started provoking them by throwing stones and woods at them.
The scuffle broke out just as the contract workers were about to continue their site clearing work.
Police arrived in time to stop the scuffle from deteriorating further.
A total of sixteen people were arrested which include 9 contract workers and 6 villagers and are now being remanded in the Kempas police station which is situated just a kilometer away.
Later, at a press conference, Johor PAS youth chief and Kempas public complaint centre coordinator, Suhaizan Kaiat, urged the police to monitor the situation closely to ensure the safety of the villagers and to prevent such incidence from recurring.
Adding, he said, Johor PAS  urged the Johor mentri besar, Abdul Ghani Othman to step in to mediate the dispute and resolve the issue amicably between the villagers and the landowner, Danga Bay Sdn. Bhd.
Related story:
High handed tactic used to evict Kampung Semangat Squatters