Hotel Deluxe opens on Chinese New Year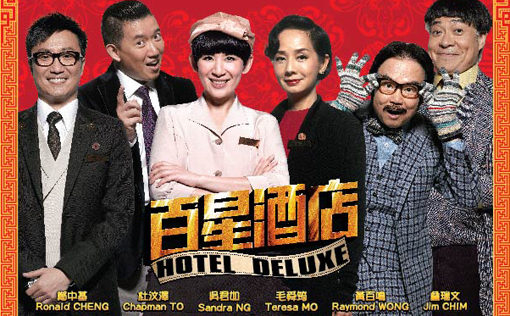 Brand new "Hundred Stars Hotel" is a well-equipped five-star hotel located at Qiandao Lake, Hangzhou.
However, this hotel is run by a group of incompetent staff including OK (Ronald Cheng) the Assistant Manager, Pacino (Chapman To) the Chief Bartender, Peach (Sandra Ng) the Head of Housekeeping and Sammy (Janelle Sing) the Receptionist. Rumor has it that a mysterious hotel detective will arrive soon and define the rating of "Hundred Stars Hotel". In order to match the five-star standard, harsh Cruella (Teresa Mo) has been appointed as the Hotel Manager to restructure the hotel.
Cruella takes the chance to develop "Hundred Stars Hotel" as the shooting location for a big budget movie. Two leading actresses Marilyn (Karena Ng) and Audrey (Lynn Xiong) stay in the hotel and they are arrogant and too hot to handle. OK is assigned to serve Marilyn and gradually Marilyn falls in love with OK. Meanwhile, Paris (Fiona Sit), the daughter of a tycoon and a very good friend to OK, is also staying in the hotel. Paris has to get married in order to inherit her father's huge assets. OK finds a handsome but nerdy Security Guard Mark (Yu Bo) to be her fake groom and a fake wedding ceremony is about to begin. However, Peter Chan (Raymond Wong), Paris' uncle who is also one of the heirs, is craving for the wealth and trying all means to ruin the wedding. When OK knows Paris will go back to U.S. for good after the wedding, OK finally realizes Paris is indeed the one he loves. OK proposes to Paris and Paris accepts, the fake wedding becomes a real one!
Cruella and Peach suspect a countryman Jim (Jim Chim) is the mysterious hotel detective. They do their very best to please him with overwhelming services. In the meantime, the rest of the staff are organizing the wedding ceremony of Paris and OK, and protecting them from Peter's conspiracy. Finally all of them discover that Jim is not the mysterious hotel detective but Mark, who joins the hotel as the Security Guard, secretly monitors the services of the hotel. Mark is touched by their positive attitude and classifies "Hundred Stars Hotel" as a Five-Star Deluxe.