Singer-guitarist Roy Chew tells about life and music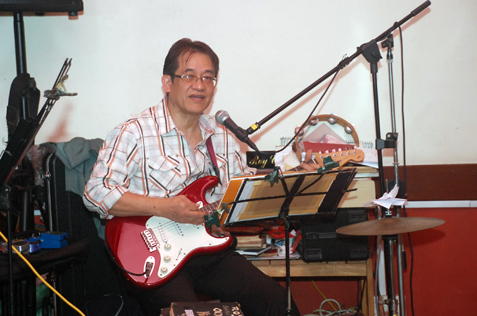 Self-taught solo singer-guitarist who works in the day as a retail supervisor in a music shop and plays at night is pulling in the crowds to the eatery where he sings.
Sixty-six year old Roy Chew, already a grandfather, has been performing for five years now at the BiBiChik restaurant in SS2, Petaling Jaya which serves nyonya cuisine.
The guitarist is their house musician performing on weekends from 7.30 pm to 10.00 pm drawing crowds that packed the restaurant for an evening of food and good music.
Roy keeps the diners happy singing favourite oldies and song requests from singers such as Elvis, Cliff Richard and Stevie Wonder, among others.
Besides English, Roy also sings in Chinese.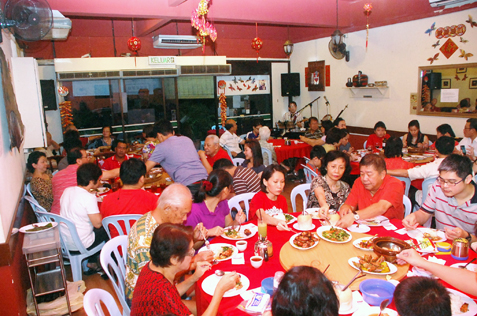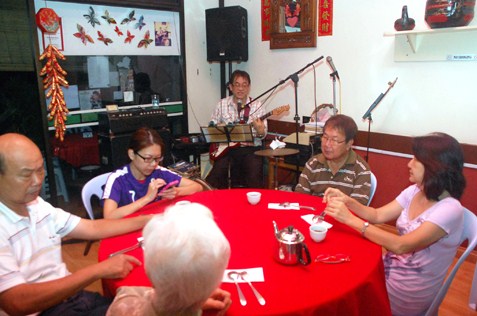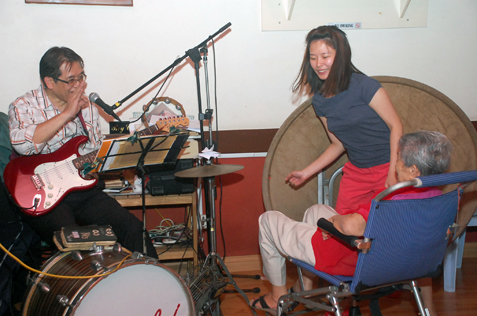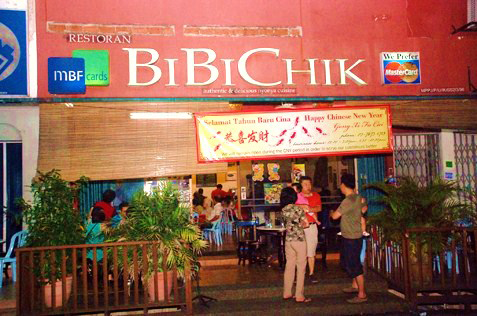 "Most of the dinner crowds are in the age group of 40s and above.
Some comes with walking sticks and of course they bring along their children and grand children.
"To keep the kids entertained I would sing nursery songs like "London Bridge is falling down," and "Mary had a little lamb," with a new arrangement," he quipped.
Sometimes the audience would sing along with him to the songs.
Roy is musically talented and he had no formal music education.
He learned music and singing the hard way, without attending any music lessons and learned everything himself.
"Everything was self taught by listening to the music and songs played on the radio and records.
"Songbooks do help a lot as I don't read notes but rather using chords which helps in guiding me."
He plays everything by ear.
What started his interest for music?
"I was influenced by music at a young age when I followed my father to Singapore where he worked," said Roy who was then 11 years old and attended school in Singapore.
He was a side drummer for the school's Sea Scout marching band for four years and later learned how to play the guitar.  
"I started learning to play the ukulele from an Indian boy."
Roy and his family moved back to their Jalan Ipoh home in Kuala Lumpur after his father changed his job.
He studied up to Form Four and left school halfway to work as an air-conditioner serviceman for more than eight years.
The pay was not much and was barely enough to make ends meet.
So he quit his job and set up a sole-proprietorship company to contract wiring works for engineering-based company George Kent.
During the periods he took to moonlighting in the evenings by performing at entertainment nightspots such as clubs and pubs.
Together with some friends he formed the band "The Merry Lads" which played at RTM station's weekly musical slot.
He was the lead singer playing the guitar.
The show became an instant hit with television viewers.
They became popular and received many engagements to sing at nightclubs, private functions and even as far as Kuching to raise funds.
The band did not last long and they went separate ways because the band members wanted to go their own directions.
Roy then set out as a solo musician.
"Performing at entertainment nightspots was a second job to supplement my income.
"The children need to go to school so I have to live on one more job to lessen the family burden," said Roy who was married with two children. His wife was also working  then.
Roy later worked as a property maintenance officer with Yee Seng Amalgamated before he switched to his current job at Bentley Music.
"I gradually enjoyed what I am doing now.
"I can sing and play as long as I can and it is easygoing"
Roy said he has no plans  to 'hang up his guitar" and  not think of retirement yet.
"I enjoy performing," said he. 
He does not aspire to be a great singer, but rather a laidback one, and enjoys what he's doing and seeing his audience enjoying his music.