Penang celebrates IWD with more inclusive action plans for women
On occasion of the International Women's Day (IWD), the State Committee for Women, Family and Community Development for Women, Family and Community Development and the Penang Women's Development Corporation (PWDC), in collaboration with a few NGOs, are organising a horde of activities from March 2 to March 24.
The main event was celebrated on March 8, at the Esplanade, Georgetown, from 5.30pm to 7.00pm.
It was held to tie in with the State Government's '308 – 5 Years Anniversary' event', where the 'Jelajah Filem Festival' roadshow and a ceramah by top Pakatan Rakyat leaders took place.
More than 20 booths from various government agencies were set up on the field, to showcase their activities and achievements of the party under its governance over the past 5 years.
Some of the agencies are such as Penang State Tourism, Halal Penang, JKR, MPPP, Penang Women Development Corp and many more.
'Penang Women Rising' was chosen theme for this year's IWD.
This is in line with the state government's activities organised to raise women's access and visibility in the economic, political and social spheres.
The Kumpulan Ar-Raudhah from Teluk Kumbar, Penang, opened the event with its traditional kompang presentation.
This was followed by a dance called ' Billion Rising' by the Women's Centre for Change (WCC) and the World Alliance for Breastfeeding Action (WABA).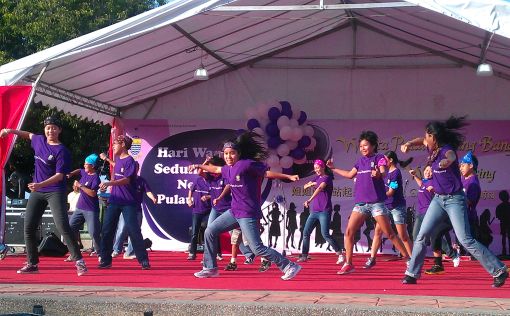 Penang State Exco for Youth and Sports,Women, Family and Community Development Lydia Ong Kok Fooi then gave a speech.
The theme 'Wanita Pulau Pinang Bangkit' (Penang Women Rising), she said, is appropriate as now over 50% of Malaysians are women; women who are now very active and no longer helpless.
She was glad to note that over the past five years, under Pakatan Rakyat's rule, the state government had increased its allocations to support various programs under the Penang State Committee for Women, Family and Community Development, including the Penang Women's Development Corporation in Seberang Perai, the Pusat Jagaan Kanak-kanak on the island  and the mainland,  the setting up of good Governance and Gender Equality Society, (which is responsible for carrying out several training and awareness programmes), and supporting the breast-feeding campaign and campaign against sexual crimes of children and many others.
"All these programmes are by no means 'welfare' oriented but, instead the approach taken is to foster a sustainable paradigm shift and to empower the public, especially women, with knowledge, awareness, information, skills and supporting structures, so that they can be independent and enjoy equality and justice," said Lydia Ong.
Lydia Ong, who is also chairperson of PWDC, explained a little about PWDC, which she said was established in January last year.
PWDC functions to advise the State Exco for Women, Family and Community Development in formulating policies to realise gender and social equality and undertake advocacy to promote substantive equality and good governance in the state of Penang.
"Today is also a historic day for us as we launch the Penang Childcare Policy and Action Plan (Dasar dan Pelan Tindakan Jagaan Kanak-Kanak Pulau Pinang )," says Lydia Ong.
"This Childcare Policy and Action Plan consists of five thrusts – ensuring equitable access to safe and quality childcare, increasing workplace Childcare Centres, establishing community-based Childcare Centres, improving home-based care and assisting the private childcare sector."
Ong hope that the people will visit the State Committee for Women, Family and Community Development for Women, Family & Community Development booth to find out more on how the state government, through the various organizations, contributes towards women in society.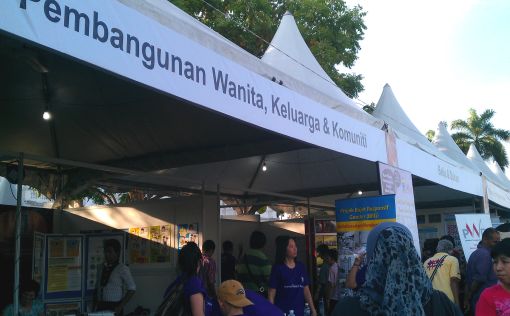 Admitting that women in Penang and Malaysia still faces a lot of challenges, she gave the figure that only 56% of women in Penang are working, while at the national level 48% are economically independent.
"In comparison, the women's workforce is 60%, while at Thailand, it is 70%.
"In the political field, only 3 out of 40 state assemblymen are women (7.5%), and out of 11 exco in the state, I am the only woman exco.
"Whereas at the national level, only 10.4% of the Dewan Rakyat members are women and 8% of the ADUN are women," she said.
She also informed that both the Penang and Seberang Perai Municipal Council, where there are 24 councillors in each, there are only 2 women in the Penang Municipal Council and 3 in Seberang Perak Municipal Council.
"I'm not giving you this figures to alarm you, but I believe that we have to face the reality and actual situation if we want to come to a strategic solution.
"The road to gender equality and empowerment of both men and women is not easy.
"However, with honest determination from everyone, we will succeed gradually," she said.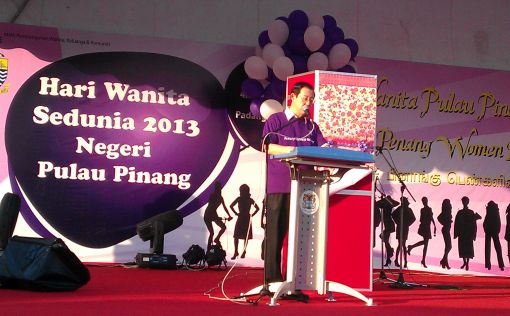 Penang Chief Minister Lim Guan Eng started off  his speech by proclaiming that with the 'Penang Leads' slogan, from the aspect of recognising the rights and status of women, the state government leads in several important aspects.
He said that the initial efforts made to give prominence to the role of women in the state will see the launch of the Penang Childcare Policy and Action Plan.
He proudly announced that the Policy and Action Plan was proposed by Lydia Ong and was approved by the State Exco on March 1, 2013.
"This 3-year policy and action plan will not only guarantee the rights of children, who are our future generation, but will also increase the involvement of women in the workplace and empower women in the economic and social fields,"  he said.
In its press release dated March 8, 2013 it was stated that the Childcare Policy and Action Plan came about through the feedback of the public, especially from parents,  owners of private childcare centres and the community at large.
"The government's commitment in raising the status of women in Penang is clearly shown with the establishment of the Penang Women's Development Corporation (PWDC), where provision as much as RM1.5 million a year had been allocated since 2012.
Lim Guan Eng then mentioned that he was proud and appreciate women's contribution in the state government and the local government.
He named them as Lydia Ong, the only women in the State Exco, the two Yang DiPertua in Majlis Perbandaran Pulau Pinang and Majlis Perbandaran Seberang Perai, Hajjah Patahiyah binti Ismail and Maimunah Mohd Sharif respectively, Seberang Perai South District Officer, Hajjah Rohani Binti Hassan and Seberang Perai North District Officer, Hajjah Saodah binti Nawawi.
He also mentioned his own wife, Betty Chew whom he declared as "a woman, where without her, I won't be here."
After his speech, he launched  the Childcare Policy and Action Plan and opening of the IWD event by releasing balloons.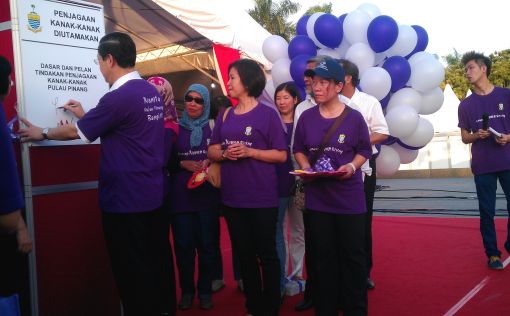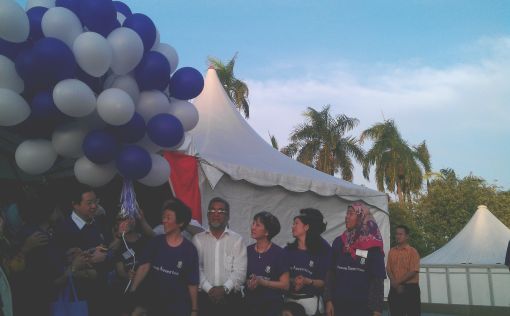 Two ladies from the Temple of Fine Art who were beautifully and elaborately dressed then proceeded to mesmerised the crowd with a traditional Indian dance known as 'Odisi'.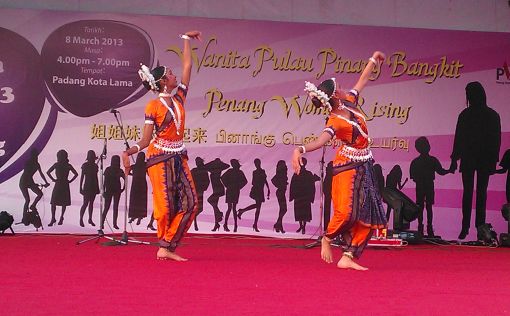 A large group of women, all dressed in the purple-themed shirt, from the Penang Family Health Development Association presented a non-stop 10 minute line dance on the field and were joined by sporting onlookers.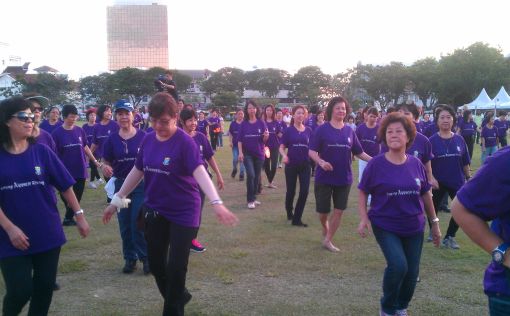 The event came to a joyful end with a poem 'Wake up, my Sister' and the 'Billion Rising' dance by WCC and WABA.