Breitling jet team air show thrills crowd over Subang sky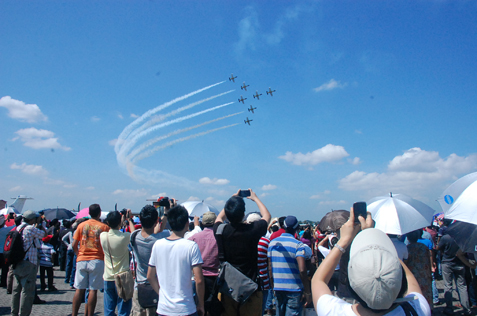 The Breitling Jet Team gave a breathtaking aerobatic performance in the skies overlooking the Skypark Terminal at Sultan Abdul Aziz Shah Airport (formerly Subang Airport) on March 16, 2013.
The 20 minutes display by seven L39C Albatros jets left everyone spellbound as the pilots flew in total synchronicity over the blue skies with rolls, loops, crossovers and other gravity-defying maneuvers.
"It's awesome to see the jets performed with amazing maneuverability!" said Anwar Anis, 37, the CEO of Pantai Hospital Ipoh who came for his three children to watch the team.
"My kids love aviation and they are really excited as this is our second time watching an air show," added Anwar who had been to TUDM base in Subang for their first air show not long ago.
K. Ravindran, 45, a lecturer at a private college in Puchong said he brought his 9-year-old son R. Sharveanthiran just to see the air show for the first time.
"We must say the show was really spectacular!
"My son aspires to be an astronaut so we bring him here today to motivate and inspire him achieve success," said Ravindran whose uncle also tagged along.
The Breitling Jet Team is the world's largest professional civilian jet aerobatic team and performed the dazzling show for the first time in Malaysia.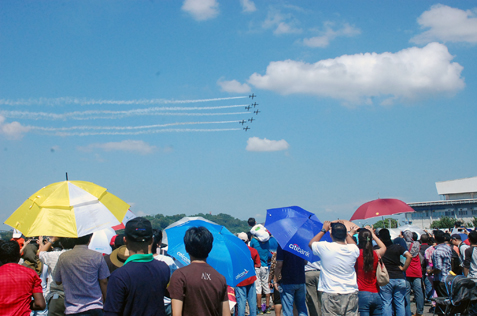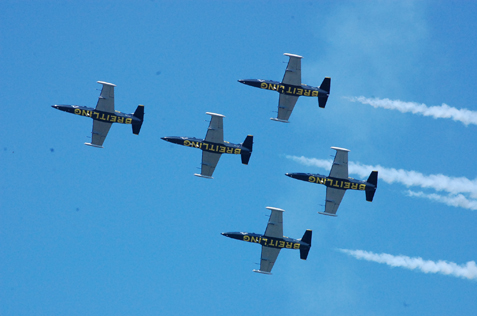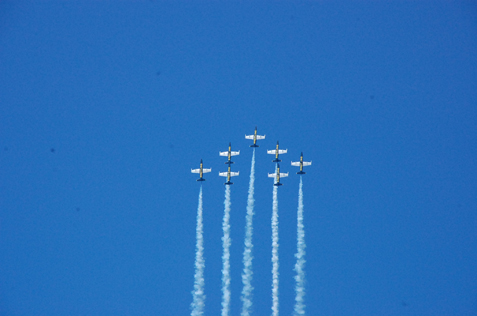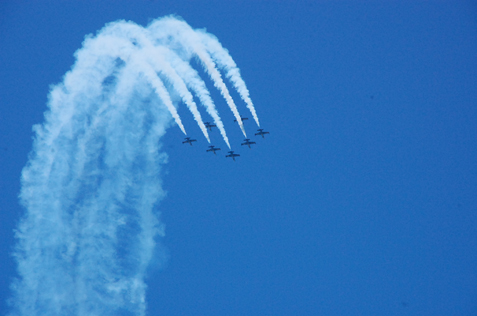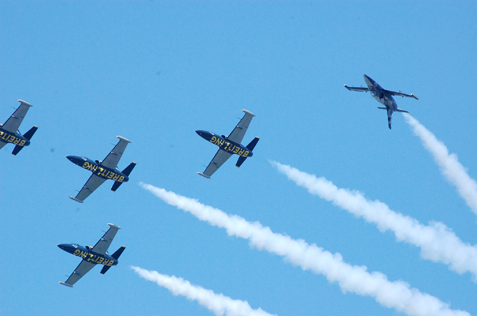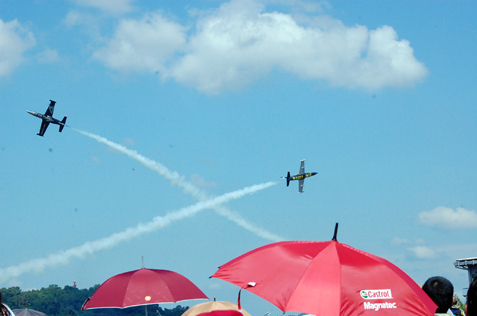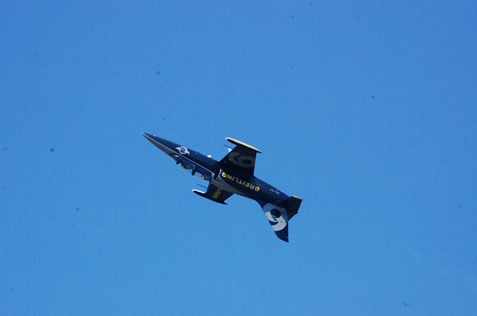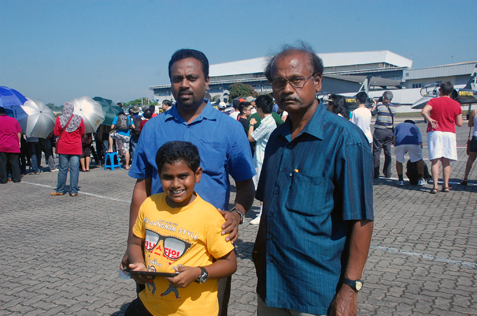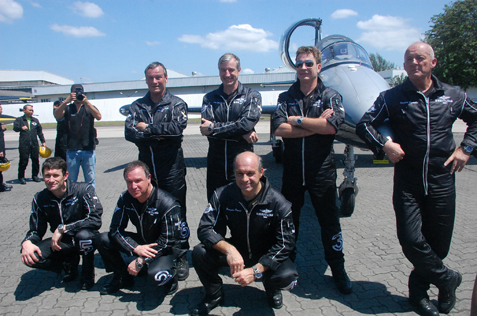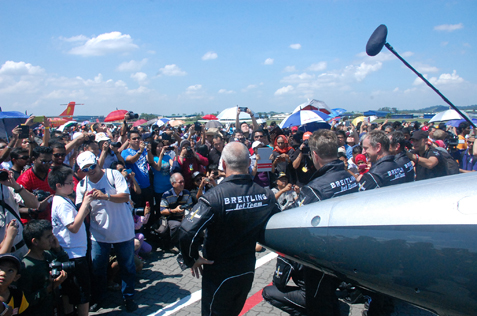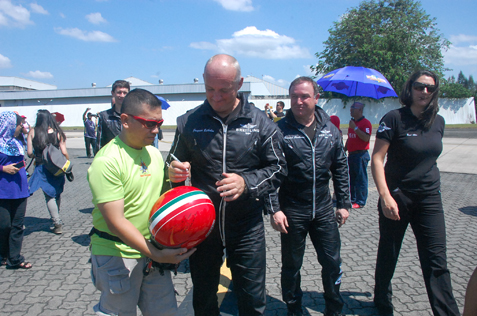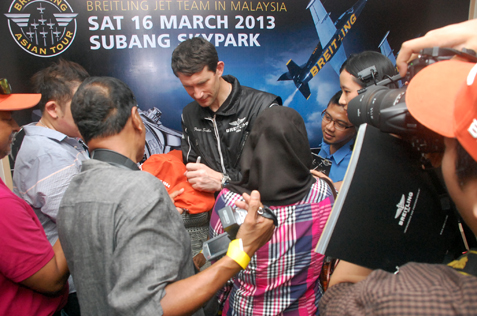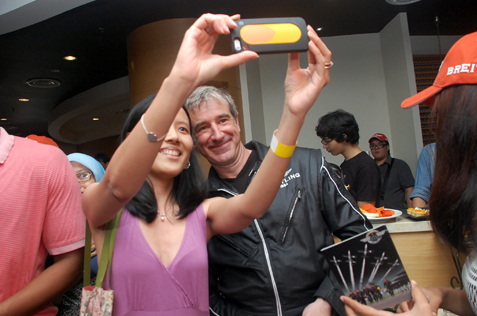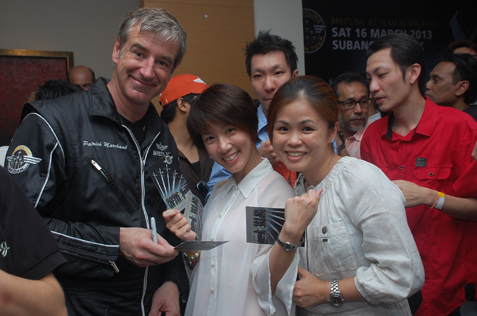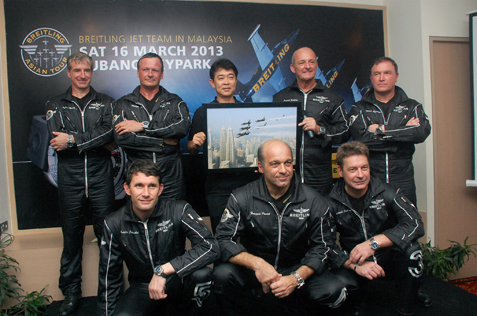 The seven L-39C Albatros Czech-made twin-seater military training jets were piloted by experienced professional pilots who were from the French air force.
The jets flew in formation within three metres of each other and performed various spectacular aerial stunts at speeds of up to 750 km/h (approx. 435 mph) and with up to 8G accelerations demonstrating their speed and audacity.
The show finale ended with a "final break" maneuver firing off thermal flares in the sky evoking a big round of loud applause from the spectators.
"As organiser, we want every body to enjoy the show and see the happy smiles on their faces," said Melchers Time Singapore managing director Mike Neo, the Breitling Jet Team event organizer for South-east Asia region.
The Breitling jet team team is an ambassador for Swiss watchmaker Breitling and will perform their next stop in Thailand on this weekend.