World's largest Jade Buddha awe visitors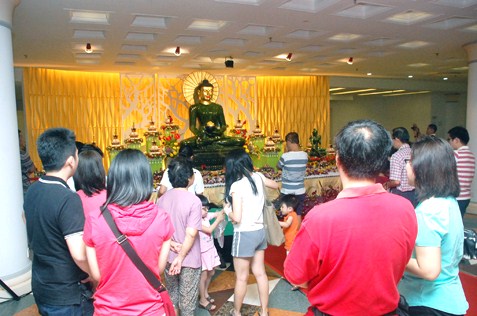 Visitors to the Jade Buddha for Universal Peace exhibition in Kuala Lumpur recently were moved by the size and beauty of the world's largest Jade Buddha on display.
It was a sight to behold as they stood gazed in silent front of the 2.7 metres high Jade Buddha statue sitting in crossed-legged position.
Many were seen placed their palms together in silent prayer while others offered fresh flowers and knelt down before the Jade Buddha.
"Today they bring this beautiful Jade Buddha here to resemble peace," said Annai Shree Kriyalakshmi Deviyar, the guru Divine Mother at Kriyalakshmi Mandir Shree Sai Gurukul Charitable Society in Setapak.
Annai led a group of 18 student followers from the society in a silent mass prayer for peace in front of Jade Buddha.
"Whatever people see in him, they look at him as their Guru and to remember of his teachings but if they come here just to see him and go back, then they will forget the basic things of his teachings.
"The main thing is his teaching still live in the form of others that we can't see. He is always around in the form of mayan teaching us".   
A retired government pensioner Kana @ Kanan, 66, and his wife Loh Ah Moi, 60, with their grandchild who took time to visit the exhibition said they felt blessed to view the Buddha image.
"We feel peaceful and serene by looking at this beautiful carved statue of Jade Buddha.
"This is once in a lifetime opportunity to witness this amazing wonder of the world.
"If you miss it, then it's gone," said Kanan.
The Jade Buddha, carved from a 18-tonne jade boulder, is currently on a tour of major cities around the world before it is finally placed at The Great Stupa of Universal Compassion in Bendigo, Australia.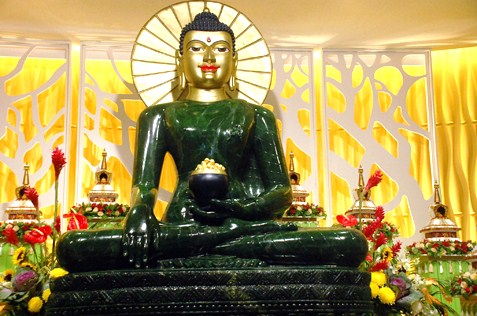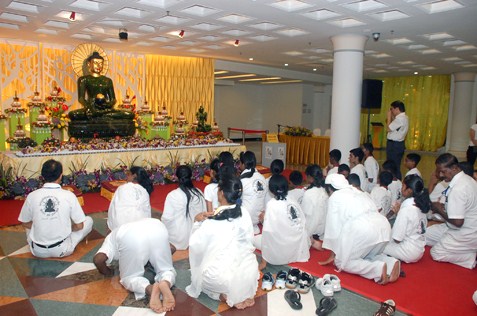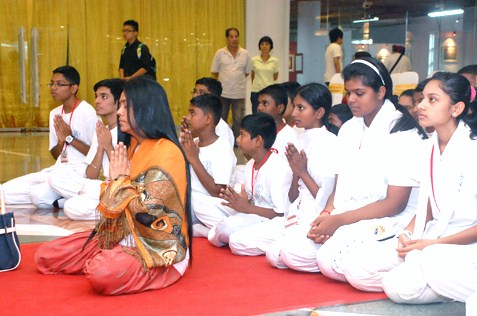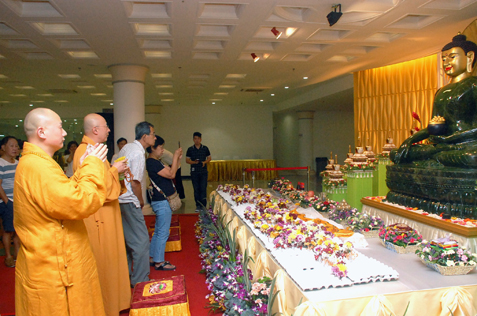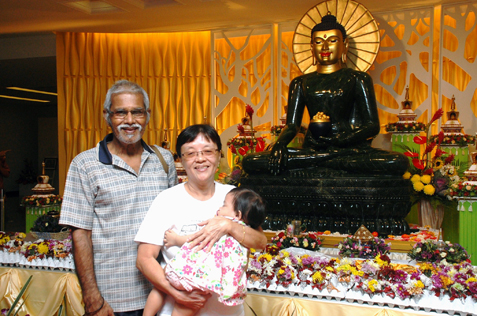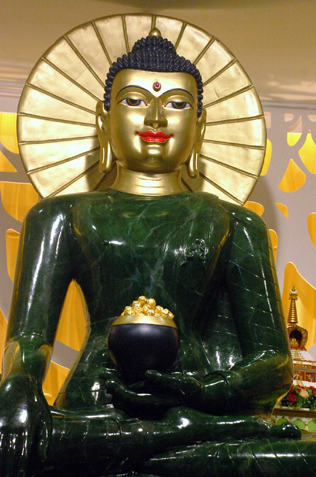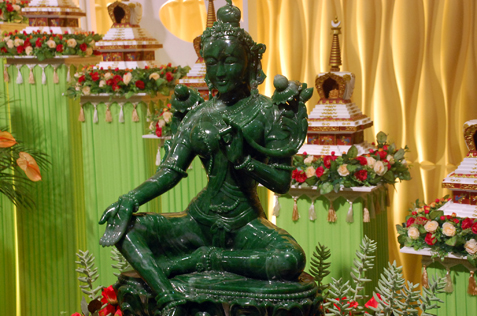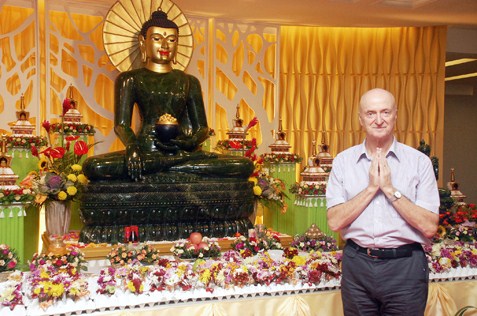 Also showcased is a 0.95 metre statue of Jade Tara, a female Bodhisattva (also known as Kuan YIn) made from the off-cut of the jade boulder.    
"The Jade Buddha is a symbol of peace and harmony so it does not matter whether the people believe in Buddhism or not," said Jade Buddha for Universal Peace founder Ian Green to Citizen Journalists Malaysia (CJMY).
"In many countries that we went to, there were many that came along who were not Buddhists.
"In India, we had Hindu visitors and some Muslims or Christians but very few Buddhists but they came because it is symbol of peace and they see the Buddha smiling and being so peaceful and harmonious.
"These are the things that touch them. 
"As you know, the people, irrespective of their faiths, see Jade Buddha as a universal symbol."
Green said the Governor of Malacca Tun Mohamad Khalil Yaakob came for the official opening as a guest of honor.
"That was very good.
"He gave a very good speech basically on the theme of harmony and Malaysia being a symbol of harmony between the different ethnic groups and faiths in the country."
"Malaysia has become a symbol of peace because it enjoys peaceful relations between the different faiths and I hope Malaysia continues to grow in a harmonious way and everyone who come to see the Jade Buddha will also find peace and harmony because it is the only way to live with it and to be happy and successful in life."
Green, an Australian said he became a Buddhist 35 years ago having studied in university the different philosophies for over a period of time.
"My parents said I should go to church until I was 12 and then I could make up my own mind."
"All my life I have been searching for some philosophies and some faiths and I checked many of them out including the very early Christianity and other things but nothing was right for me.
"Then I went to India not knowing what I was looking for but during my visit to India I went for an excellent tour to this path called Sarnath in India.
"When I first walked into the path, it was like I was instantly overcome by this feeling of peace and serenity.
"I had no idea what it was as I had never experienced like this before."
Sarnath is the deer park with many stupas and temples where Buddha preached his first sermon.
"When I first went there I always see myself connected with this Buddhist holy place and because of that it rekindles my connection with Buddhism from a previous life and from that day onwards I became a Buddhist," added Green who read a book on "What is Buddhism" while on his plane back to Australia.
Green said that Malaysia was the 15th country to showcase the exhibit. 
Its next stop will be in Penang, then to Tokyo and Yokohama in Japan; after which it will move to Korea and to China.