Pembela demands action against Zulkifli Nordin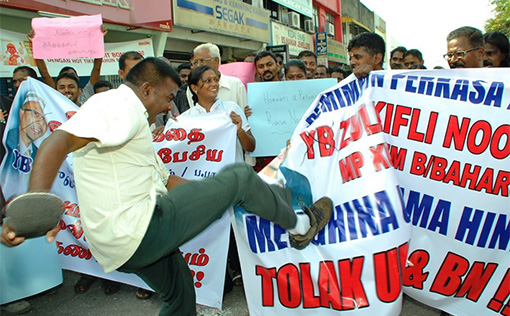 Some 500 people staged a peaceful protest and lodged police report against Kulim-Bandar Baru MP Zulkifli Noordin for insulting the Hindus yesterday.
In a five-minute video which has been circulating on the internet, Zulkifli, who is also Perkasa vice-president, ridicules statues of Hindu idols for failing to stop a flood that damaged them, and the sacred Ganges River for having animal carcasses floating about, among others.
According to the leader of Pembela, V. Kumaraguru, all the major political parties must come forward to condemn the actions of Zulkifli and the federal government should take serious action.
He also added that ridiculing other religions would never take place in a Hindu temple because we respect other religions.
In fact, Umno themselves should come forward to condemn this act said Kumaraguru.
The government should not delay in taking action against Zulkifli and force him to apologize to all Hindus in the country.
If they fail, then Pembela will continue their protest, said Kumaraguru.
Meanwhile in Sungai Petani, a group comprising of NGOs gathered in front of Sri Sithi Vinayagar temple at Jalan Hospital to burn the effigy of Kulim-Bandar Baru MP Zulkifli Noordin for insulting the Hindus.
The group also demands Zulkifli Nordin to apologize to Hindus all over the country.