Glamour and excitement at Raffles College convocation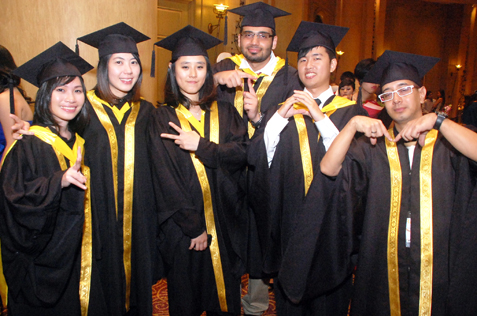 A total of 112 graduates received their graduation certificates at Raffles College of Higher Education Kuala Lumpur's 29th convocation and graduation show recently.
30 of the graduates were awarded their bachelor degrees while 82 others received their advanced diplomas at the Raffles LookSee 29TH Graduation Show 2013 which included a graduation exhibition and graduation fashion show.
The conferment of degrees, advanced diplomas and awards took place at Mayang Sari Ballroom in JW Marriott Hotel, Kuala Lumpur.
The graduates received their scrolls from Professor Giuseppe (Joe) Spinelli, the principal of Raffles College of Higher Education Singapore and programme director for fashion design and fashion marketing and management.
Five advanced diploma graduates were presented the top student award for academic achievement in their respective disciplines.
They were Ong Sue-Lyn (Fashion Design), Junnie Chew Chai Chin (Fashion Marketing and Management), Low Yee Lyn (Interior Design), Loi Fuei Siang (Visual Communication) and Matthew Yew (Jewellery Design).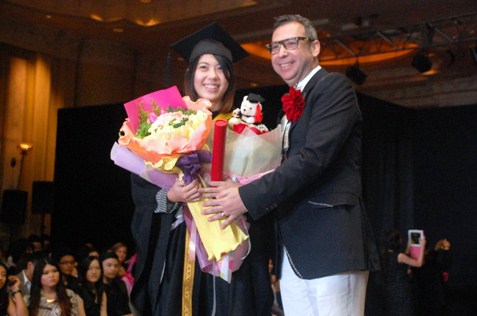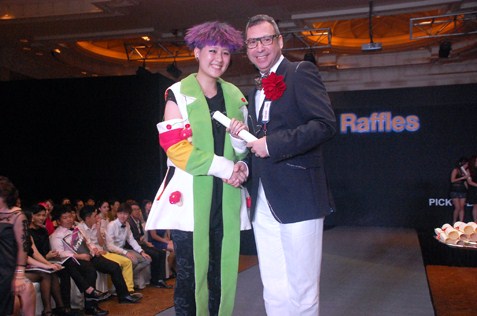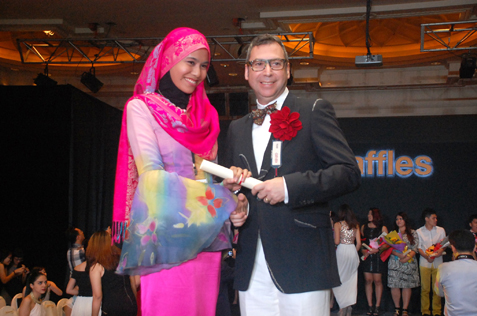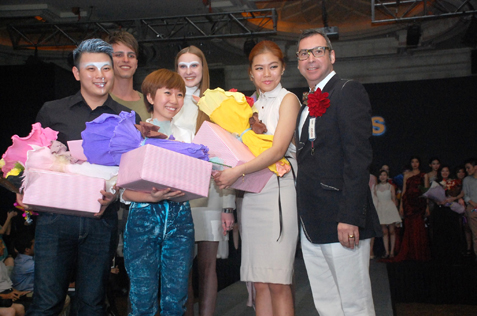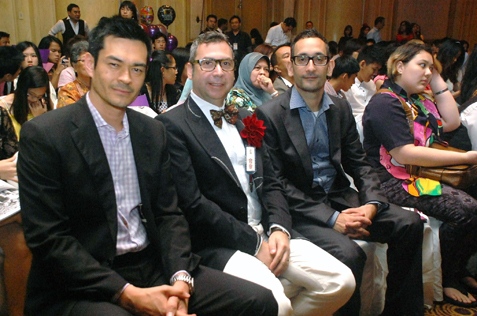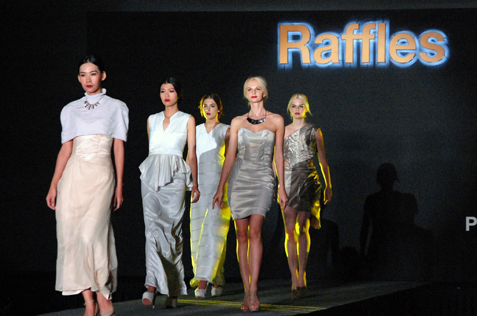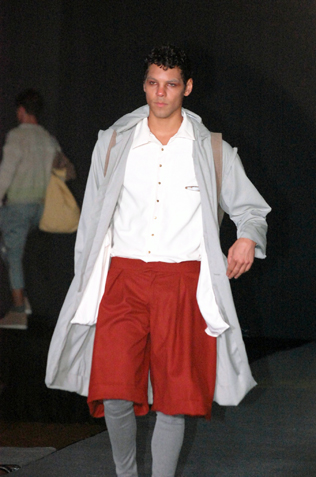 Graduates from Fashion Design, Fashion Marketing and Management, Jewellery Design, Visual Communication, Interactive Media Design and Interior Design programmes exhibited their final year projects to showcase their talents and skills and what they had learnt at the ground floor of Fahrenheit 88 shopping mall.
The fashion show was a showcase of new talents by 18 upcoming fashion designers who presented their creations of various designs as their final project.
Lum Sin Yi was awarded the Best Collection Award by the competition judges in the runway fashion for her eclectic and avant garde collection titled Freezed Frame.
"I am so happy I have won the award," said Lum, 23, from Johor Bahru, whose winning collection was inspired by the practice of taxidermy.
"It took me several months and burning the midnight oil including sewing the clothes myself to get the outfits out in time for the show."
Lum said she will take a short break and may consider furthering her studies in Singapore but that depends whether her parents have the financial means.
Advanced Diploma in Interior Design graduate Sherusha Fernando, 21, from Sri Lanka, said she will continue her studies for her bachelor degree.
Sherusha was awarded the Best Boutique Design Award for her final graduation project.
There were 27 students in her class.
"The college provides more than academic lessons. We have a lot of projects working non-stop in the two and a half years.
"There is not much space but I think that is good.
"It is like a marathon.
"We finished off perfectly."
Sherusha said she will do internship for two months, then continue her bachelor degree course.
She hopes to get a good paying job somewhere and one day setup her own firm.
Multimedia Design graduate Ong Chiew Boon said it was really tough going but she thanked the good guidance of the lecturers.
She worked hard including studying late into the night to deliver assignments on time.
Her final project titled The Aesthetics of Ancient Art won her the Best Final Project Award.
She is looking forward to a brighter future and ready to experience the new challenges in the working world.
Advanced Diploma in Fashion and Marketing Management graduate Nor Farhana Mahiyuddin, 23, from Petaling Jaya said she will do internship for a year to get the work experience and environment and then continue her further studies either locally or abroad.
Her final graduation project titled Not Just Batik won the Best Group Project Award.
Others in her group included Syed Haniff Iskandar Syed Azni Jamalullail, Jacelyn Khoo I-Ling, Loi Hui Ming, Lau Xin Ann and Liew Qing.
Farhana said she had googled the search engine and found that Raffles College and LimKokWing University were the only ones which offered Fashion and Marketing Management course. 
She chose to pursue the course at Raffles because she liked the place which was decent and not too big a campus.
"The lecturers are very good and very experienced.
"They prepared us for the real world using real world examples and not just followed theoretical ones.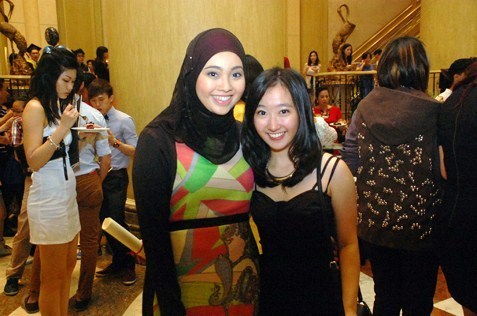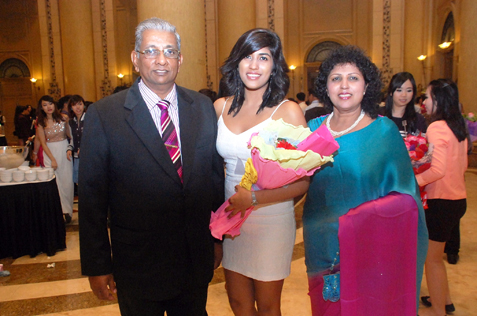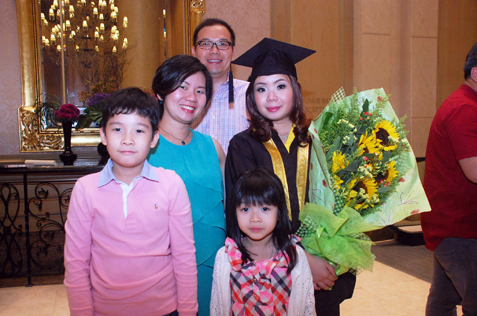 Total graduates from all programmes: 112
The breakdown of graduates from the different programmes:
Bachelor of Design-Fashion Design: 1
Bachelor of Design-Fashion Marketing: 5
Bachelor of Design-Jewellery Design: 4
Bachelor of Design-Interior Design: 12
Bachelor of Design-Multimedia Design: 6
Bachelor of Design-Graphic Design: 2

Advanced Diploma in Fashion Design: 17
Advanced Diploma in Fashion Marketing & Management: 21
Advanced Diploma in Jewellery Design: 7
Advanced Diploma in Interior Design: 27
Advanced Diploma in Visual Communication: 6
Advanced Diploma in Interactive Media Design: 2
Specialist Diploma in Applied Psychology: 1
Advanced Diploma in Business (Marketing): 1

Awards given out during the convocation and fashion show:
Bachelor of Design-Jewellery Design
   Best Collection: Nicole Goh Li-Ping
Bachelor of Design-Interior Design
   Best Final Project: Ng Vee Peng
   Project Title: Daun Lodge
   Best Final Project: Ngan Chee Hao
   Project Title: Zeus
Bachelor of Design-Multimedia Design
   Best Final Project: Ong Chiew Boon
   Project Title: The Aesthetic of Ancient Art
Bachelor of Design-Graphic Design
   Best Final Project: Martha Stella Margaretha
   Project Title: Sekar Jepun Villas and Spas
Advanced Diploma in Fashion Design
   Top Student Award for Academic Achievement: Ong Sue-Lyn
   Best Collection Award:
   Winner : Lum Sin Yi
   Collection Title: Freezed Frame
   1st Runner-Up: Iven Teh
   Collection Title: Pilgrimage
   2nd Runner-Up: Janice Cheong
   Collection Title: Flawlessly Imperfect
Advanced Diploma in Fashion Marketing & Management
   Top Student Award for Academic Achievement: Junnie Chew Chai Chin
   Best Group Project Award: Not Just Batik (Syed Haniff Iskandar Syed Azni Jamalullail, Jacelyn Khoo I-Ling, Loi Hui Ming, Lau Xin Ann, Nor Farhana Mahiyuddin and Liew Qing)
Advanced Diploma in Jewellery Design
   Top Student Award for Academic Achievement: Matthew Yew
   Best Collection Award: Matthew Yew
   Collection Title: Reflective Cracks
Advanced Diploma in Interior Design
   Top Student Award for Academic Achievement: Low Yee Lyn
   Best Boutique Hotel Design Award: Sherusha Fernando
   Best Boutique Hotel Design Award: Mohammad Lookman Harun
Advanced Diploma in Visual Communication
   Top Student Award for Academic Achievement: Loi Fuei Siang
   Best Project Award: Noora Jasmin Karjalainen
   Project Title: Pantai Nation
Advanced Diploma in Interactive Media Design
   Best Project Award: Ong Song Ji
   Project Title: Lomography Video