Moms win titles at Mrs Malaysia pageant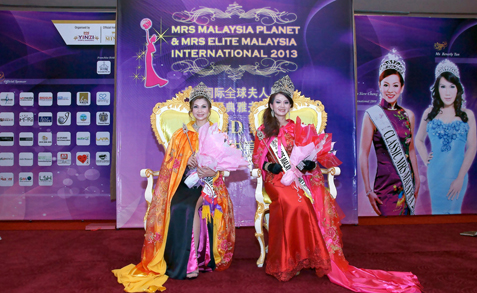 Mothers took centre stage winning titles at the Mrs Malaysia pageant grand finals at the Royal Ballroom of Palace of the Golden Horses Hotel in Seri Kembangan, Selangor on May 18, 2013.
A 38-year-old mother from Penang, Gin Lim was crowned as Mrs Malaysia Planet 2013 while a 44-year-old mother from Johor Bahru, Tian Lee Na was Mrs Elite Malaysia International 2013.
Gin Lim will now represent Malaysia at the Mrs Planet 2013 pageant world finals in Bulgaria in June while Tian Lee Na will be Malaysia's representative in August when she competes in the Mrs South East Asia 2013 pageant finals in Singapore.
Gin Lim, a mother of two children, stands 170cm tall at 45kg said after her triumph, "I was surprised when they announced that I had won. I feel happy.
"Now I'm looking forward to the world finals and a trip to Bulgaria in Europe more than ever."
She received RM35,000 worth of prizes which include RM3,000 cash, sash, crown, trophy and sponsorship prizes.
"I entered the pageant on my own mind and I am grateful to have the support from my husband, family members and friends.
"It was a wonderful sharing experience with so many beautiful women and mothers and I enjoyed knowing everyone of them in the pageant," said Gin Lim who is a successful businesswoman herself with business interests in the UK and Penang.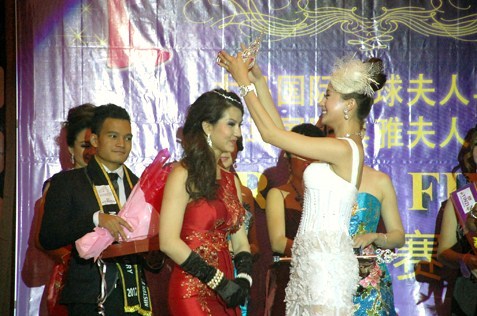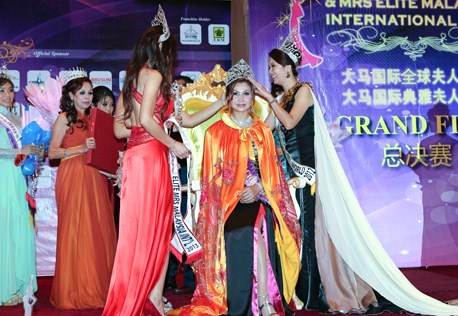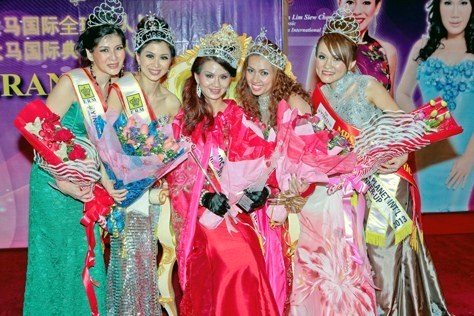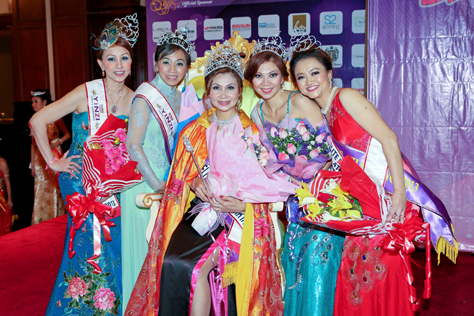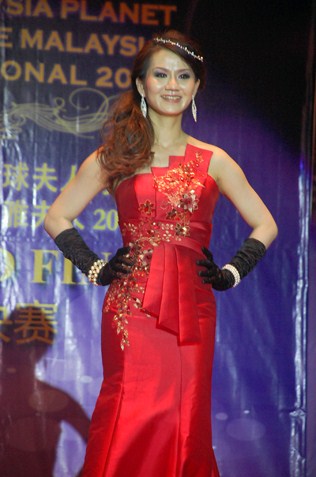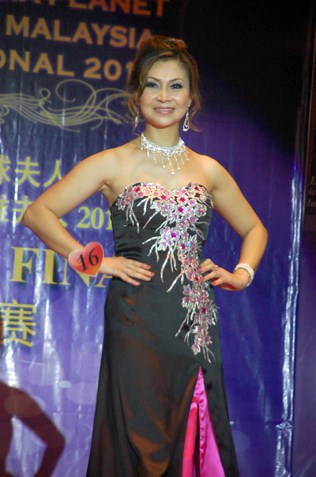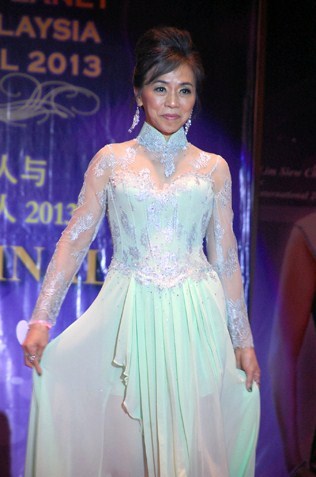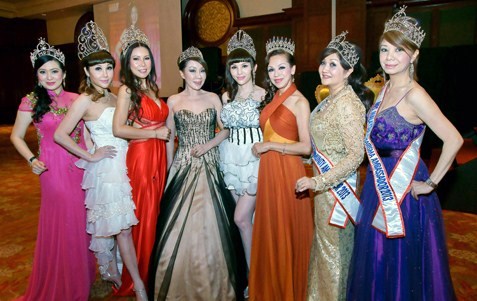 At 44-years-old and with a child, Tian Lee Na, also a businesswoman, said she joined the pageant at her age with the blessing of her supportive husband.
"I feel very excited to have won the title and crown. I feel like I'm younger again," said Tian who was a model during her teen years in the 90s.
"I enjoyed myself meeting all the wonderful women and made many friends.
"I hope more women would come out to participate in such pageants because they really help boost their self-confidence and life satisfaction."
Tian who also clinched the Mrs Gracious subsidiary title received prizes worth RM35,000 in total, including RM3,000 cash, sash, crown, trophy and sponsorship prizes.
Apart from the main titles, 12 other mothers were proclaimed runner-ups and subsidiary title winners.
The 18 finalists first paraded first in bridal gown, then office wear and finally in evening gown before they were whittled down to five from each of Group A for Mrs Malaysia Planet (Age 27-40) and Group B for Mrs Elite Malaysia International (Age 41-60) – for the final question-and-answer round.
The oldest participant in the competition was 60-year-old Jena Chuan who won the second runner-up in Mrs Elite Malaysia International and clinched three subsidiary titles of Mrs Most Courageous, Mrs Most Popular and Mrs Best Evening Gown.
The winners were selected by a panel of international judges from China, Indonesia, Singapore and Malaysia.
The pageant which pays tribute to women for their beauty, strength, intelligence and community involvement was coincident with Mother's Day on May 11, just a week ago.
GRAND FINALS :
MRS MALAYSIA PLANET 2013
Champion GIN LIM, 38
1st Runner-Up DR. MAY HEONG CHEE MEI, 37
2nd Runner-Up SUMI TEH, 32
3rd Runner-Up PEU GEK CHIAW, 34
4th Runner-Up JESSICA CHONG MEI LENG, 36
SUBSIDIARY AWARDS
Mrs. Most Talented SUMI TEH, 32
Mrs. Fitness DR. MAY HEONG CHEE MEI, 37
Mrs. Most Beautiful Skin PEU GEK CHIAW, 34
Mrs. Most Confident SABRINA LIM, 34
Mrs. Congeniality IRENE LIM MOOI HOON, 31
Mrs. Photogenic JESSICA CHONG MEI LENG, 36
Mrs. Best Evening Gown JESSICA CHONG MEI LENG, 36 & GAN CHWEE YNG, 36
MRS ELITE MALAYSIA INTERNATIONAL 2013
Champion TIAN LEE NA, 44
1st Runner-Up LIM WOAN ROU, 42
2nd Runner-Up JENA CHUAN, 60
3rd Runner-Up ANGIE TAN LAY CHOO, 47
4th Runner-Up ANG KUI CHIN, 40

SUBSIDIARY AWARDS
Mrs. Most Talented LIM WOAN ROU, 42
Mrs. Most Courageous JENA CHUAN, 60
Mrs. Perfect Figure ANGIE TAN LAY CHOO, 47
Mrs. Gracious TIAN LEE NA, 44
Mrs. Charming ANG KUI CHIN, 40
Mrs. Photogenic LIM WOAN ROU, 42
Mrs. Most Popular JENA CHUAN, 60
Mrs. Best Evening Gown JENA CHUAN, 60 & MAY KAN POH CHAN, 46