Nepali migrants: Buddha was born in Nepal, not India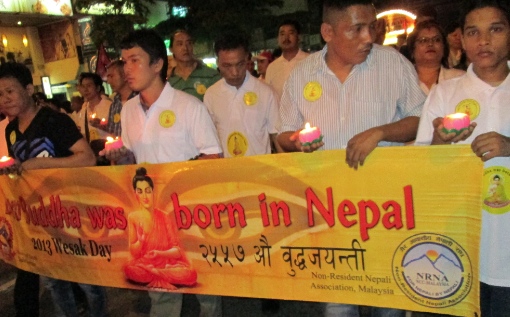 A huge event which was held to commemorate the 2,557th anniversary of Buddha's birth, his enlightenment and attainment of Nirvana, was attended by more than 20,000 people in the Buddhist Mahavihara, Brickfields.
The events, which includes the prayer and procession lasted more than 6 hours.
The prayers started at 5pm and followed by the procession of various floats, an ended at around 11pm.
Nepalese migrants participated in the events and carried along banners written 'Buddha was born in Nepal'.
This would be the 4th Wesak day celebration which saw a huge turnout of Nepali migrant workers.
Non Residential Nepalese Association of Malaysia chairperson Sankhar Bahadur Poudel said that they are participating in event such as this to send a message to the Malaysian government to change the misleading fact in school books that Buddha was born in India.
In recent years, the scholars and activists from Nepal has been sending petitions to the Indian government to recognize that Sidhartha Gautama Buddha was born in a place called Lumbini, which is the present day Nepal.
Nepali ambassador to Malaysia Lekhnath Bhattarai also said that they are currently in discussion with Malaysian government to change the misleading information in the school curriculum.