NUBE pickets over 'racially motivated' dismissal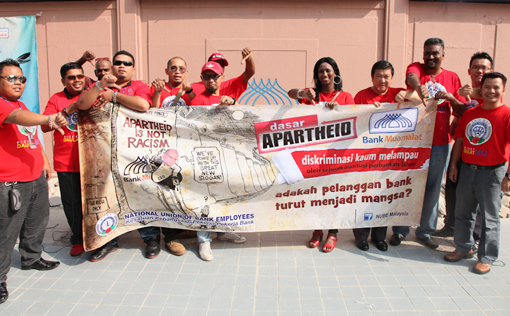 The National Union Of Bank Employees( NUBE) staged a picket in front of Bank Muamalat headquarters yesterday, following the dismissal of an Indian employee.
NUBE claims the dismissal of  Katherine Vimalaa, an employee of 22 years was  'racially motivated'  and said will continue to picket until Bank Muamalat reinstates her.
NUBE also claims that Katheriene is the only Indian clerk among the Bank Muamalat branches in the northern region of the peninsula.
Katherine was employed at the Bank Muamalat's Kulim branch.
According to NUBE there were many others who not did not attend the training program on the same day, 16 March 2013 and gave the same reasons but Katherine Vimala was the only one chosen for dismissal.
In a report produced by Malaysiakini, Bank Muamalat said that Katherine Vimala was sacked for not being able to attend the Shariah Refresher training programs & Anti-Money Laundering and Counter Financing of Terrorism (AML / CFT) training.
Bank Muamalat also denied that Katherine's sacking was racist in nature. The bank insists that the anti-money laundering was compulsory under BanK Negara Malaysia.
The picket started at 8.30 AM and ended at 10 AM,  and continued with a second session of the picket stated at 4 PM and ended at  6 PM.
NUBE has vowed to continue picketing until Bank Muamalat reinstates Katherine to the previous position.