Engagemedia's 'Crossroads' progressing well
Since late May 2013, Engagemedia has conducted a series of workshops known as Crossroads, targeting migrant workers, refugees and stateless people (MRS) from Indonesia, Nepal and Myanmar to produce short advocacy videos of their respective situations in Malaysia.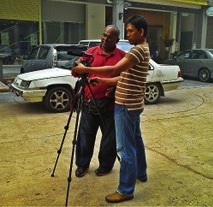 Alongside the MRS communities, Engagemedia have also roped in advocacy workers and a group of citizen journalists from Citizen Journalists Malaysia (CJMY) to work in teams, to produce short advocacy videos.
Engagemedia conducted the first session was on storytelling. The objective of this session was for the participants to get to know each other, share their stories and experiences and build up strong and significant story lines.
The second session was on video advocacy, where the participants were introduced to developing plans for their videos to be better used for advocacy purposes.
After the initial sessions, Engagemedia continued with the storyboarding session; in which the participants learned about visual framing and script development.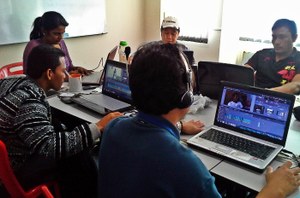 The teams discussed on how to refine their story ideas and came up with their respective storyboards. The participants then presented their storyboards and finalized their storyboards based on feedback from the trainer and other participants.
Participants were also provided with a camera handling training, which was a more practical session. Participants were exposed to the basics of camera handling and the six basic types of shots.
Engagemedia had also organised a video security and shooting session. In this session, participants were taught video security skills; advanced camera handling. This was followed by a session where, participants produce their own short video clips with relevant cut-aways.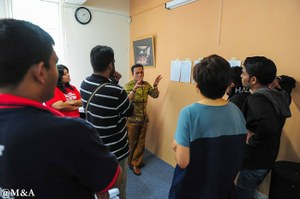 In the next two sessions, participants learnt about various editing techniques, transitions, and other audio, video and frame adjustments.
The last group session of the Crossroads project in Klang Valley was on video compression and distribution, where participants were exposed to the theory, concepts and terms surrounding video compression.
This was followed by a review of the first drafts of the videos produced by the participating teams.
The final drafts of videos from Klang Valley will be ready by the third week of August.
Engagemedia are also now in the preparation stage to start a series of workshops for the same project to be conducted in Kota Kinabalu, Sabah.