Seamstress dead chasing snatch theft at Klang Utama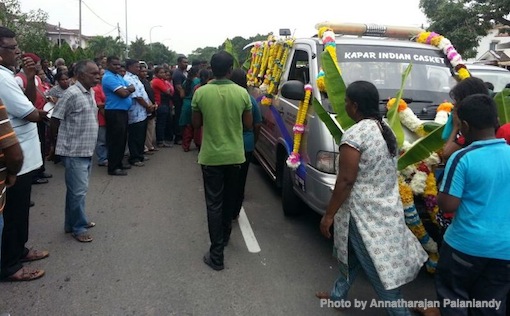 A fourty-two year old seamstress became the latest casualty of snatch theft at Jalan Klang Utama, Klang, on Tuesday.
Veni Muniandy died on the spot, when she fell from the motorcycle after her husband Pannirselvam Malayalam lost control and hit a drain barrier. The two were in pursuit of the snatch thief.
In the 10.45pm incident on Tuesday, Veni and her husband were on their way home to Klang Utama from Klang town after shopping for some sewing accessories. Upon arriving at a traffic light near Econsave supermarket, Pannirselvam's gold chain were snatched.
Veni succumbed to head and face injuries, meanwhile Pannirselvam fractured his both legs and currently receiving treatment at Hospital Tengku Ampuan Rahimah,Klang.
Veni left behind 4 children, aged 18 to 12 years old.
According Klang police, the case is currently being investigated under Section 379 of the Penal Code for stealing