Nepali man falls to death at Taman Tun Dr. Ismail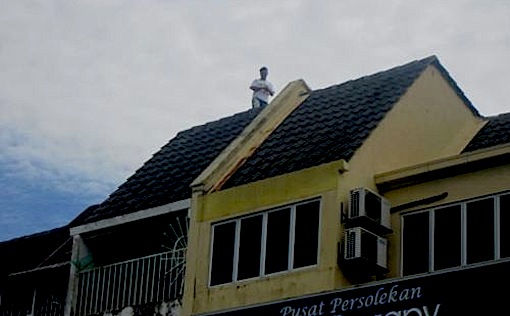 Residents of Taman Tun Dr. Ismail was in state of shock two days ago, when a man, believed to be a Nepali plunged to death at a shop lot along Jalan Tun Mohd Fuad 1.
The man spotted on the roof above Starbucks around late morning.
The police and fire rescue team were alerted around 8.56 a.m after the man was seen climbing to the rooftop around 8.30 a.m. The rescuers went on to try and persuade the Nepalese man, but to no avail, which led the team to set up a safety air cushion on the ground.
According to a report in Berita Harian, the 30 year old Nepali man climbed to the rooftop after learning that he will be deported back to his country due mentally illness.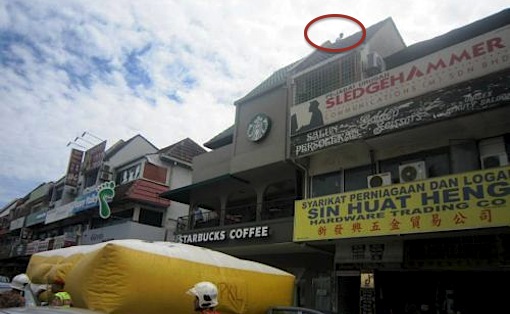 However, around 11 a.m, the Nepali man slipped and fell to his death, missing the safety air cushion on the ground, while attempting to walk on the roof.
Suicidal thoughts can be prevented. The best way to prevent suicidal thoughts is to show them that they are cared for.
The public can also reach out to organizations like Befrienders who can provide, on-site emotional support
To contact Befrienders:
Phone Calls
Contact Befrienders via hotline phone calls at 03-79568144 or 03-79568145 we are available 24 hours a day.
E-mail: [email protected] .
Face to face
If you think you need to meet us face to face, you can call us at the above phone number
to make an appointment.
Befrienders Center
No.95 Jalan Templer,
46000 Petaling Jaya.
Befrienders are also available in other states. For contact details please visit: http://www.befrienders.org.my/links.html