Melaka state Government celebrates Deepavali with open house at Taman Rempah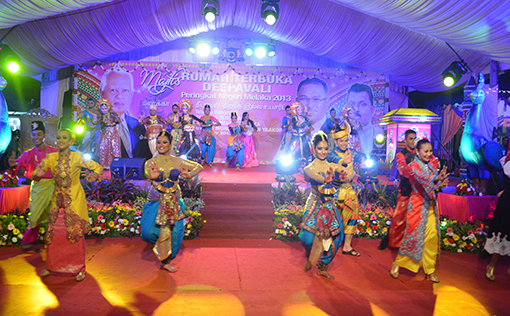 The Melaka State government held a state level Open House Deepavali Celebrations in Taman Rempah at 8.00pm on the 18 November 2013. The event was organised by Datuk MS Mahadevan Sannacy and the department of Unit Perancang Ekonomi Negeri Melaka.
The function was attended by many of the top civil servants of Melaka. The guest of honour was TYT Tun Datuk Seri Utama Mohd Khalil Bin Yaakob ,Yang di-Pertua Negeri Melaka.The guest included YDP's wife YABhg Toh Puan Datuk Seri Utama Dato' Zurina Binti Kassim, the CM of Melaka YAB Datuk Seri Ir Hj Idris Bin Hj Haron and his wife YABhg Datin Seri Hjh Fadilah Binti Abdullah. The guest arrived at 8.30pm and was greeted by a bevy of Indian ladies , the gongs  of Institut Seri Malaysia Melaka (Ismma) and the drums of Melaka Gao Feng Lion and Dragon Athletic group. A dance from Tarian Kebudayaan Selamat Datang was performed when YDP reached his diner table.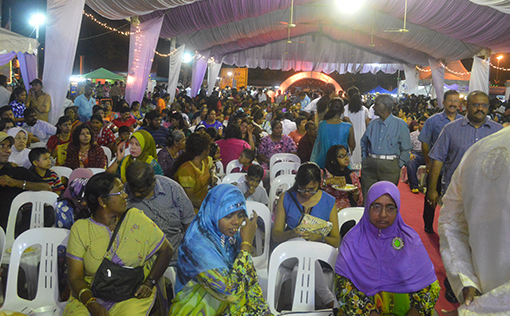 About 5,000 guest were expected to be present at the open house. Datuk MS Mahadevan said that he is happy that people of all races attended this open house event. He was also happy that the Yang di-Pertua Negeri Melaka and wife together with Ketua Menteri Melaka and wife attended the open house Deepavali Celebrations. In his speech the CM said that event such as this will bring the different races to be more tolerant and to understand one and another. It will also increase the spirit of various races to live in harmony.
He also thanked Tun and Toh Puan for attending the function and commended that Tun can be a role model for the people to be friendly. The Tun attended the event wearing Kurta as the leader of all the Indians of the State of Melaka and Toh Puan wearing a Punjabi costume brought especially from New Delhi .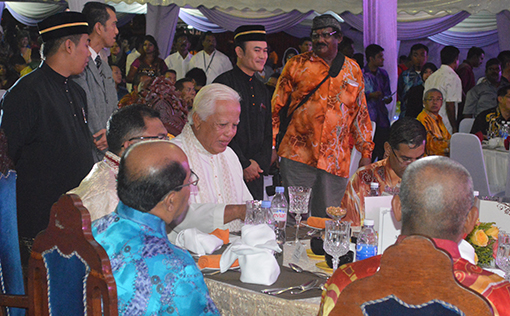 The CM thanked all those who had come especially all those who are not from Melaka. He also recited a pantun in honour of them,
"Dapat dagang dari sebarang harap makan kayu meranti, dari jauh tuan tuan datang kami rakyat sentiasa menanti"
He added that this open house Deepavali event has become a permanent yearly affair of Melaka Government. This event mirrors the Malaysia spirit of different races and religions. "We live in unity within diversity" He quoted.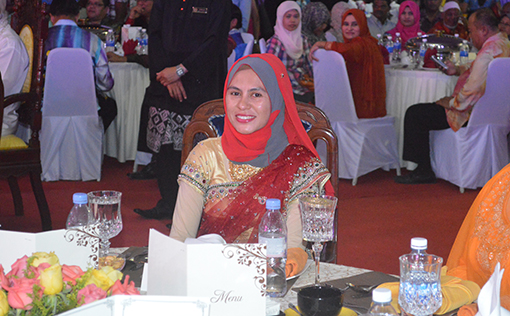 He also extended his "Deepavali Vaathagal" to all the Hindu guests. In conjuction with this Deepavali Celebrations the CM came in Kurta outfit while his wife Datin Seri Hajah Fadilah Abdullah looked stunning in a red Lengga Saree.
The guest were treated with a variety of tempting Indian cuisines such as cendol, tosai, coconut apam with rice and curry and a 10 course diner meal. Music was provided by Kombo Briged Seri Melaka and their singers sang Malay and Hindi songs. Dances such as Tarian Ranggu Renggema, Medley Kampong, Fan Dance and Joget Serampang were performed by various groups.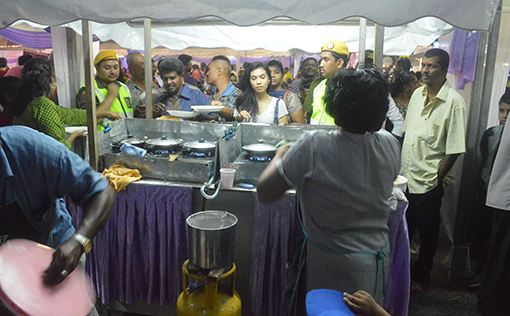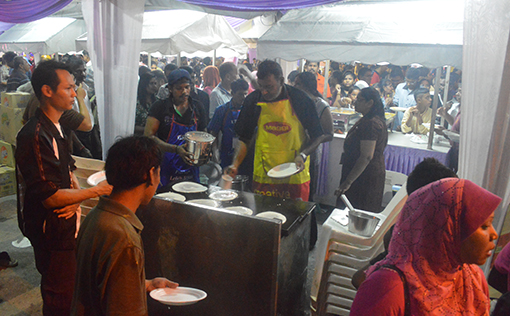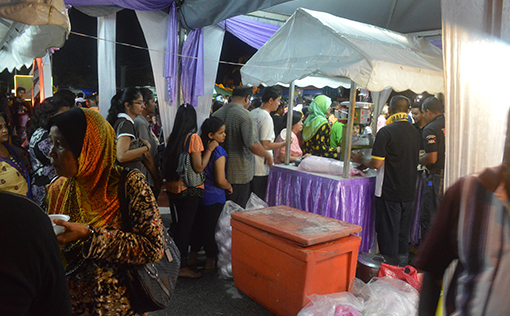 The biggest surprise of the night was when Tun sang the song "Thaai Naade" in tamil. Many of the guest were taken by surprised when Tun started singing in tamil with the group. "Thaai Naade" is a patriotic song which means Mother Land in tamil. This song is the brainwave of Tun and Mahadevan. This song is especially composed for this occasion and is sang for the first time for the public here in Melaka and no where else. Tun gave a solo performance of the song Bunga Ros. Toh Puan and CM's wife also sang solo for the guests.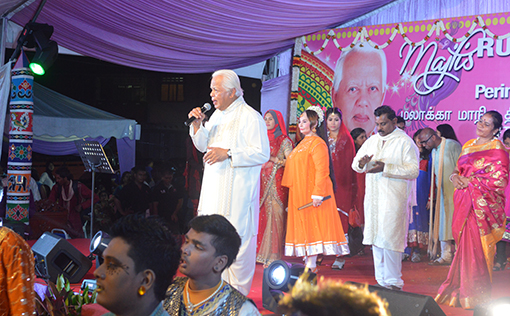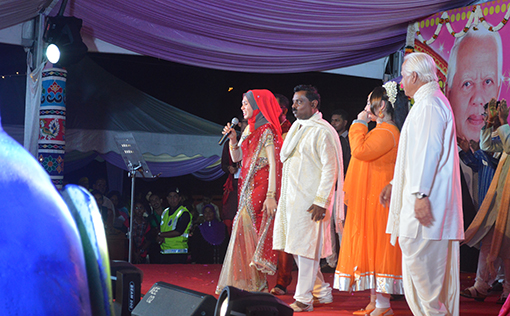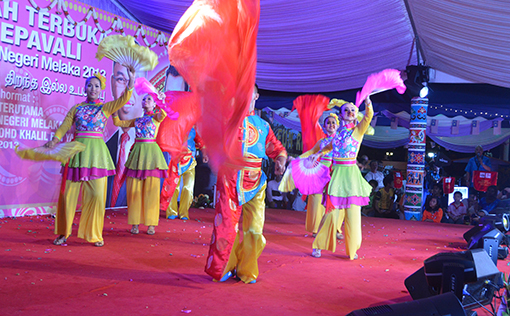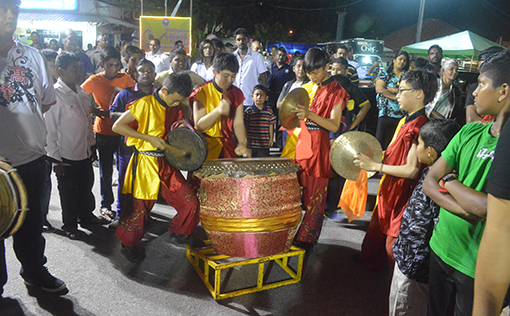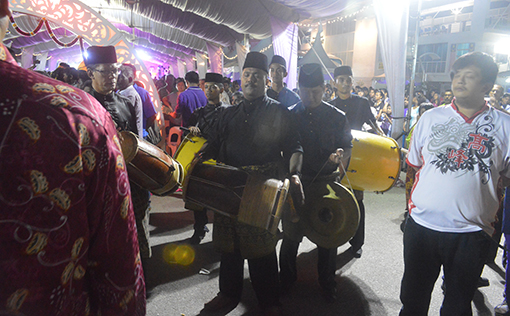 While all this were going on the guest were treated with a spectacular fireworks display. At the end of the dinner there was a lucky draw and the first prize, a Naza motorbike was won by 29 year old Shammungan. YDP left at 11.40pm after the draw and with 150 lucky prizes given away the event ended at 12.30am.