Beauty lies not just in a beautiful face but also a loving heart, reminds beauty queen Jean Lee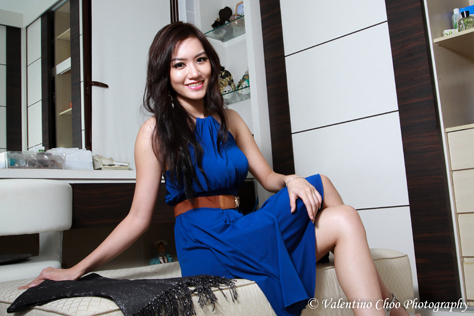 Miss Malaysia Kebaya (MMK) 2012/2013 beauty queen Jean Lee will walk the aisle for the last time as her reign comes to an end this Friday Dec 20, 2013 after the next MMK 2013/2014 will be crowned during the pageant's grand finale at the grand ballroom of Concorde Hotel, Kuala Lumpur.
The Kuala Lumpur beauty was crowned on last Nov 9, 2012. She was 21 years old then and had also picked up four subsidiary titles of Miss Photogenic, Miss Inner Beauty, Miss Gorgeous and Miss Creative.
"Being the first Miss Malaysia Kebaya queen, I have to keep on improving and upgrading myself to be a role model.
"I am thankful for everyone because I could not have gotten through the reign without their full support," said Lee who is of mixed Chinese and Burmese blood.
"I am definitely honored to be able to work hand in hand with MMK founder and president Jason Hee in promoting Malaysian tradition, culture and heritage, not just locally but also internationally.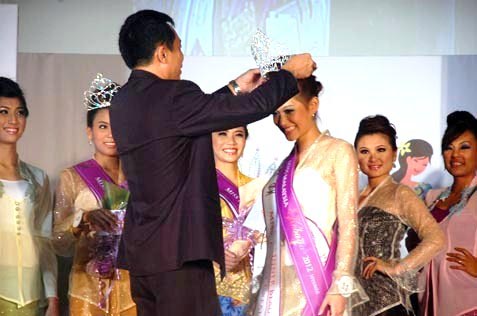 "I hope this year when I hand over the crown to the next Miss Malaysia Kebaya, she will carry on the legacy of MMK and discharge her duty and responsibilities diligently. Always remember, it is not just about a beautiful face but also a kind and loving heart that shows a person's true beauty," added Lee.
Lee said during her one year reign, she has her involvement in various mainly charity-based activities such as the International Silver Ribbon Awareness campaign to spread awareness of gynecological cancer and fund-raising dinner in conjunction with Visit Terengganu Year 2013.
Her busy schedule also included judging beauty pageants such as Miss Chipao Malaysia 2013 semi-finals, Miss KL Chinatown 2013 grand finals, Miss African Tropic 2013 grand finals, Miss Selangor Kebaya 2013 grand finals, Miss Wilayah Kebaya 2013 grand finals and Miss Expo Negeri Sembilan 2012 grand finals.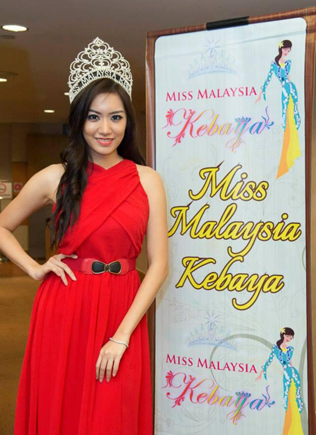 Lee recalled that she was only 20 years old when she was spotted by event crews stationed at a skin care products outlet and was persuaded into joining their HABA Girl Search 2011 contest.
Surprisingly she won the first runner-up title.
With encouragement and support from her family she pursued her interest in modeling by enrolling at Amber Chia Academy to learn more from the professionals.
She won Miss Wilayah Kebaya 2012 after being first runner-up for Face Shop Top Girl 2012.
Her journey to the pageant industry began right upon winning Miss Wilayah Kebaya 2012 title.
After having gone through more intensive training, Lee went on to national level competition and won the first Miss Malaysia Kebaya 2012 title. This is an inaugural title as she is the first beauty queen to be crowned Miss Malaysia Kebaya.
Lee is currently pursuing her final year of LLB law undergraduate degree programme on a full time basis.
It is not easy to strike a balance between study life and pageantry world but she is doing quite well and is determined to explore what the pageant industry has to offer.
After her graduation, she plans to work with a law firm and also enter beauty pageants to gain more experience and improvement on herself.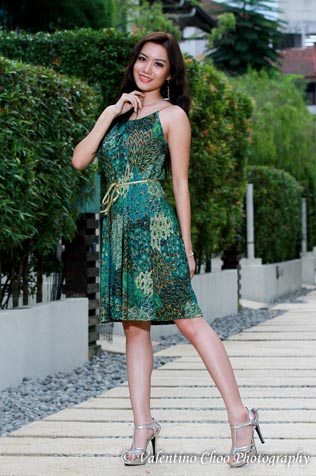 Lee enjoys reading as she believes that through reading, she would be able to expand her knowledge in various aspects.
She also enjoys traveling as she gets to explore the world and learn to accept and respect the different cultures of others.
Regular visits to beauty salons such as hair salons, nail parlours as well as facial treatments help Lee to stay looking beautiful.
On top of that, maintaining a healthy diet is important for Lee because she believes eating right would ensure a healthy lifestyle.
On her future plans, Lee said her vision is to make a remarkable difference in life for the better.
"I am eager to face all obstacles in life hoping that in ten years time, I would be able to look back and be proud of what I have done," she said.
Lee is currently working under the advice and management of her exclusive manager Valentino Choo who is the founder and chief photographer of Valentino Choo Photography.
The company was selected as the official photographer of Miss World Malaysia 2011 pageant.
"Having undergone grueling grooming and practice sessions with us, Jean has shown remarkable improvements and managed to convince us to further assist her in this ever demanding path of the pageantry industry.
"Our company would, on a best-effort basis, provide her the support she needs in order for her to excel in this field," said Choo.
He said they are currently in the process of searching for a charity partner for Lee to contribute more towards the welfare of society.
"I strongly believe that this is a social responsibility part of a beauty queen in the community.
"We are certainly looking forward to collaborate with more charitable organisations as well as other private institutions in the near future. We would like to call upon interested parties to contact our management should there be any collaboration opportunities," added Choo.