Form 4 student wins Asia New Star Model 2014 – Face of Malaysia contest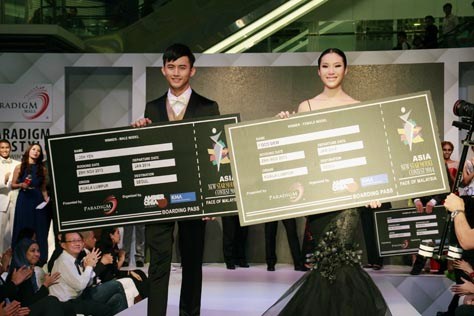 Coco Siew Zhi Shing, a 16-year-old Form 4 secondary school student from Kuala Lumpur won the Asia New Star Model 2014 – Face of Malaysia (FOM) contest for female category at the grand final held at Paradigm Mall, Petaling Jaya on Nov 29, 2013.
The female star model of the year winner, who will be sitting for her SPM next year, appeared shock and burst out in tears when she heard her name declared the winner.
Standing 5 feet 10 inches tall, Siew beat off a strong challenge by six other contestants in the female category.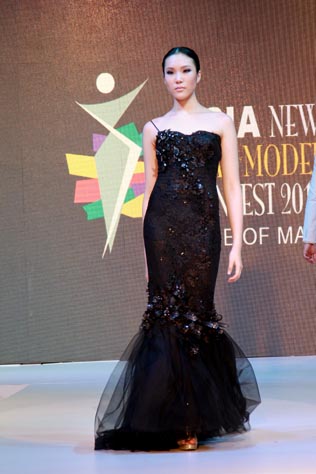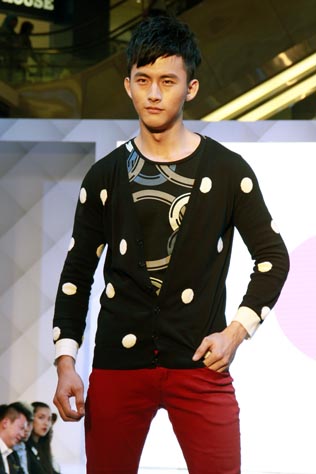 The male category winner was 20-year-old Josh Yen Yoong Che and the respective first runner-up for male and female categories were 20-year-old Carmen Liew Jia Wen and 21-year-old Anthony Pang Chun Sen.
All the four winners will represent Malaysia at the Asia New Star Model Contest  on January 2014 in Seoul, South Korea, in conjunction with the 9th Asia Model Festival Awards (AMFA).
The AMFA is regarded as Asia's prestigious red carpet event and the Academy Awards equivalent to the Asian modelling and fashion industry.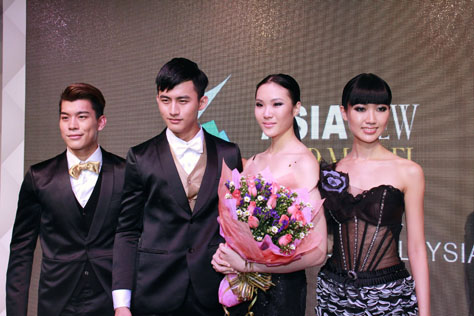 In the grand finals of the star model search, 14 contestants comprising seven each from male and female category battled out on the runway demonstrating their versatility in modelling various outfits, namely casual wear by Kitschen and IM by Emmanuel, as well as evening couture wear and men's suit by Keith Kee Couture.
The female contestants also modelled in corsets by Neubodi while the male contestants appeared bare-chested showing off their toned and muscular frames and drawing applause and cheers from the 300 over guests present.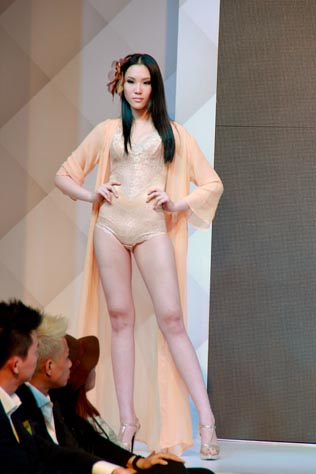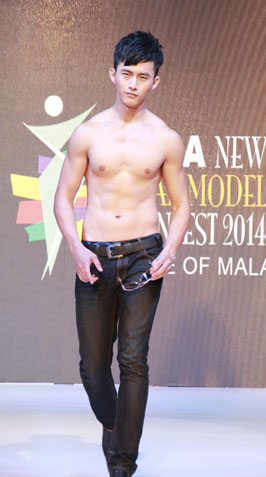 The winners were chosen based on criteria that required them to possess not only modelling talent but also potential star qualities.
The event was hosted by Daphne Iking, Amelia Henderson and Clyde Lim and witnessed by Korea Model Association (KMA) chairman Yang Eui-Sig.
In an interview with Citizen Journalists Malaysia (CJMY), Siew said she did not think she was going to win.
"It was unexpected. This year the contestants were all pretty strong but I promised myself to do my best to beat them and I did it!
"I was shocked when the host announced my name. Yes, I was so very excited and happy until tears came out of my eyes!," said Siew who found out the contest from Facebook.
Siew had no modeling experience and it was her first time participating in a model search competition.
"It was a challenge to me because I have no training in modeling but I do watch fashion programs, runway shows and meet up with fashion designers every single day.
"I have an unique Asian look which normally people would not fall for but the fashion industry loves it. Besides, I am still young and is an advantage for a model," said Siew.
Siew said her parents objected to her participation in the competition because she was still schooling but after much relentless, they understood me.
"I was practically begging my parents to let me join this contest and I can see that my mum and dad were not happy with my determination but I just want to follow my dream."
So what interested her to modeling?
"Watching America's Next Top Model inspires me to pursue my dream. Without doubt, I want to be a top model, not only a super model but a top model in the world.
"I used to be very unhappy with my height and my looks but I soon realise that the fashion industry needs the face type and height range which I have."
Siew said she admires Liu Wen from Beijing, China who is a top model in the world and the first Asian face to walk the Victoria's Secret Fashion Show.
"She is an inspiration to me and I would love to meet her and to be with her."
Siew said the training sessions for all the finalists which started from October was tough for the girls as they had to wear 6-inch high heels every single minute.
"We have to stand for over two hours during the judging and we can't move and sit. All we could do was to shake our legs to relax the muscles. It was the hardest moment.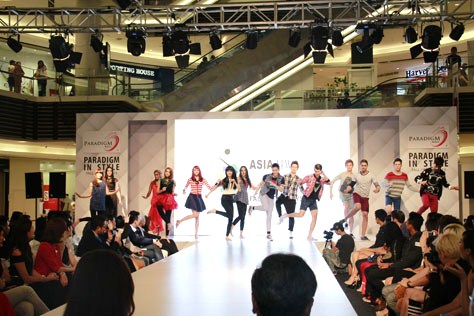 On her SPM examination next year, she said it was difficult to concentrate on her study when her mind was on fashion. She said she was not worried if she did not get the grades.
"I hope I can do full time modeling if my parents allow!" Siew said, with a big grin on her face.
The Asia New Star Model Contest 2014 – Face of Malaysia is presented by Paradigm Mall and organised by Amber Chia Academy jointly with Korea Model Association (KMA).
The panel of judges included Amber Chia Academy founder and CEO Amber Chia, catwalk guru Benjamin Toong, Korea Pro Makeup Association president Ahn Mee-Ryu, Korea Model Association (KMA) international director Raulen Lee and Paradigm Mall advertising and promotions manager Lew Wen Feng.